Manx Shearwaters Puffinus puffinus have bred successfully for the first time "in living memory" on Agnes and Gugh in the United Kingdom's Isles of Scilly following a seemingly successful rat-eradication exercise. Ten chicks filmed at their burrow entrances earlier (click here) have now fledged. Monitoring and quarantine efforts continue on the inhabited islands to ensure rats do not become re-established as described in the latest issue of the Isles of Scilly Seabird Recovery Project's newsletter, The Shearwater. The two connected islands have now been rat-free for nearly a year. The Scilly Isles are one of only two localities in England where Manx Shearwaters breed. The other breeding locality is the island of Lundy where a rat removal operation in 2004 has resulted in its Manxie population continuing to increase in size. The Lundy Seabird Recovery Project was set up in 2003 to help the Manx Shearwater population, which had fallen to just 300 breeding pairs. A 2013 survey revealed a tenfold rise in numbers to 3000 pairs (click here).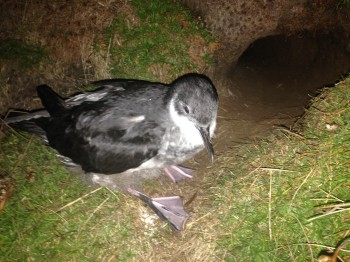 Manx Shearwater chick in the Isles of Scilly, photograph by Jaclyn Pearson
Manx Shearwaters also breed on islands off Wales in the Irish Sea. In early October the Welsh Government announced extensions to special protection areas (SPAs) out to sea around the seabird-breeding islands of Grassholm (2 km), Skomer and Skokholm (4 km) and Bardsey (9 km). Skomer and Skokholm are estimated to be home to over 300 000 and 45 000 pairs of Manx Shearwaters, respectively (approximately half the global population) with Bardsey holding another 16 000 pairs. The Welsh islands "also host and support cutting-edge research by leading universities into the ecology of the Manx shearwater and other species, which helps inform legal and management changes that support their conservation" (click here).
"These sites will contribute to the network of protected special sites at sea, used by breeding seabirds aiding the colonies to be healthier and more resilient to other issues such as the effects of climate change, like the recent winter storms and sea temperature rise."
While up in Scotland plans continue to eradicate rats from the Shiant Isles in the hope that Manx Shearwaters will return to breed (click here).
References:
Anon. 2014. Welsh Government announces protected sites at sea. The Seabird Group Newsletter 127: 11.
Pearson, J., Marshall, E. & Titterton, L. 2014. Shearwater chicks successfully fledged on St Agnes & Gugh – first time in living memory! The Shearwater 4: 1.
John Cooper, ACAP Information Officer, 09 November 2014