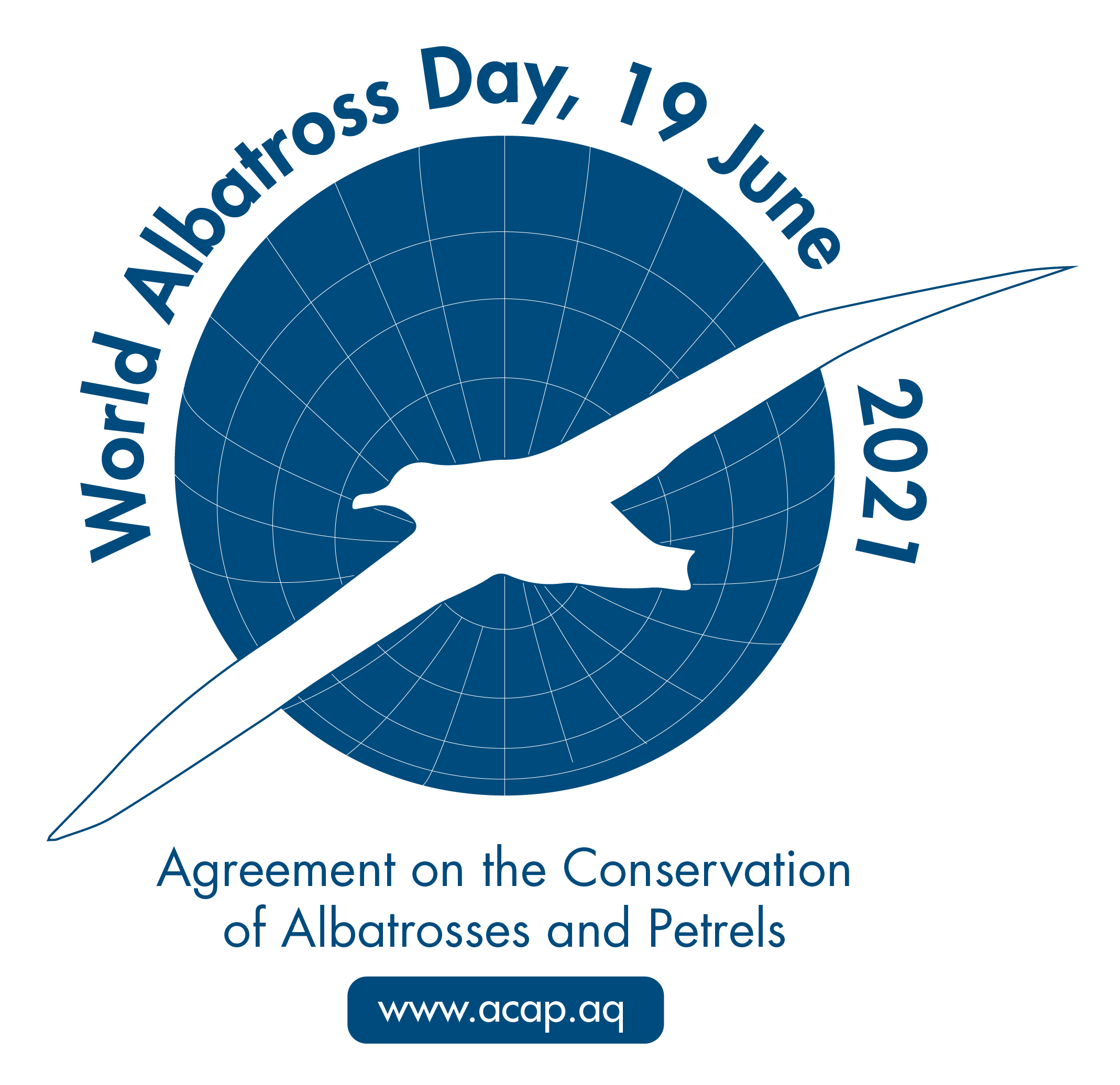 The WAD logo for 2021 is available in English, French, Portuguese and Spanish; designed by Geoffry Tyler
Following on from last year's World Albatross Day theme of "Eradicating Island Pests", ACAP's chosen theme for 2021 is "Ensuring Albatross-friendly Fisheries".  The large number of albatrosses and petrels killed by fisheries was the main driving force for the establishment of ACAP two decades ago and addressing this continuing conservation problem remains an important part of ACAP's ongoing work.  A new ACAP World Albatross Day Group has been formed with members Jonathon Barrington (Australia), John Cooper (ACAP Information Officer), Verónica López (Chile), Tatiana Neves (Brazil), Stephanie Prince (UK) and Michelle Risi (South Africa).  The 'WAD Group' has a geographical (and language) spread, along with experience from research, NGO and governmental backgrounds.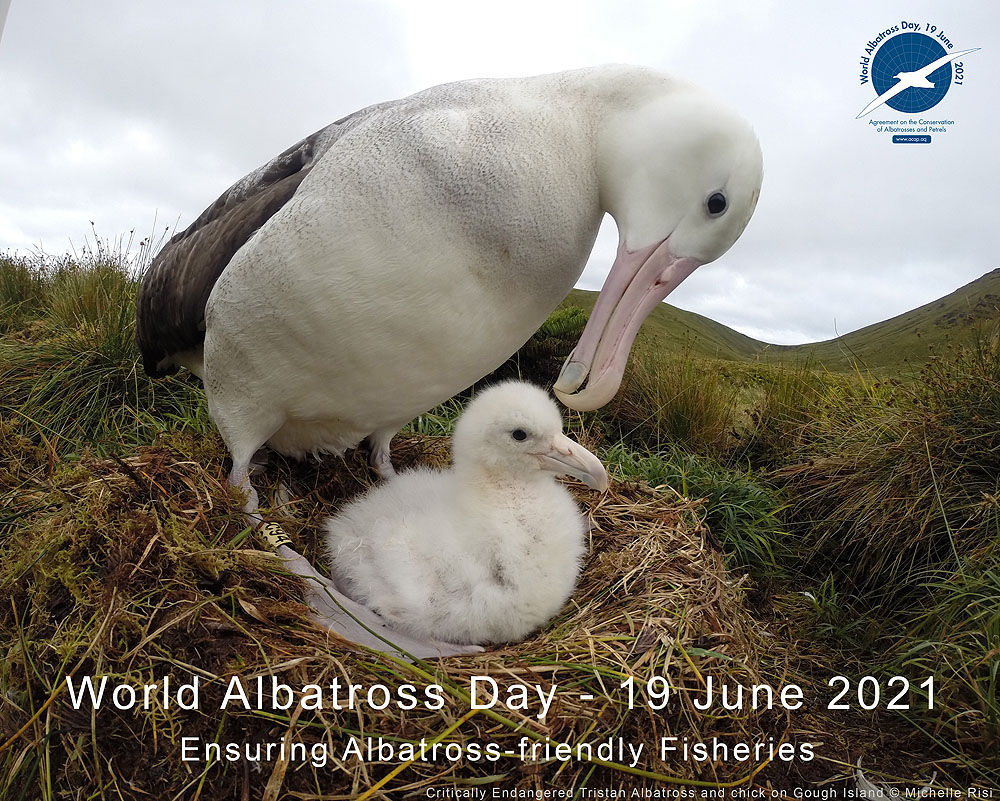 Tristan Albatross and chick on Gough Island, photograph by Michelle Risi
In support of World Albatross Day ACAP intends to highlight one or more of the 22 albatross species each year with posters and other artworks.  The featured species chosen for 2021 are the two most threatened albatrosses, both categorized by IUCN as Critically Endangered (defined as facing an extremely high risk of extinction in the wild).  They are the Tristan Albatross Diomedea dabbenena of the United Kingdom's Gough and Inaccessible Islands and the Waved Albatross Phoebastria irrorata of Ecuador's Islas Española and  de la Plata.  The posters depicted here of these two species were designed by Michelle Risi.  They are being produced with French, Portuguese and Spanish texts.  Downloadable high-resolution versions in all four ACAP languages suitable for framing and display are being posted to this website (click here).  Click here to read two-page illustrated species summaries for the Tristan and Waved Albatrosses that are aimed at school learners and the general public.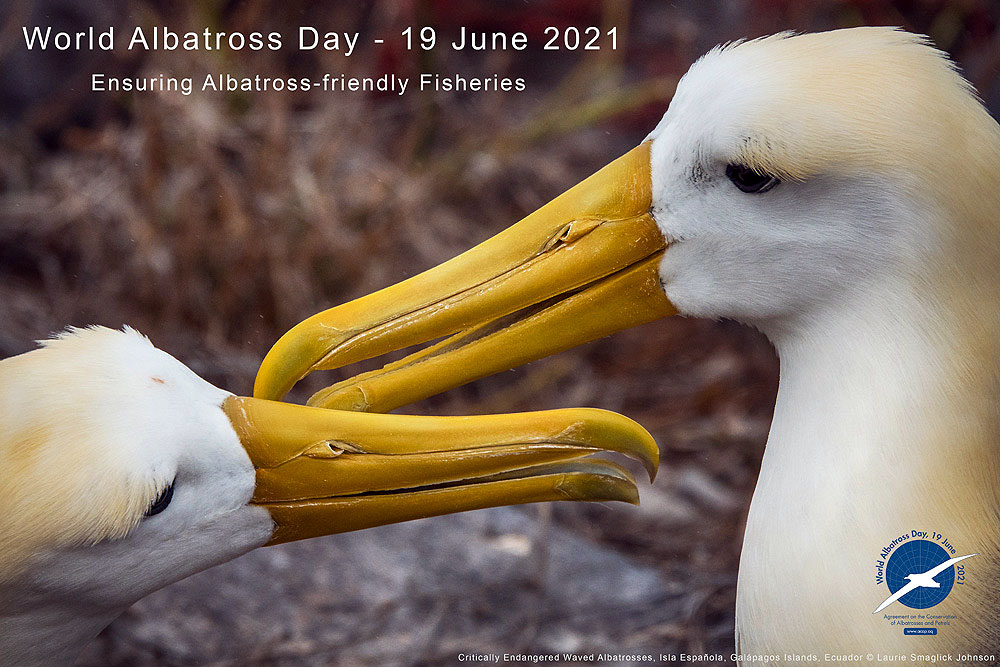 Waved Albatrosses of Isla Española, Galapagos Islands, photograph by Laurie Smaglick Johnson
The WAD Group is working towards other products and activities to increase awareness of the conservation crisis that continues to be faced by the world's albatrosses and petrels.  Look out for more posts to ACAP Latest News on 'WAD2021' between now and 19 June!
With thanks to Laurie Smaglick Johnson and Geoffry Tyler.
John Cooper, Jonathon Barrington, Verónica López, Tatiana Neves, Stephanie Prince & Michelle Risi, ACAP World Albatross Day Group, 12 January 2021