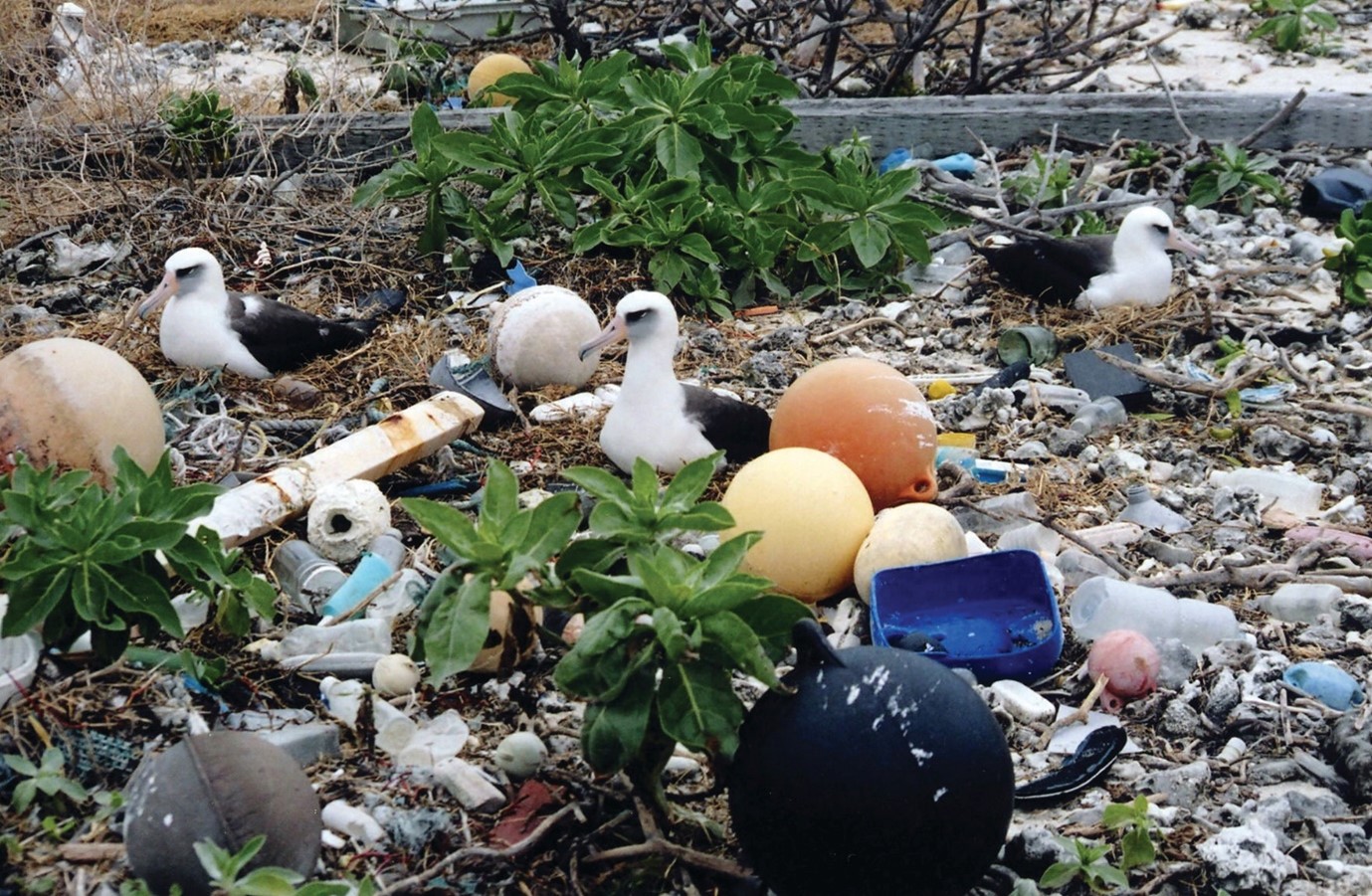 Laysan Albatrosses Phoebastria immutabilis breed among washed-up plastic litter on Midway Atoll; photograph by Steven Siegel, Marine Photobank
The Albatross and Petrel Agreement has chosen "Plastic Pollution" as its theme to mark the fourth World Albatross Day, to be celebrated on 19 June 2023. This follows the inaugural theme "Eradicating Island Pests" in 2020, "Ensuring Albatross-friendly Fisheries" in 2021 and "Climate Change" in 2022.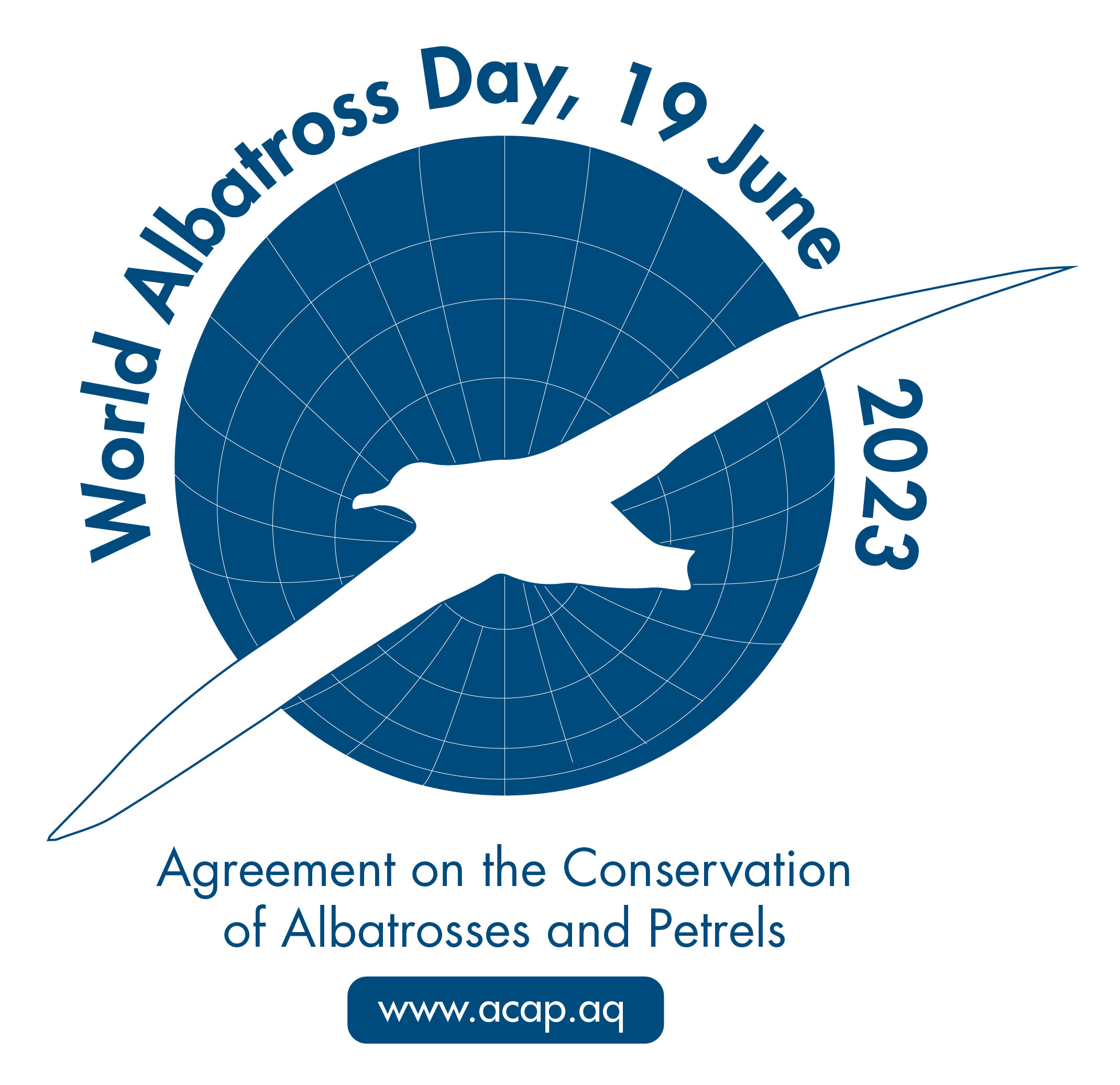 Albatrosses are affected by a range of pollutants, of which plastics, whether ingested and then fed to chicks or causing entanglements, are certainly the most visible and well known to the general public. However, albatrosses face other significant pollutants, including heavy metals, (such as mercury) and POPs (persistent organic pollutants, such as insecticides).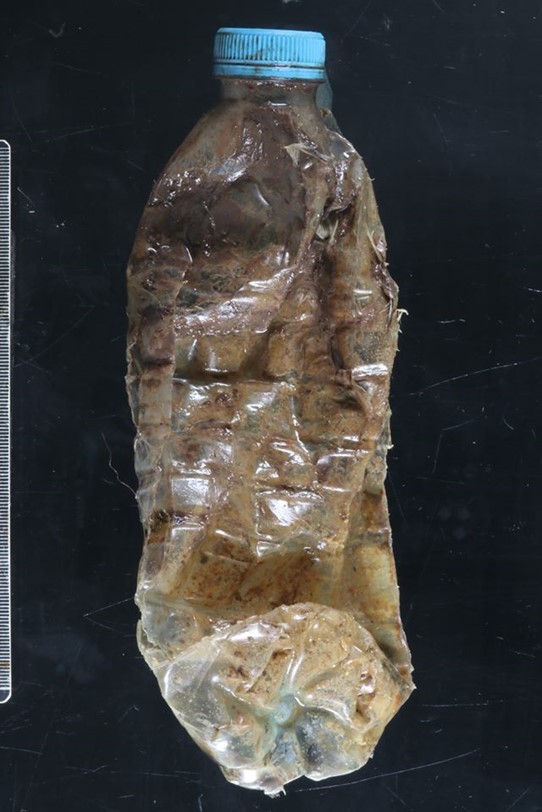 A 500-ml plastic bottle found in the stomach of a Southern Royal Albatross Diomedea epomophora (click here); photograph from the New Zealand Department of Conservation
Two new albatross species are being used to feature the theme for this year's World Albatross Day, with artworks, posters, infographics and a music video. These are the globally Endangered Northern Royal Albatross D. sanfordi, endemic to New Zealand, and the abundant and widespread Black-browed Albatross Thalassarche melanophris. In addition, coverage is being given again to last year's featured species, the Black-footed Phoebastria nigripes and Laysan P. immutabilis Albatrosses of the North Pacific, which ingest more plastic than do the southern hemisphere species.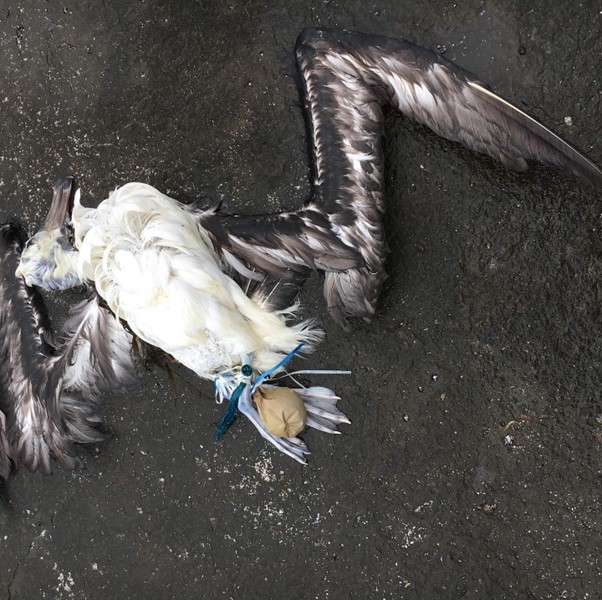 A beached juvenile Black-browed/Campbell Albatross entangled by a plastic string attached to a balloon, Dolphin Point, New South Wales, Australia (click here); photograph from Karen Joynes
As well as the world's 22 species of albatrosses, other procellariforms are prone to ingest pieces of plastic found floating on the sea surface and mistaken as food. A notable example is the Flesh-footed Shearwater Ardenna carnepeis, shown to ingest very large amounts of plastic at one breeding locality at least (click here). This shearwater is a species that has previously been identified as a potential candidate for ACAP listing (click here).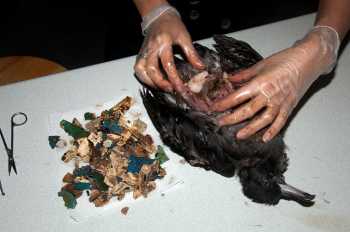 Heavy load: plastic being removed from the stomach of a Flesh-footed Shearwater; photograph by Ian Hutton
ACAP is giving consideration to promoting WAD2023 by running one or two competitions for public participation, including for children. The competitions held for the inaugural World Albatross Day proved popular, so follow ACAP Latest News and social media for announcements in due course.
John Cooper, ACAP News Correspondent, 01 September 2022, last updated 16 January 2023