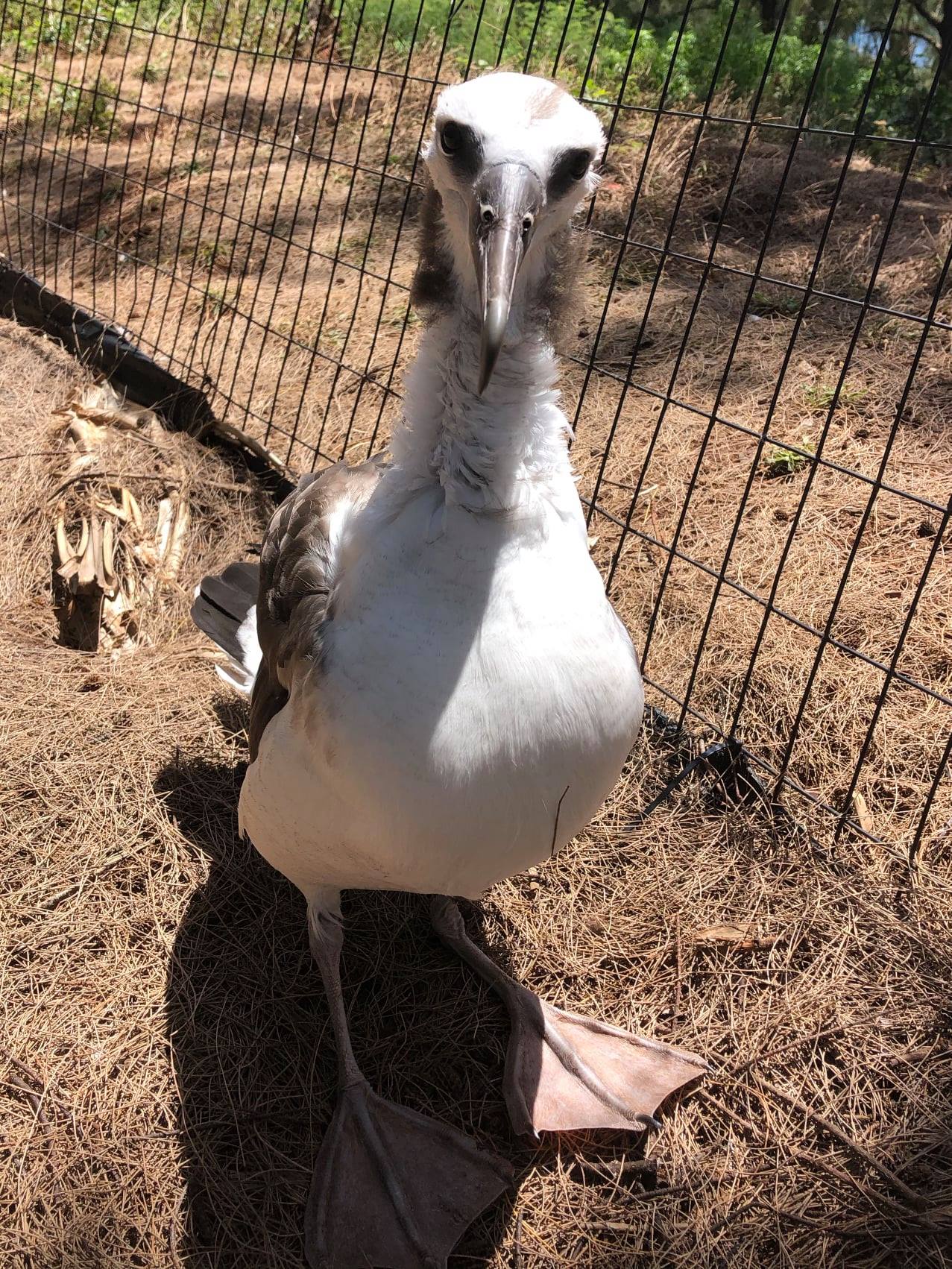 Not proof to cats and rats: the existing Kilauea Point fence behind a Laysan Albatross chick close to fledging. The new gated fence will largely follow the line of the existing fence
Photograph by Louise Barnfield
The Kilauea Point National Wildlife Refuge has announced that work will soon begin on construction of a new 3.4 km-long predator exclusion fence around the refuge boundary, which will help protect the thousands of native birds nesting there from mammalian predators such as feral cats and pigs, domestic dogs, rodents and mongoose. "Construction will begin in early 2022 and is expected to be complete by September 2023. The fence will enclose 168 acres [68 ha] of the Refuge and all non-native mammalian predators (cats and rats) will be removed from within the fence boundary. The fence [will be] tall enough to prevent animals from jumping over, has a curved hood to prevent them from climbing over, mesh that is small enough to prevent animals as small as mice from squeezing through, and a skirt that extends underground to prevent them from digging under it. All materials will be marine grade stainless steel." The total cost of the new fence is given as USD 1.09 million and will be built by Pono Pacific LLC, with the Hawaii-based environmental NGO, Pacific Rim Conservation, acting as project manager.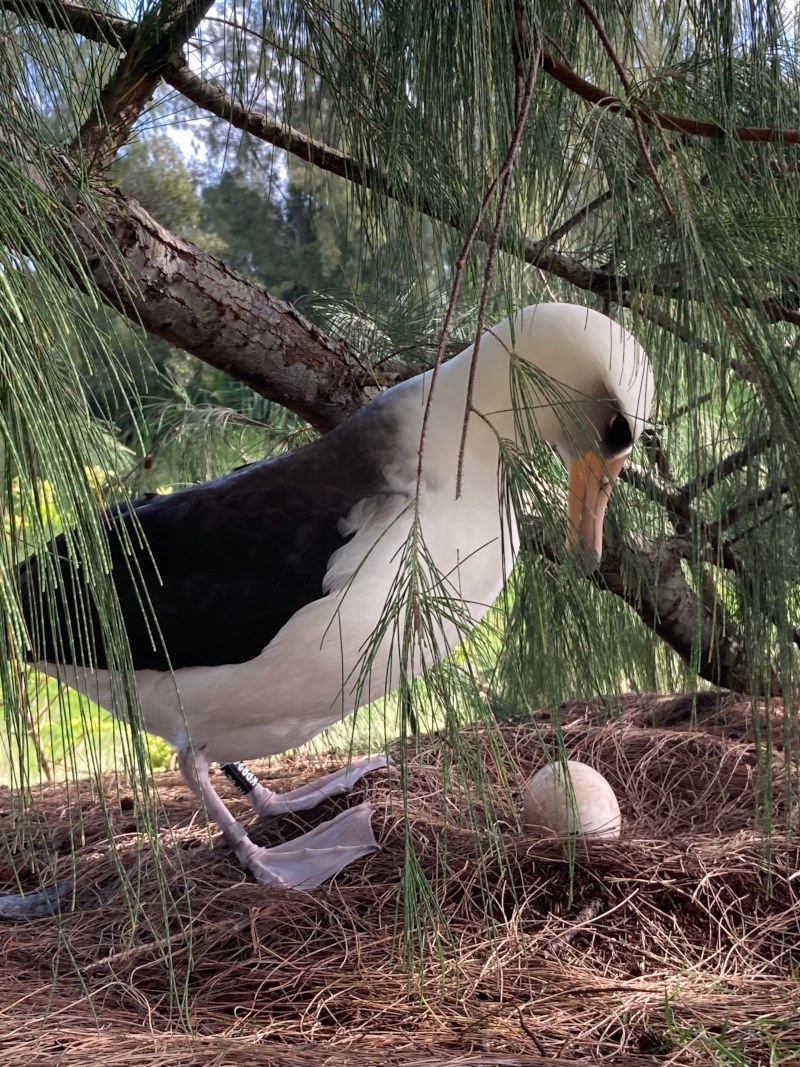 To be protected: a Laysan Albatross stands over its egg at Kilauea Point; photograph by Jacqueline Olivera
The Kīlauea Point NWR supported a total of 115 pairs of Laysan Albatrosses Phoebastria immutabilis (Near Threatened) in the 2019/20 breeding season, with an overall breeding success of 37.9% (36 fledglings). This low figure is attributed in part to incursions by feral cats and pigs, the latter causing breaches in the old fence (click here). The 2020/21 season within the refuge was somewhat better, fledging 61 chicks from 129 nests (47.3%,). So far this season (2021/22) 90 occupied nests have been counted within the refuge.
Pacific Rim Conservation writes on its Facebook page: "We are thrilled to be partnering with @ponopacific and Pacific Islands: U.S. Fish and Wildlife Service to be building a predator exclusion fence that protects the native ecosystems at the Kilauea Point National Wildlife Refuge from invasive mammalian predators. Kilauea Point is home to tens of thousands of native birds ranging from the endangered Nene Goose, `Ua`u (Hawaiian Petrel), and A`o (Newell's Shearwater) to the Moli (Laysan Albatross) and `Ua`u Kani (Wedge-tailed Shearwater), and all of whom are vulnerable to predation. Once complete, this will be the largest full predator exclusion fence in the Hawaiian Islands."
Existing predator-proof fences on Hawaiian islands that protect breeding seabirds, including Laysan Albatrosses, may be found on Oahu (Kaena Point Natural Area Reserve and the James Campbell National Wildlife Refuge) and elsewhere within the Kilauea Point NWR at Nihoku.
News from Pacific Rim Conservation and Wild Times, newsletter of Friends of Kaua'i Wildlife Refuges for December 2021.
John Cooper, ACAP Information Officer, 31 December 2021