SECOND UPDATE
A second mongoose has been live-trapped on Kauai.  See photographs at
http://www.facebook.com/john.cooper.54#!/media/set/?set=a.407873469249094.84750.103663463003431&type=1
*****************************
Listen to an interview or read the transcript about Kauai's mongoose at http://www.loe.org/shows/segments.html?programID=12-P13-00025&segmentID=7.
*****************************
Laysan Albatrosses Phoebastria immutabilis breed at several localities on the Hawaiian high island of Kauai in the North Pacific.  These include military establishments (such as the Pacific Missile Range Facility (PMRF) on the west coast), the residential area of Princeville on the north shore and within the Kilauea Point National Wildlife Refuge.  Click here to read more about these birds and the ongoing conservation efforts that are being directed towards them.
Up to now it had seemed that Kauai's seabirds were free of at least one threat: that from the Small Indian Mongoose Herpestes javanicus which was deliberately introduced to several other Hawaiian islands (but not Kauai) as early as 1883.  This predator is a serious threat to seabirds, including Laysan Albatrosses, on the nearby island of Oahu, where various control efforts have been initiated, such as the building of a predator-proof fence around the Ka'ena Point Natural Area Reserve to exclude them from this important breeding site.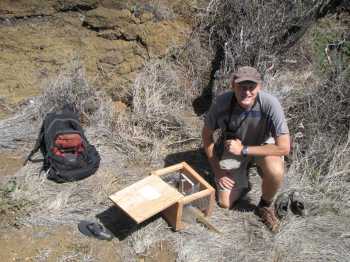 Eric Vanderwerf  next to a small-predator kill trap set to protect a Red-tailed Tropic Bird colony on Oahu that has caught an Indian Mongoose, 7 February 2012
Photograph by John Cooper
Now, after some years of unconfirmed reports and sightings (a female was found dead in 1976) and following several months of live trapping, an adult male mongoose has been trapped at the Kauai Lagoons on 23 May this year by the Kauai Invasive Species Committee (click here).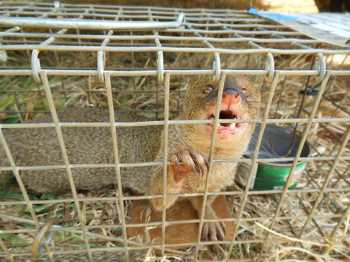 The Kauai Mongoose live-trapped in May 2012
Photo credit:  Kauai Invasive Species Committee
It could be that a breeding population is already established on the island, which is worrying news for Kauai's Laysans and its other threatened breeding seabirds, such as the Endangered Newell's Shearwater Puffinus newelli - which is already at risk from feral cats (click here).
See more photos of the trapped mongoose at:
http://www.facebook.com/?ref=tn_tnmn#!/pages/Kauai-Invasive-Species-Committee/103663463003431
http://www.staradvertiser.com/multimedia/photo_galleries/viewer/?galID=153506315
With thanks to Lindsay Young.
John Cooper, ACAP Information Officer, 17 June 2012, updated 23 & 30 June 2012