---
UPDATE:
ACAP-Party South Africa has now joined the USA in ratifying the Port State Measures Agreement (click here). With 21 Parrties only four more are needed for the PSMA come ito force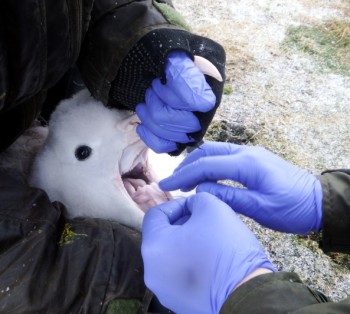 Removing a long line hook from a Wandering Albatross
Illegal, Unreported and Unregulated (IUU) fishing is believed to be a factor that results in increased mortality of seabirds at sea, given that it is unlikely that IUU long liners and trawlers will bother to adopt mitigation methods to reduce such mortality. Any progress with deterring IUU fishing should therefore be good for ACAP-listed albatrosses and petrels. News is now in that the United States will join an international agreement to help deter IUU fishing.
A precised report from the Natural Resources Policy & Practice project follows:
"US President Barack Obama has signed the instrument that will allow the US to join the Agreement on Port State Measures to Prevent, Deter and Eliminate Illegal, Unreported and Unregulated Fishing, following the passage by Congress of the Illegal, Unreported, and Unregulated (IUU) Fishing Enforcement Act of 2015 and bringing the US in line to become the 20th Party to the Agreement. The Food and Agriculture Organization of the UN (FAO) Agreement aims to strengthen international efforts to address IUU fishing and to contribute to sustainable fisheries management and governance at all levels.
The Port State Measures Agreement (PSMA) puts in place a series of measures to prevent vessels from landing IUU fish at ports and essentially removes the incentive to engage in IUU fishing by preventing fish caught by foreign vessels engaged in IUU fishing activities from entering international markets, according to FAO. Left unaddressed, IUU fishing drives overfishing, threatens marine ecosystems and food security, hinders sustainable fisheries management and results in significant economic losses."
The PSMA requires ratification from at least 25 countries to enter into force. In addition to the US, Australia, Chile, Costa Rica, the European Union (EU), Gabon, Iceland, Mauritius, Mozambique, Myanmar, New Zealand, Norway, Oman, Palau, the Republic of Korea, the Seychelles, Somalia, Sri Lanka, St. Kitts and Nevis and Uruguay have ratified the Agreement. Other countries that have signed, but not ratified, the Agreement include Angola, Benin, Brazil, Canada, France, Ghana, Indonesia, Kenya, Peru, the Russian Federation, Samoa, Sierra Leone, and Turkey.
Note: The 10 countries in bold are Parties (out of 13) to the Agreement on Albatrosses and Petrels. The European Union includes ACAP Parties France, Spain and the United Kingdom. Canada and the USA are long-time, regular observers at ACAP meetings.
With thanks to Mark Tasker.
John Cooper, ACAP Information Officer, 22 February 2016, updated 23 February 2016
---