The Vulnerable Short-tailed Albatross Phoebastria albatrus breeds mainly on the Japanese island of Torishima (Izu Islands) and on Minami-kojima in the disputed Senkaku Islands. A single STAL pair has bred successfully several times on Eastern Island, part of the USA's Midway Atoll, and a faithful female-female pair on the USA's Kure Atoll continues to lay infertile eggs and await a passing male. In addition 70 chicks translocated over four years (2007-2011) from Torishima have nearly all successfully fledged from Mukojima in the Japanese Ogasawara (Bonin) Islands with the aim to establish a new colony. At least two eggs have been laid at the translocation site but did not hatch (click here)
Now to add to these five localities comes news of a likely new breeding site for the Short-tailed Albatross.
On 7 May this year researchers from the Ogasawara Branch of the Tokyo Metropolitan Government visiting uninhabited Nakodojima five kilometres south of Mukojima discovered what appeared to be a Short-tailed Albatross chick close to fledging. The bird was colour banded and a feather sample taken for DNA analysis to aid in its positive identification (click here).
No parents were present at the time but a metal-banded STAL in adult plumage was observed in January with a younger bird being seen previously on the island. On 11 May 2012 a colour-banded four-year old was reported on Nakodojima. The parents of the newly-discovered chick may come from these three birds.
Nakodojima supports breeding Black-footed Albatrosses P. nigripes (967 pairs in 2006 according to the ACAP Data Portal). In 2007 10 Black-footed Albatross chicks were successfully transferred from Nakodojima to Mukojima, preliminary to the STAL translocation from Torishima that commenced the next year. Nine of the 10 Black-foot chicks fledged and some have seen back courting at the translocation site (click here).
The Ogasawara Islands were designated as a World Heritage natural site in 2011, with Nakodojima Island being treated as the most restricted area.
Feral goats have been removed but Black Rats Rattus rattus remain on Nakodojima.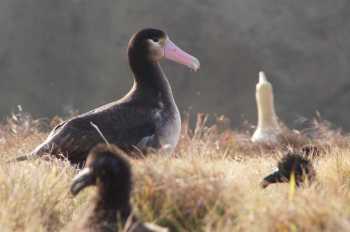 Translocated Short-tailed Albatrosses on Mukojima, photograph by Tomohiro Deguchi
With thanks to Tomohiro Deguchi, Yamashina Institute for Ornithology for information.
John Cooper, ACAP Information Officer, 22 May 2014, updated 26 May 2014