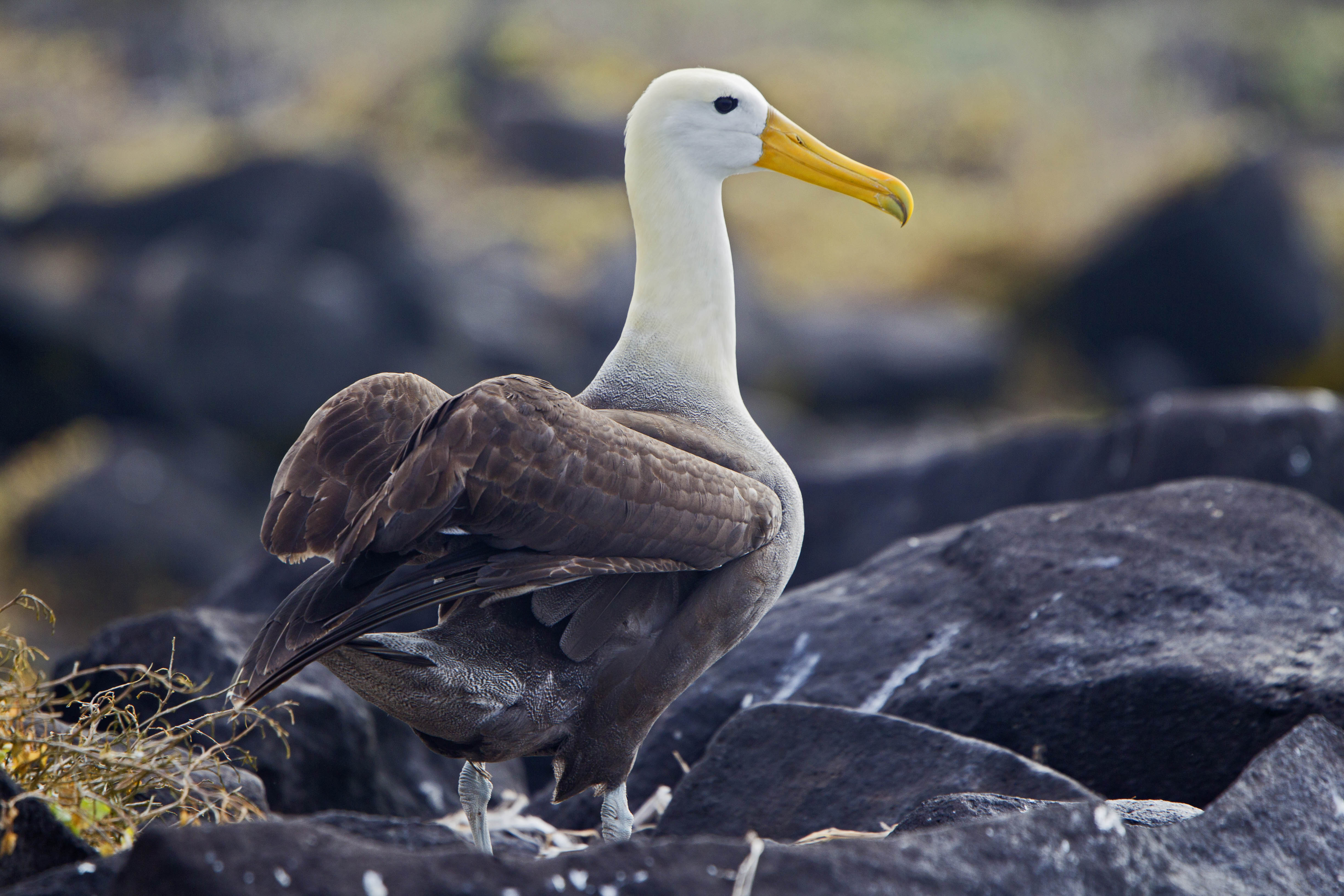 A Waved Albatross at Punta Suárez, Isla Española, The Galapagos; photograph by Ken Logan, 2013
A general introduction
With this post ACAP Latest News commences an occasional series that features photographs of the 31 ACAP-listed species, along with information on their photographers. It is hoped the series will inspire readers to support the conservation of the world's albatrosses and petrels.
The series starts with the globally Critically Endangered Waved Albatross Phoebastria irrorata of Ecuador, photographed by South African amateur, but definitely serious, birder, Ken Logan. For more information produced by ACAP on this species view freely downloadable posters and an infographic produced for World Albatross Day 2021, as well as a detailed Species Assessment and an illustrated Species Summary.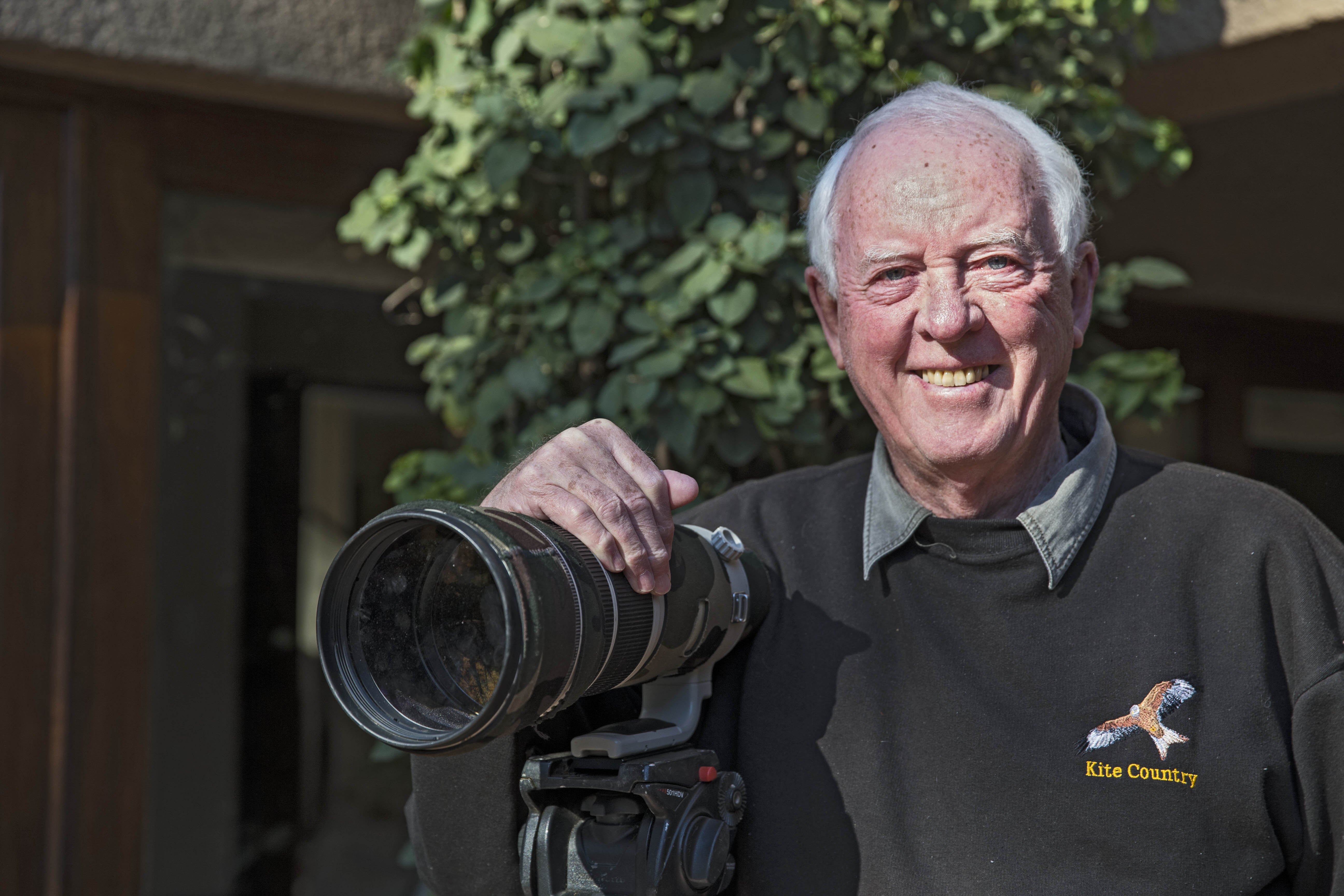 Ken Logan, with his ever-present and at the ready camera
Kem Logan writes to ACAP Latest News:
"I did not find birding until I was 40 - way too old to start when your ears and eyes are already past their best. I was a chartered accountant by profession - and as a busy corporate guy based in Johannesburg only managed to bird locally here in Africa until I retired. I was an active birder and was Chair of the Witwatersrand Bird Club for a number of years and Secretary of the Sandton Bird Club for some time as well.
""I retired in 2007 at the age of 63 and my wife and I have birded the world ever since. Having seen most of the birds in southern Africa, I decided a great retirement project would be to try and photograph them all. Today I never bird anywhere without my camera and have managed to photograph 4396 of the 6600 birds I have seen worldwide.
We went to Antarctica in 2008, my first time at sea with a camera and only then did I realise the challenge that photography at sea really was. By then I had already seen most of the Albatrosses that visit South African waters on "pelagics", mainly with Ian Sinclair out of Durban and Cape Town, but it was when crossing the Drake Passage and watching those birds cope effortlessly with whatever the weather threw at them that I fell in love with albatrosses. Maybe it was the Tristan Albatrosses that followed our ship from Gough and Nightingale Islands for three days across most of the Atlantic Ocean on our way back to South Africa in 2009 that made me realise just how special these birds really are.
"I have seen them all but one - the Amsterdam Albatross - maybe I will get to visit Amsterdam Island one day - and I have photographed all the albatross species I have seen but one - Buller's. Maybe I will get lucky with another Buller's when we travel down the west coast of South America next year.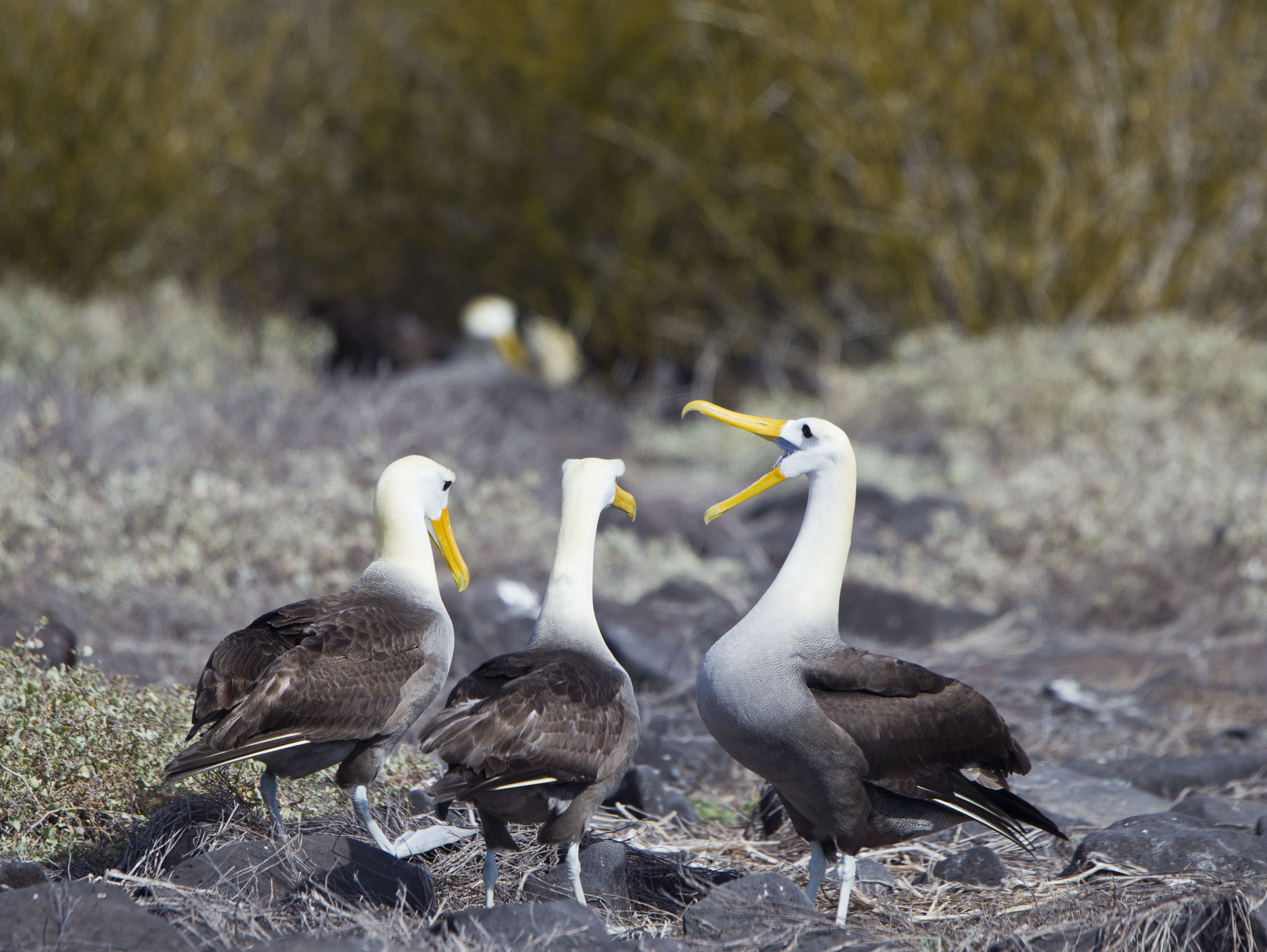 Waved Albatrosses display at at Punta Suárez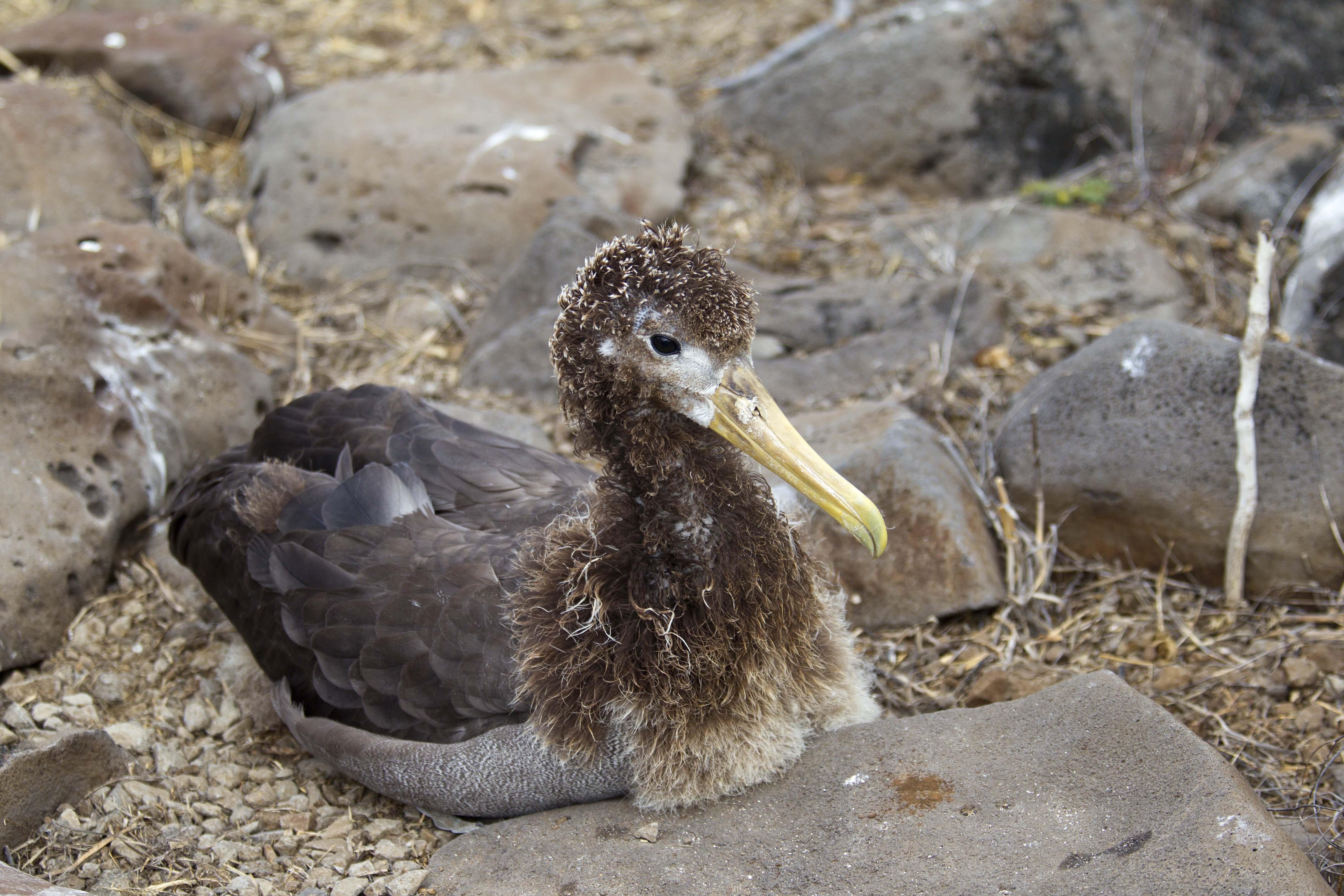 A Waved Albatross chick losing its down prior to fledging
"We visited the Galapagos Islands in 2013, deliberately choosing the eastern islands as the Waved Albatross breeds only on Española in the Galapagos. In 2017 we planned a pelagic trip out of Westport, Oregon, USA in the hopes of seeing Black-footed and Laysan Albatrosses - and despite some seriously bad weather we did manage to get out and find them. Australian and New Zealand waters are probably the best in the world for albatrosses. We have done pelagics out of New Zealand and have visited the country's sub Antarctic islands with Heritage Expeditions. It was off Australia's Macquarie Island on the same expedition that I saw my one and only Chatham Albatross as we have never visited the Chatham Islands themselves.
"In 2019 we visited Japan and on our way by ferry to the Izu Islands we saw our first Short-tailed Albatrosses. But it was only in the following month, having joined another Heritage Expedition trip and spent a month sailing from New Zealand past New Caledonia and the Solomons, on through Micronesia and back to Japan, that we had a wonderful morning with more Short-tailed Albatrosses off Toroshima where they breed.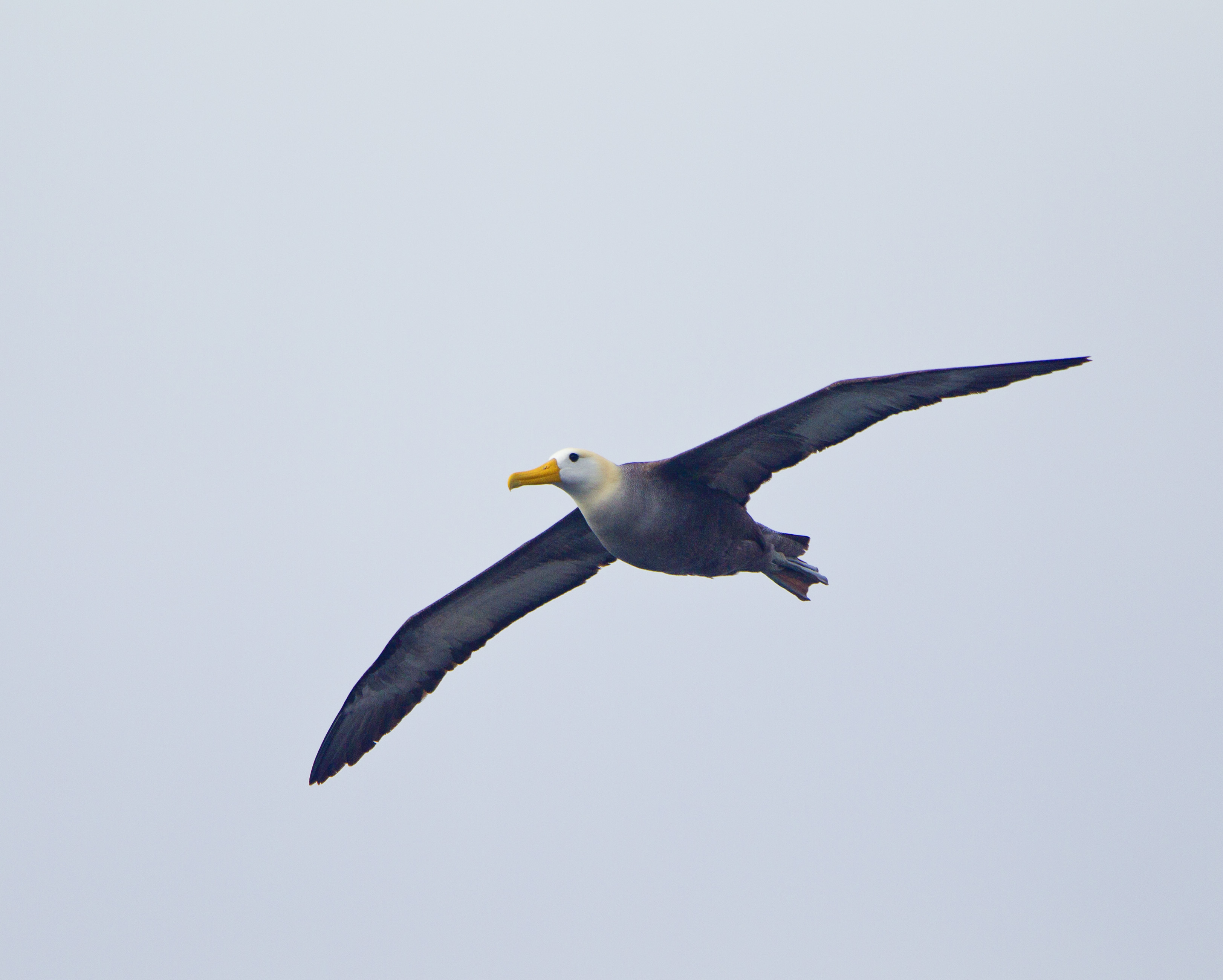 A Waved Albatross in flight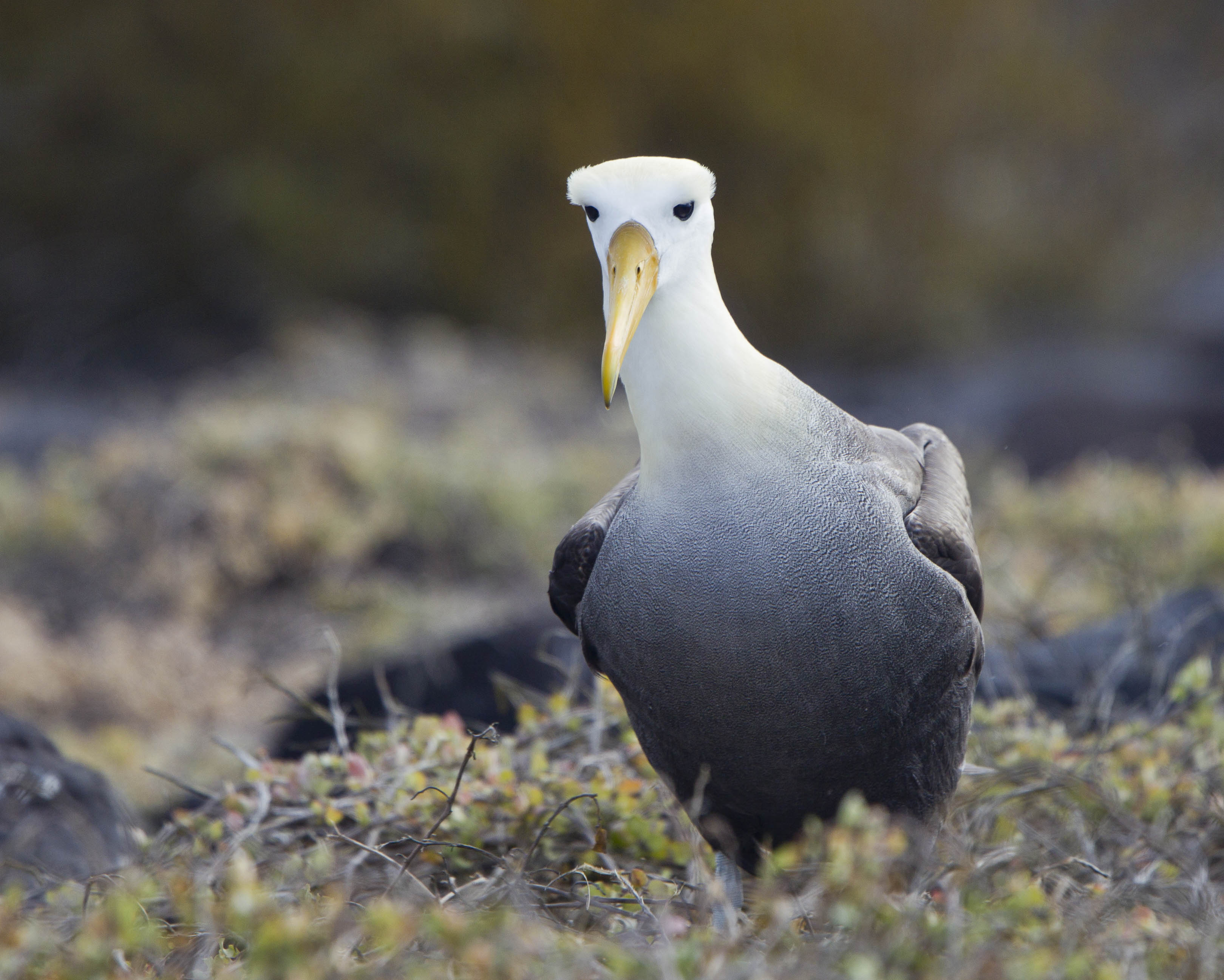 A Waved Albatross at Punta Suárez
"I have just completed my first photobook on albatrosses, a great project to while away the weeks we can no longer travel because of the COVID pandemic."
With thanks to Ken Logan.
John Cooper, ACAP Information Officer, 04 August 2021