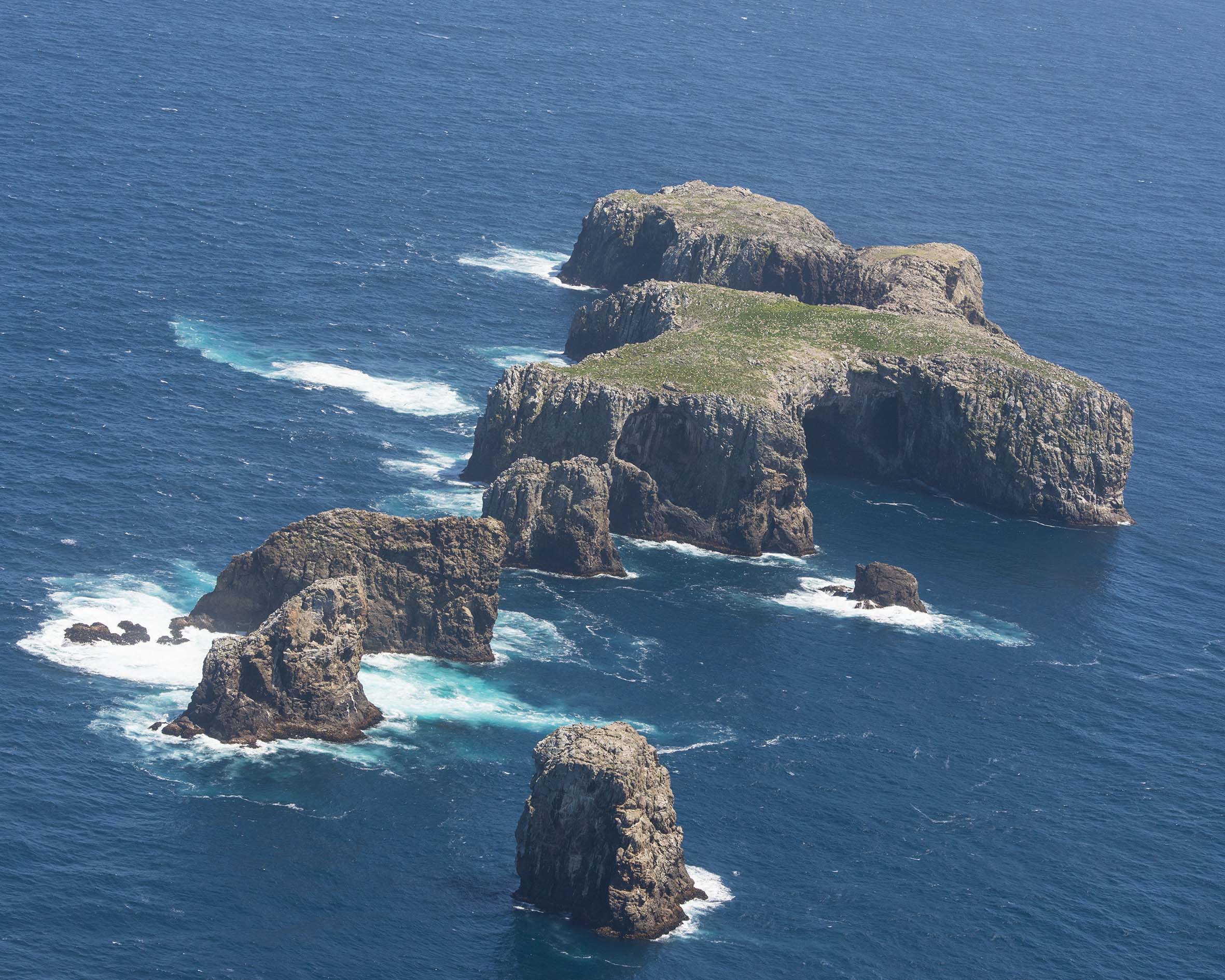 Motuhara from the air, photograph by Barry Baker
Motuhara, otherwise known as the Forty-Fours, is a 11.5-ha island surrounded by six stacks 50 km east of the Chatham Islands (and is thus New Zealand's easternmost territory). The island, made up of hard sandstone with a thin soil covering, reaches 60 m via sea cliffs to a relatively flat plateau. Vegetation consists of herb fields and low shrubs.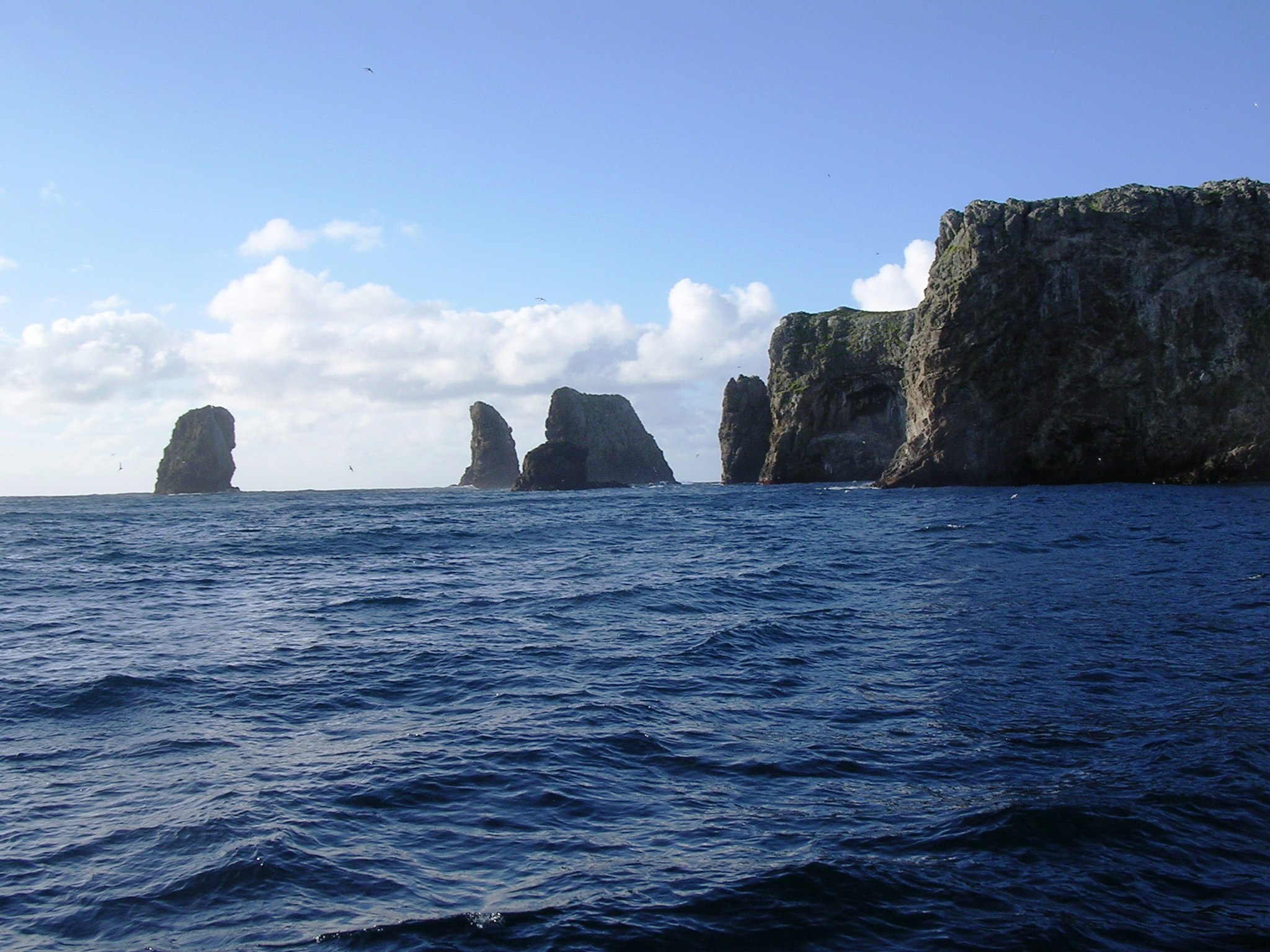 Motuhara and some of its sea stacks
Three ACAP-listed species breed in numbers on Motuhara. Based largely on ground counts made in 2016 the biennially breeding Northern Royal Albatross Diomedea sanfordi (Endangered) has an annually breeding population of the order of 2000-2500 pairs, with 270 occupied nests of this total counted on four of the offshore stacks. Northern Buller's Albatrosses Thalassarche bulleri platei (Near Threatened) number around 15 000 -18 000 pairs – the largest colony of the subspecies. New Zealand's largest population of Northern Giant Petrels Macronectes halli (Least Concern) is estimated as c. 2000 pairs, based on a count of chicks. There is relatively little information on population trends for the three species on Motuhara. Northern Royal Albatrosses are considered to be decreasing in numbers overall, partially (along with fisheries mortality) due to a large storm in 1985 that washed away soil and vegetation in breeding areas leading to nest failures and subsequent reduced subsequent juvenile recruitment. Up to the middle of the 20th century albatross feathers and bones for cultural purposes and eggs and chicks for human consumption were collected by the indigenous population of the Chathams from the albatross islands; in the last few decades of exploitation only sporadically and sometimes illegally. The albatrosses (and giant petrels) are now fully protected.
In addition, a single pair of White-capped Albatrosses Thalassarche cauta (Near Threatened) has bred on the island over several seasons, and a Vulnerable Salvin's Albatross T. salvini pair on at least one occasion. The Chatham Island Fulmar Prion Pachyptila crassirostris pyramidalis also breeds on Motuhara.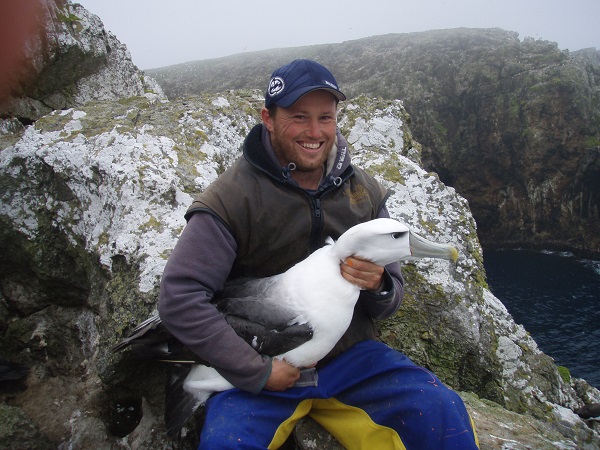 Mike Bell holds a White-capped Albatross for banding on Motuhara, photograph by Mark Fraser
Research activities on Motuhara have concentrated on censuses of breeding birds, by ground counts, aerial photography and satellite imagery, along with some limited banding. The island is in private ownership as Māori Freehold Land; research landings are by agreement with the registered owners. The island is free of introduced vertebrates and vascular plants. It has been identified as an Important Bird Area by BirdLife International.
With thanks to Barry Baker and Mike Bell.
References:
Aikman, H. & Miskelly, C. 2004. Birds of the Chatham Islands. Wellington: Department of Conservation. 116 pp.
Andrews, P.B., Campbell, H.J. & Watters, W.A. 1978. The Forty Fours: The most easterly outcrop of Mesozoic basement in the New Zealand region. New Zealand Journal of Geology and Geophysics. 21: 649-652.
Baker, G.B., Jensz, K., Bell, M., Fretwell, P.T. & Phillips, R.A. 2017. Seabird Population Research, Chatham Islands, 2016/17 Aerial Photographic Survey. Final Report. Report prepared for Department of Conservation Contract 4686-2. [Kettering]: Latitude 42 Environmental Consultants Pty Ltd. 19 pp.
Bell, B.D. & Robertson, C.J.R. 1994. Seabirds of the Chatham Islands. BirdLife Conservation Series No. 1. pp. 219-228.
Bell, M., Bell, D., Boyle, D. & Tuanui-Chisholm, H. 2017. Motuhara Seabird Research: December 2016. Blenheim: Wildlife Management International. 17 pp.
Fraser, M., Cameron, N., Scofield, P. & Robertson, C.J.R. 2010. Population assessment of Northern Buller's Albatross and Northern Giant Petrels at the Forty-Fours, Chatham Islands, 1 – 8 December 2009. Final Report to Ministry of Fisheries. Christchurch: National Institute of Water and Atmospheric Research.
Frost, P.G.H. 2018. Aerial Census of Northern Royal Albatross (Diomedea sanfordi) Fledglings on Rangitatahi (The Sisters) and Motuhara (Forty-Fours), July 2017. Whanganui: Science Support Service. 22 pp.
Miskelly, C.M., Bester, A.J. & Bell, M. 2006. Additions to the Chatham Islands' bird list, with further records of vagrant and colonising bird species. Notornis 53: 213-228.
Miskelly, C.M., McNally, M., Seymour, J., Gregory-Hunt, D. & Lanauze, J. 2008. Antipodean wandering albatrosses (Diomedea antipodensis) colonising the Chatham Islands. Notornis 55: 89-95.
Robertson, C.J.R. 1991. Questions on the harvesting of Toroa in the Chatham Islands. Science and Research Series 35: 1-105. Wellington: Department of Conservation.
Robertson, C.J.R. 1998. Factors influencing the breeding performance of the Northern Royal Albatross. In: Robertson, G. & Gales, R. (Eds). Albatross Biology and Conservation. Chipping Norton: Surrey Beatty & Sons. pp. 99-104.
Robertson, C.J.R. & Sawyer, S. 1994. Albatross research on (Motuhara) Forty Fours islands: 6-15 December 1993. Conservation Advisory Science Notes No. 70. Wellington: Department of Conservation. 10 pp.
Taylor, G.A. 2000. Action Plan for Seabird Conservation in New Zealand. Part A. Threatened Seabirds. Threatened Species Occasional Publication No. 16. Wellington: Department of Conservation. 233 pp.
John Cooper, ACAP Information Officer, 18 January 2021