To mark the holding this week of the Ninth Meeting of ACAP's Advisory Committee in La Serena, Chile, Portuguese-based cartoonist Marc Parchow Figueiredo has produced another specially commissioned cartoon in his Qual Albatroz series.
Back in July 2013 Marc produced an albatross cartoon especially for ACAP Latest News and also then wrote about himself, a story worth repeating here.

"I'm half Portuguese, half German and born in France. I've worked in the UK and I'm a big fan of UK literature and humour. I got into albatrosses as a child growing up in Germany. I suppose it must have been a book showing the comparative wingspan of birds. That must have struck something in me. I grew up to be very interested in nature and conservation issues, but followed a creative career rather than biology - though the choice was hard. Later I started my own publishing company in Portugal and was stuck for a name. I wanted something nonsensical and funny, so out of a whim I chose "Qual Albatroz" (What Albatross) as the name of my firm. It's a reference to something from the Douglas Adams book The Long Dark Tea-time of the Soul and refers to the albatross in the Rime of the Ancient Mariner by Samuel Taylor Coleridge.
Some time after that I started a project with the Portuguese Society for the Study of Birds (SPEA) and the idea was to publish a small book about the albatross. We'd ask Portuguese artists to collaborate and to send in some work about the albatross. Poetry, comics, text - anything really. The profits from the sale went to the BirdLife Save the Albatross Project. It wasn't much and we only printed 500 books, but it helped the albatross and Portuguese artists. I myself participated in the book with two or thre comic strips, and they were the first cartoons I drew about the somewhat unusual albatrosses. It was in 2008. Since then I've been continuing to draw them fairly, regularly translating them from Portuguese to English. My idea with the albatross cartoons was to create an interesting way to get people to care about albatrosses and to want to find out more.
Amidst all this the funny (and sad) thing is that I've never seen a live albatross. That is still my dream. Until then I'll just draw them as I imagine them to be."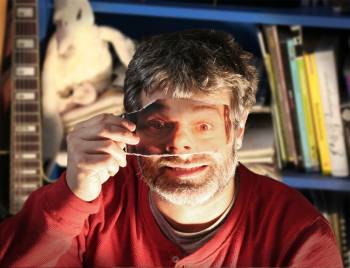 With grateful thanks to Marc of Qual Albatroz for continuing to support ACAP - and albatross conservation - with his cartoons.
John Cooper, ACAP Information Officer, 09 May 2016