Johanna Pierre (Johanna Pierre Environmental Consulting Ltd) and colleagues have produced a report that assesses two different seabird mitigation measures in Australian scalefish and shark trawl fisheries.
The report's shortened Executive Summary follows:
"In 2009, the Australian Fisheries Management Authority became aware that interactions between seabirds and fishing gear were occurring in the South East Trawl and Great Australian Bight Trawl sectors of the Southern and Eastern Scalefish and Shark Fishery (SESSF). Seabird Management Plans (SMPs) were developed in response. These SMPs include provision for bycatch reduction measures intended to limit seabird access to risk areas around trawl warps. To contribute to assessments of the efficacy of SMP provisions, two bycatch reduction devices were tested at sea: the warp deflector and the warp scarer. The warp deflector comprises a plastic "pinkie" buoy that is attached to the trawl warp by a clip and connected back to the vessel on a rope. The warp scarer is a rope interlaced with semi-stiff streamers that is clipped onto the trawl warp for much of the warp's exposed length.
Shy-type albatross accounted for 77 percent of observed interactions with a much lower incidence involving Short-tailed Shearwater and the Black-browed Albatross.
Shy-type albatross interactions with trawl warps were largely restricted to daylight hours when fish processing waste was being discharged. The data collected in this study shows [sic] that the risk of interactions between shy-type albatross and trawl warps appeared to be much lower at night. Also, out of a total of 176 seabird interactions with nets recorded during this study, none of those interactions were [sic] considered likely to cause injury.
Warp deflectors ('pinkies') reduced heavy contact around 75 percent, depending on how birds were feeding. Warp deflectors were effective in reducing contacts between shy-type albatross and trawl warps that did not result in birds being submerged, during periods of both relaxed and more aggressive feeding ...".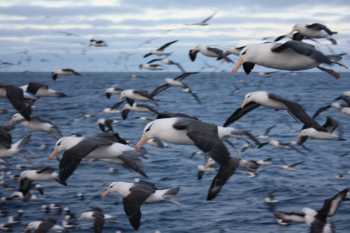 Black-browed Albatrosses behind a trawler, photograph by Graham Parker
See also a summary and two popular articles (* and *) on the report. Click here for the video. Information on the work reported here was given to the recent meeting of ACAP's Seabird Bycatch Working Group, in Punta del Este, Uruguay as SBG 6 Inf 06.
Reference:
Pierre, J., Gerner, M. & Penrose, L. [2014]. Assessing the Effectiveness of Seabird Mitigation Devices in the Trawl Sectors of the Southern and Eastern Scalefish and Shark Fishery in Australia. [Place of publication or Publisher not given]. 28 pp.
John Cooper, ACAP Information Officer, 04 October 2014