The Biodiversity Research Institute (IRBio) and the Departament de Biologia Animal of the Universitat de Barcelona in Spain have recently posted a video documentary on seabird bycatch in the Mediterranean. The 14-minute video entitled 'Hams sense ocells' appears in both Catalán and Spanish (Castellano) languages (click here).
The documentary, funded by the Fundacion Biodivesidad explains the problem of seabird bycatch along the Catalan coast and the need to adapt mitigation measures in the Mediterranean fishing fleet to reduce it. Some mitigation trials have been funded by ACAP in its last call for project funding (click here).
Click here for more information on the department's programme on sea bird bycatch.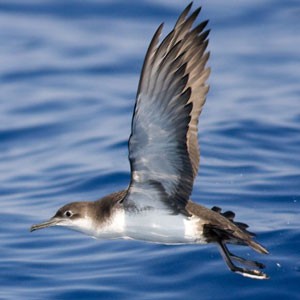 Yelkouan Shearwater at sea in the Mediterranean
With thanks to Jacob González-Solís for information.
John Cooper, ACAP Information Officer, 10 December 2014