Keith Springer (MIPEP Manager, Tasmania Parks and Wildlife Service, Moonah, Tasmania, Australia) has reviewed the successful Macquarie Island Pest Eradication Project in the open-access New Zealand Journal of Ecology.
The paper's abstract follows:
"Vertebrate pest management on Macquarie Island has removed five vertebrate species since 1988; weka (Gallirallus australis scotti), cats (Felis catus), rabbits (Oryctolagus cuniculus), ship (black) rats (Rattus rattus) and house mice (Mus musculus). The latter three were eradicated in a combined eradication operation that commenced in 2006 and was declared successful in 2014. Eradication planning for removal of rabbits, rats and mice took about five years, with implementation another three years. The eradication comprised a two-phase project, with aerial baiting followed up by ground hunting using hunters and trained detection dogs to remove surviving rabbits. Rabbit Haemorrhagic Disease Virus was used as a non-target mitigation strategy prior to a second attempt at aerial baiting after adverse weather forced the abandonment of the first attempt. The project was considered complex, ambitious and challenging, partly because of the remote location with adverse weather conditions, but especially because multiple-species eradications are considered more difficult to achieve than single-species eradications. In addition, when eradication planning commenced Macquarie Island (12,785 ha) was many times larger than had previously been attempted for the removal of black rats and house mice (1000 and 800 ha, respectively). Preliminary empirical and anecdotal evidence is demonstrating the recovery of native flora and fauna in the absence of grazing and predatory mammals."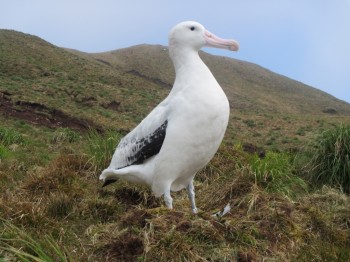 A male Wandering Albatross on Macquarie Island, photograph by Kate Lawrence
Reference:
Springer, K. 2016. Methodology and challenges of a complex multi-species eradication in the sub-Antarctic and immediate effects of invasive species removal. New Zealand Journal of Ecology 40(2).
John Cooper, ACAP Information Officer, 17 January 2016