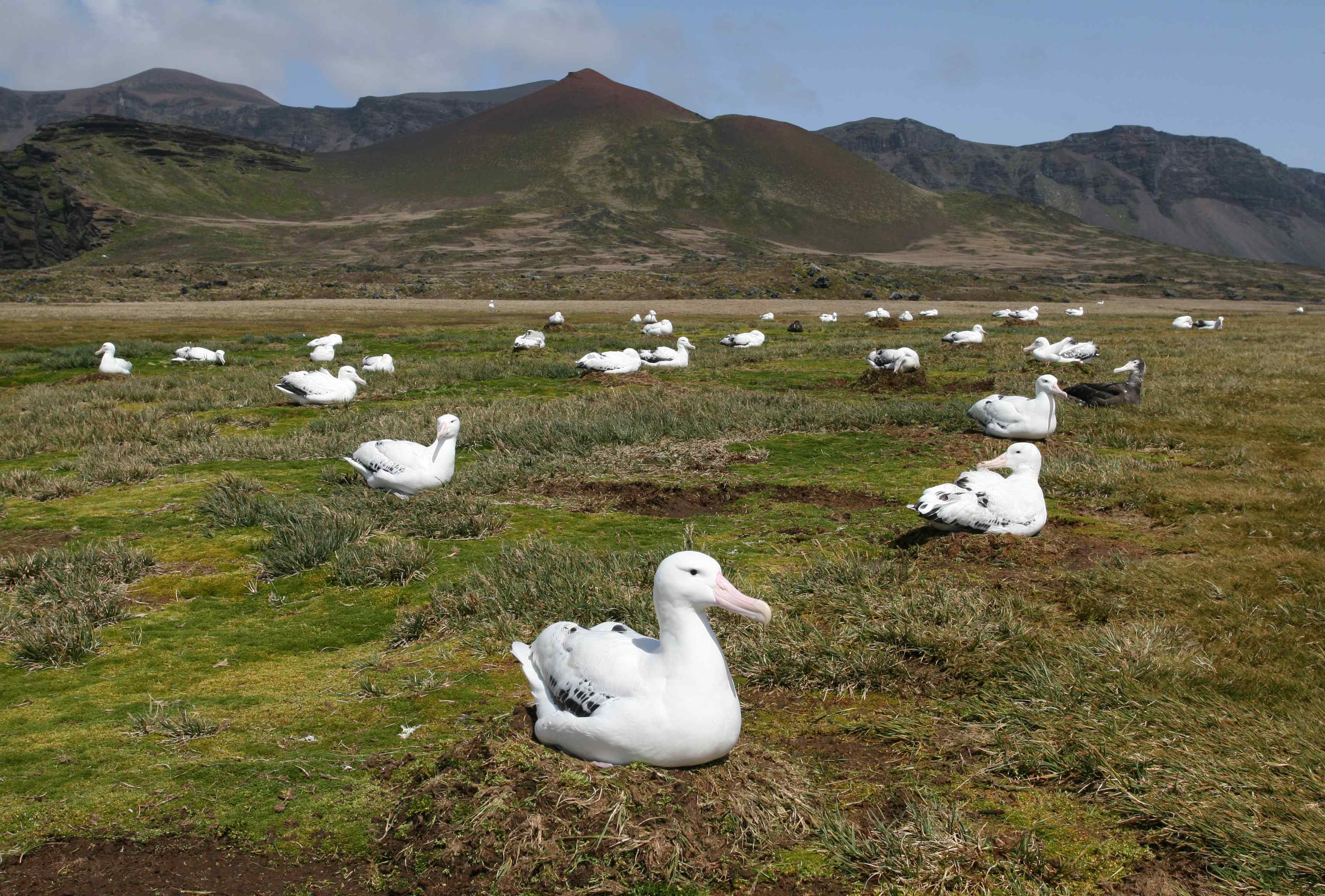 Fit for World Heritage status: Wandering Albatrosses breed densely in Albatross Valley, Prince Edward Island, photograph by Peter Ryan
Note: Opinions expressed in ACAP Monthly Missives are not to be taken as those of the ACAP Secretariat or of any of the Agreement's Parties.
****************************
The Convention concerning the Protection of the World Cultural and Natural Heritage (the World Heritage Convention, WHC) was adopted by UNESCO in 1972. Currently, 167 nations are States Parties to the convention, with a total of 1154 inscribed properties. Of this total, 252 are designated as Natural Sites.
All the 13 Parties to the Albatross and Petrel Agreement (ACAP) are States Parties of the World Heritage Convention. Three countries (Japan, Mexico and the USA) with breeding populations of ACAP-listed species which are not Parties to the Agreement are also signatories to the WHC. Ten of the 13 ACAP Parties have (or have had in the case of Norway) ACAP breeding sites within their territories; the exceptions being the South American countries of Brazil, Peru and Uruguay. Therefore, 13 nations are responsible for all the world's ACAP breeding sites. There are two exceptions to this. Firstly, there are numerous breeding sites for Southern Giant Petrels Macronectes giganteus and a single known site of the Near Threatened Light-mantled Albatross Phoebetria palpebrata that fall within the Antarctic Treaty Region. Secondly, there is the special case of breeding populations that occur within territories that are of disputed ownership.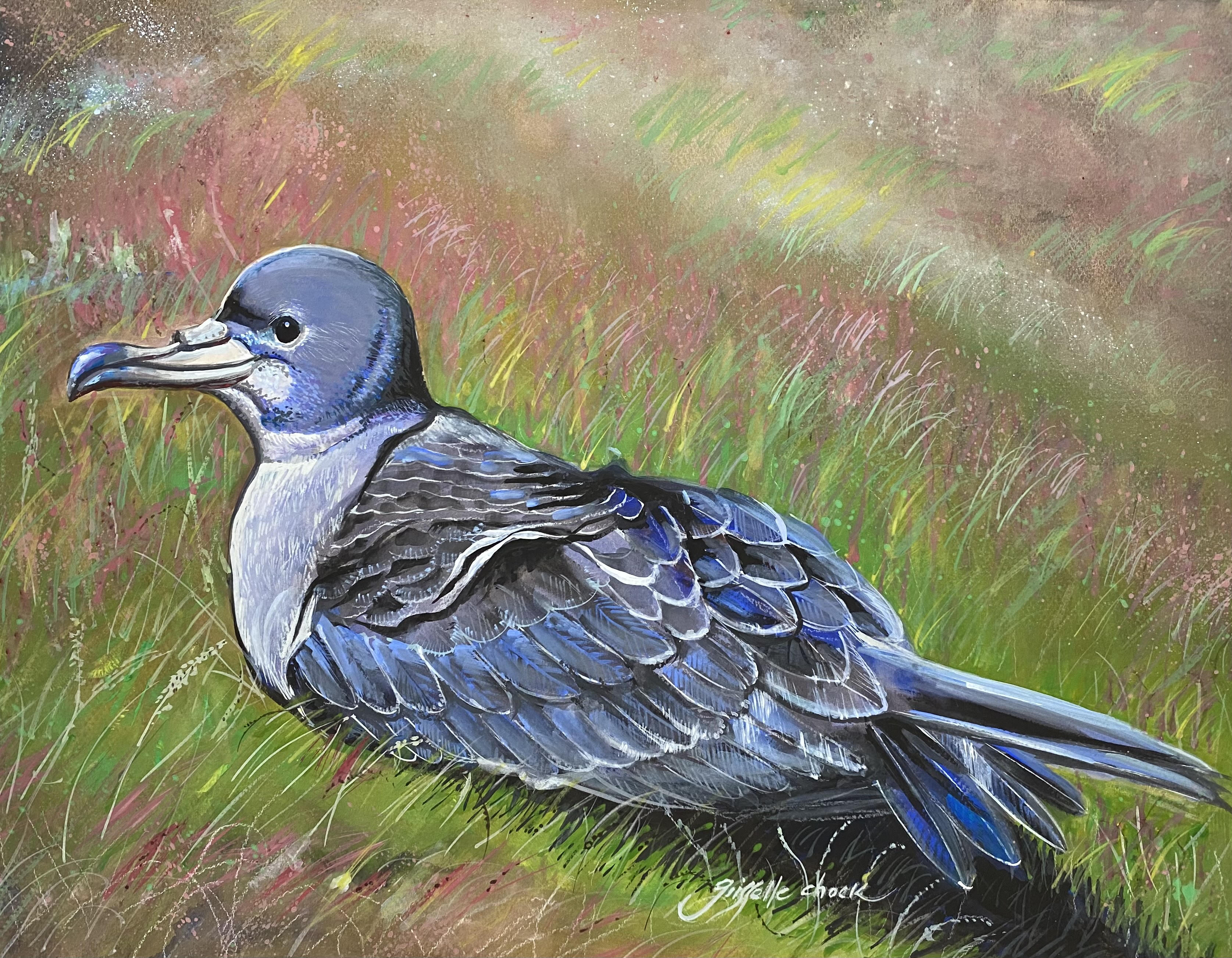 A Pink-footed Shearwater at its Chilean breeding site by Grisselle Chock, after a photograph by Peter Hodum
How many of these 13 nations have had ACAP breeding sites inscribed by the World Heritage Convention? It turns out there are eight: five ACAP Parties (Australia, Ecuador, France, New Zealand and the United Kingdom) and the three non-ACAP countries mentioned above. The 11 Natural Heritage Sites (listed here with brief descriptions) include breeding populations of 25 of the 31 ACAP-listed species. Notably, France has attained World Heritage status for all its localities with breeding ACAP-listed species with the inscription in 2019 of the French Austral Lands and Seas Natural Site which includes the sub-Antarctic islands of Amsterdam, Crozets, Kerguelen and Saint-Paul. Several other countries approach near complete coverage, including Australia and Ecuador, with only one breeding site for each not having World Heritage status.
WHC Parties signal their intention to nominate sites by first placing them on a Tentative List. Five examples of ACAP-species breeding localities on Tentative Lists have been found. They are:
With the above as background, where is the scope, and the conservation value, for more ACAP breeding sites to be declared World Heritage Sites? In addition to the five localities listed above that are already on Tentative Lists, two seemingly excellent candidates are identified here, followed by a consideration of potential sites that fall within Disputed Territories.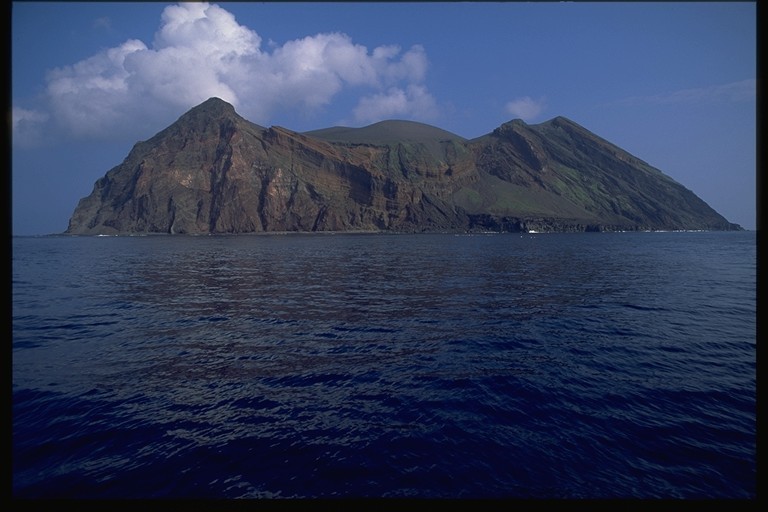 Torishima, Izu Islands, Japan – primary home of the Short-tailed Albatross, photograph by Hiroshi Hasegawa
Torishima, Japan
Japan's Ogasawara Islands were inscribed on the World Heritage List in 2011. A few Vulnerable Short-tailed Albatrosses Phoebastria albatrus breed on Mukojima following a translocation exercise and on Nakodojima. Black-footed Albatrosses also breed within the island group. However, by far the majority of the global Short-tailed Albatross population is to be found on the uninhabited island of Torishima, in the Izu Islands group, which thus seems to be an ideal candidate for becoming a World Heritage Site. The island may well qualify as a mixed (cultural/natural) site, given its chequered history of occupation and exploitation of its albatrosses. As a first step Japan should consider placing the island on its Tentative List.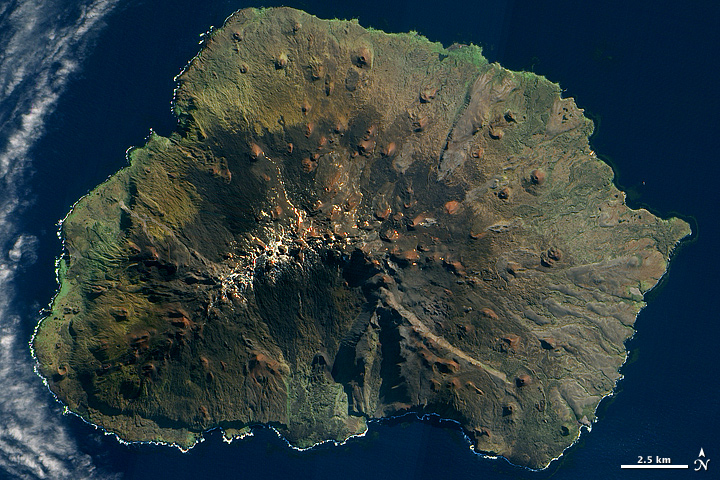 A satellite's view of a rarely cloud-free Marion Island
Prince Edward Islands, South Africa
Following a recommendation by the then Prince Edward Islands Management Committee, South Africa nominated its sub-Antarctic Prince Edward Islands for inscription as a Natural Site by the WHC in 2006, having first placed the island group on its Tentative List. However, a site visit in November 2006 by a retired British Antarctic Survey botanist on behalf of the International Union for Conservation of Nature (IUCN), which independently evaluates natural site nominations for the WHC, led to an unfavourable report which did not recommend inscription, despite noting that the two islands of Marion and Prince Edward together support a large number (approximately half the global population) of Vulnerable Wandering Albatrosses Diomedea exulans. South Africa then withdrew its nomination prior to it being considered by the World Heritage Committee at its 31st Session in 2007. At a later time South Africa removed its southern islands from its Tentative List.
The Prince Edward Islands are the only sub-Antarctic island group in the southern Indian Ocean that is not a World Heritage site. Their listing as a natural site would complete coverage for the region and give further international status to the two islands: near-pristine Prince Edward and Marion, where active environmental management includes a project to eradicate the island's remaining introduced mammal, the albatross-killing House Mouse Mus musculus.
As first steps, it is proposed South Africa replaces the Prince Edward Islands on its World Heritage Tentative List and considers revising and updating its original nomination document towards a new submission. In any new submission it should take note of the designation of the Prince Edward Islands and their inshore kelp beds as a Ramsar Wetland of International Importance in May 2007, the declaration of a surrounding large Marine Protected Area in 2013, the adoption of a new environmental management plan in 2014 and the considerable amount of research and environmental management activities that have taken place on the islands and in the surrounding seas over the last 15 years.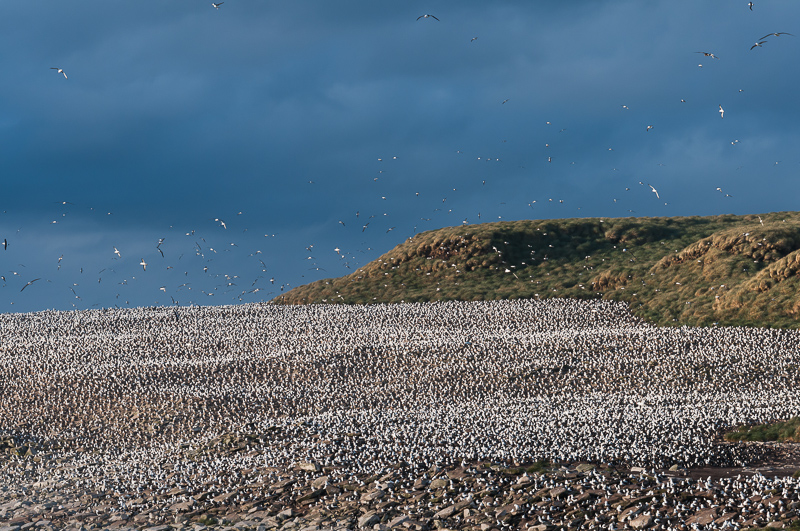 Black-browed Albatrosses breed jam-packed to the horizon on Beauchêne Island, photograph by Anton Wolfaardt

Disputed Territories
There are three groups of islands supporting breeding ACAP species, that are nationally disputed, one in in the East China Sea and two in the South Atlantic.
The originally named Pinnacle Isles are claimed by the People's Republic of China (as the Diaoyu Islands) and Japan (as the Senkaku Islands), as well as by the APEC (Asia-Pacific Economic Cooperation) member economy of Chinese Taipei (as the Diaoyutai Islands). One of the islands in the group, Minami-Kojima (Nanxiao Dao in Chinese), supports a little-studied population of around 130 pairs of Short-tailed Albatrosses (click here). This estimate, based on satellite photography, compares with the 550-600 breeding pairs on Torishima, which represents some 80-85% of the global population.
The disputed territories in the South Atlantic are the Falkland Islands (Islas Malvinas)* and South Georgia (Islas Georgias del Sur)*, claimed by Argentina and the United Kingdom. Both these island groups support populations of several ACAP-listed species. It seems that in the Falkland Islands (Islas Malvinas)*, Beauchêne Island and all or some of the Jason Islands group (Islas Sebaldes) with their large populations of Black-browed Albatrosses Thalassarche melanophris (Least Concern) are deserving of World Heritage status, perhaps as a single site. It is noted that geographically separate islands can form a single site, as witnessed by that for Gough and Inaccessible Islands, situated farther north in the South Atlantic. Likewise, a good argument could be put forward for South Georgia (Islas Georgias del Sur)* and its associated islets for World Heritage status, perhaps as a mixed site due to its whaling history.
However, it seems unlikely that any claimant would consider nominating a disputed territory to the World Heritage Convention, given that protests would inevitably follow from the other claimants. Therefore, this monthly missive makes no recommendations as to their international status, leaving the above considerations as purely an academic exercise.
Note this is not in any way a full review of ACAP-species breeding sites and the role of the World Heritage Convention in their protection, which would require a longer list of potential candidates judged against the WHC's criteria for natural sites. Such a review is recommended and should make a good subject for a Master's degree.
Selected Literature:
Department of Environmental Affairs and Tourism 2006. Prince Edward Islands: World Heritage Nomination. pp. 117 + appendices, maps & management plans.
World Heritage Committee 2007. IUCN Evaluations of Nominations of Natural and Mixed Properties to the World Heritage List. WHC-07/31.COM/INF.8B2. pp. 11-18.
World Heritage Committee 2007. Decisions adopted at the 31st Session of the World Heritage Committee (Christchurch, 2007. WHC-07/31.COM/24. p. 140.
John Cooper, Emeritus Information Officer, Agreement on the Conservation of Albatrosses and Petrels, 07 February 2023
*A dispute exists between the Governments of Argentina and the United Kingdom of Great Britain and Northern Ireland concerning sovereignty over the Falkland Islands (Islas Malvinas), South Georgia and the South Sandwich Islands (Islas Georgias del Sur y Islas Sandwich del Sur) and the surrounding maritime areas