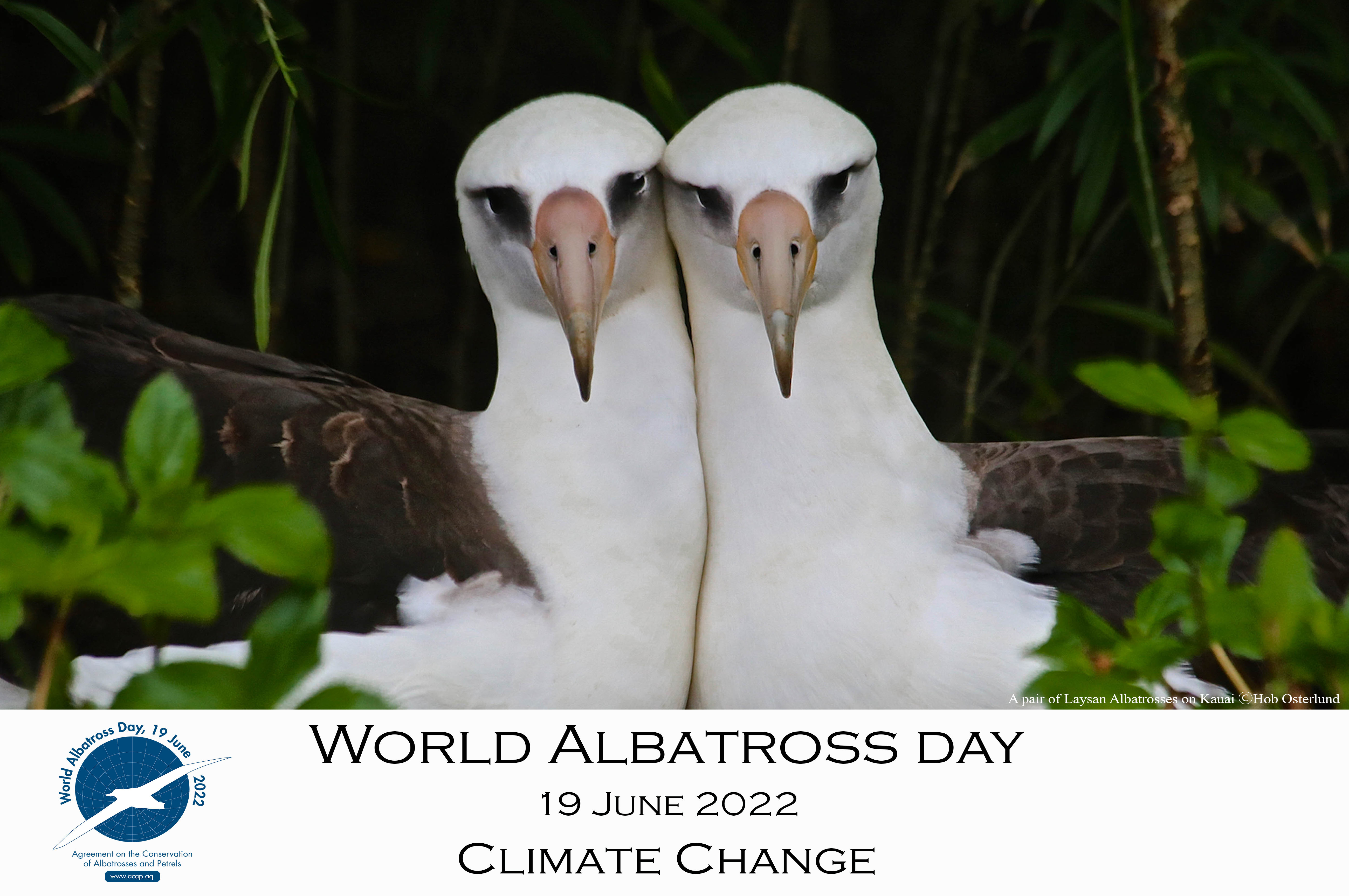 "Snuggle Sweet". A Laysan Albatross pair, photograph by Hob Osterlund, poster design by Michelle Risi
The Albatross and Petrel Agreement has chosen the theme "Climate Change" to mark the third World Albatross Day, celebrated today. This follows the inaugural theme "Eradicating Island Pests" in 2020 and "Ensuring Albatross-friendly Fisheries" last year. The annual celebration, marked on 19 June, aims to increase awareness of the continuing conservation crisis faced by ACAP's 31 listed species of albatrosses, petrels and shearwaters.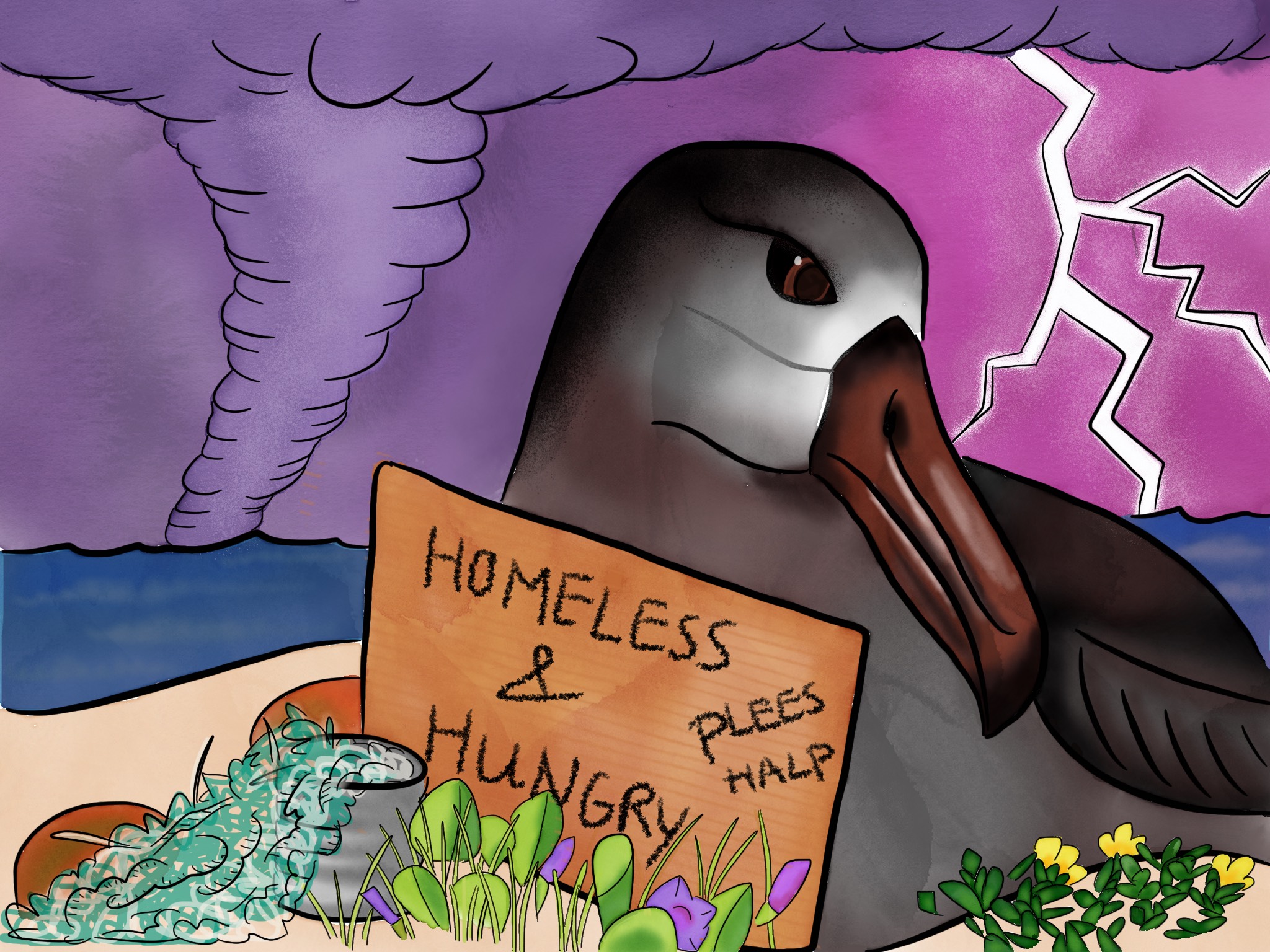 A storm is on the way. Black-footed Albatross by ABUN artist Grace Innemee for WAD2022, poster design by Michelle Risi
Some albatrosses are particularly vulnerable to the impact of climate change. This year's featured species are the Black-footed Phoebastria nigripes and the Laysan P. immutabilis. Both these Near Threatened albatrosses have most of their breeding populations on the low-lying atolls of the USA's Northwestern Hawaiian Islands. The atolls - and their breeding seabirds - are all at risk from predicted sea-level rise and increases in the number and severity of storms that result in flooding, both considered a consequence of climate change. Storm floods have even caused at least one small sandy islet to disappear into the sea, losing breeding sites for several thousand albatross pairs (click here); elsewhere in the island chain, as on Midway Atoll, storms have caused flooding of albatross nests and loss of chicks close to the shore.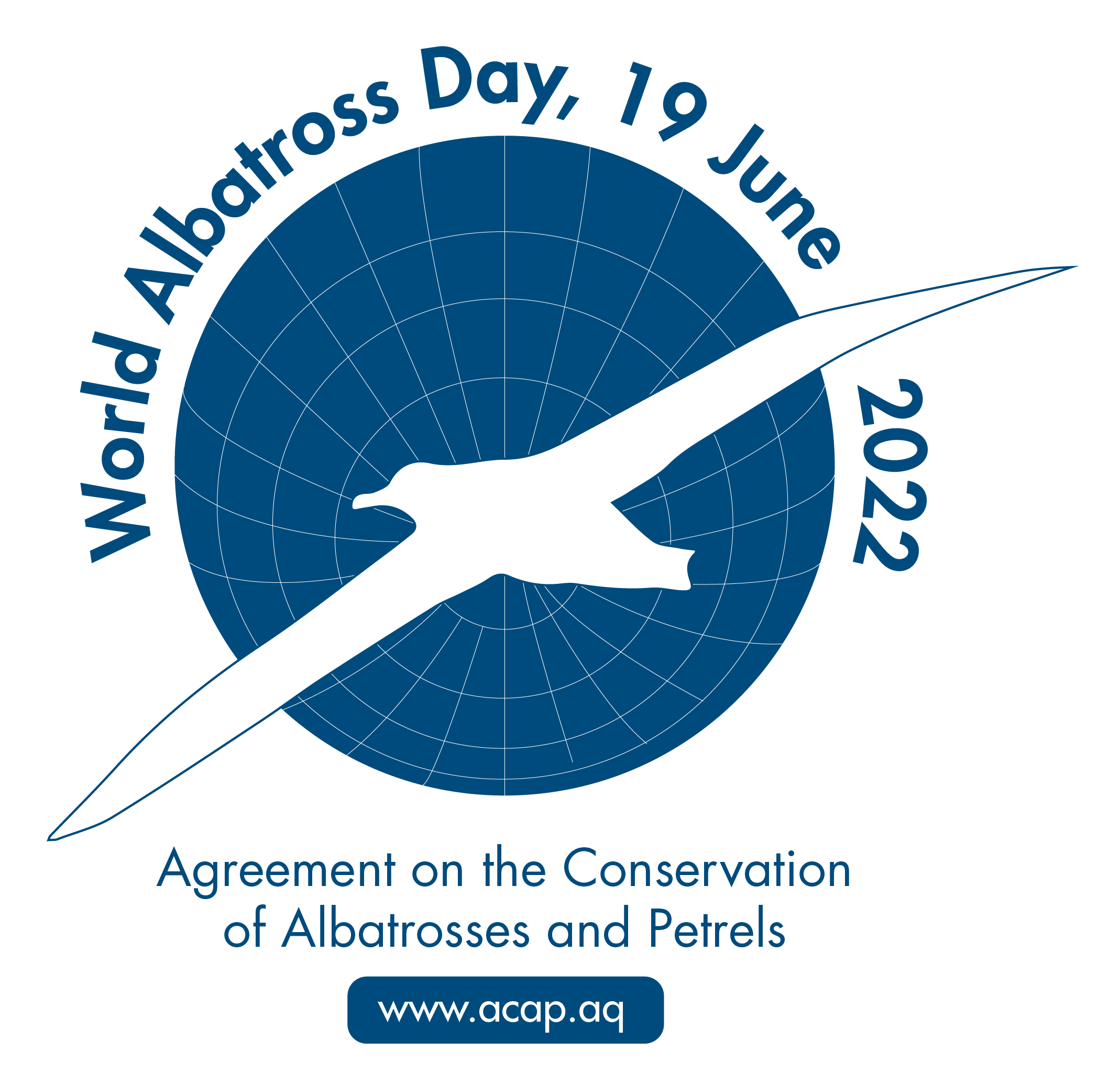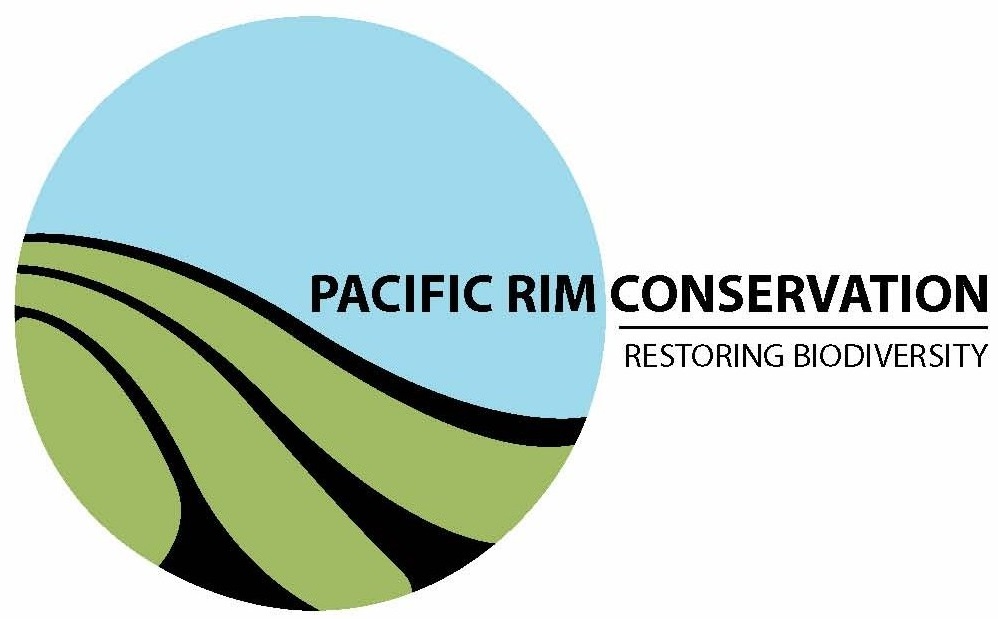 Efforts are underway to protect albatrosses from these threats. Two of these efforts are described in guest articles in ACAP Latest News that form part of seven daily news posts for 'WADWEEK2022", commencing on the 13th of June. The Hawaii-based environmental Pacific Rim Conservation talks about its pioneering works to combat climate change by creating new seabird colonies safe from sea level rise in Hawaii and in Mexico. The South African Mouse-Free-Marion Project describes it aim to eradicate the island's albatross-killing House Mice that have burgeoned over the whole island, helped by a warming and drying climate.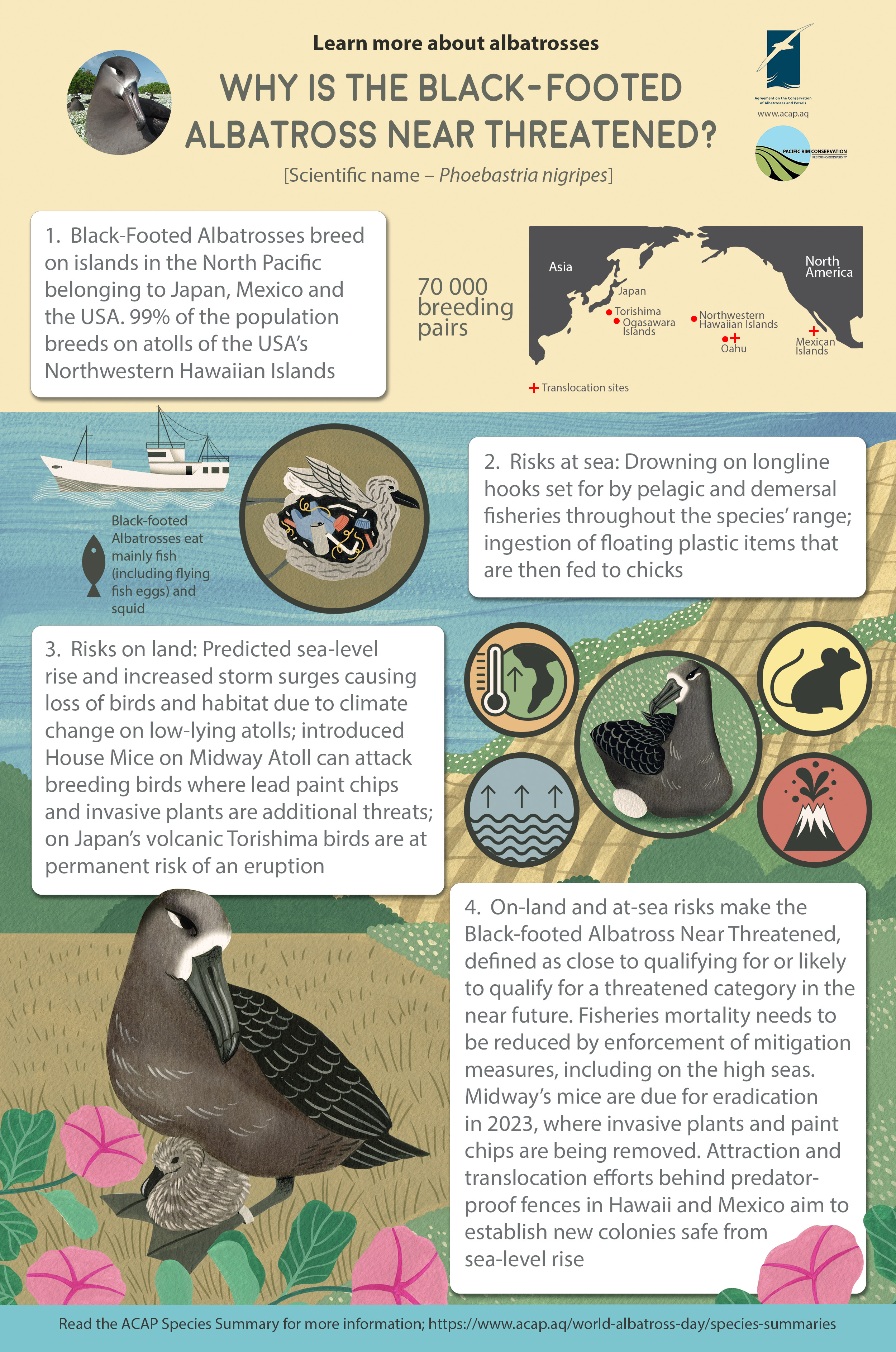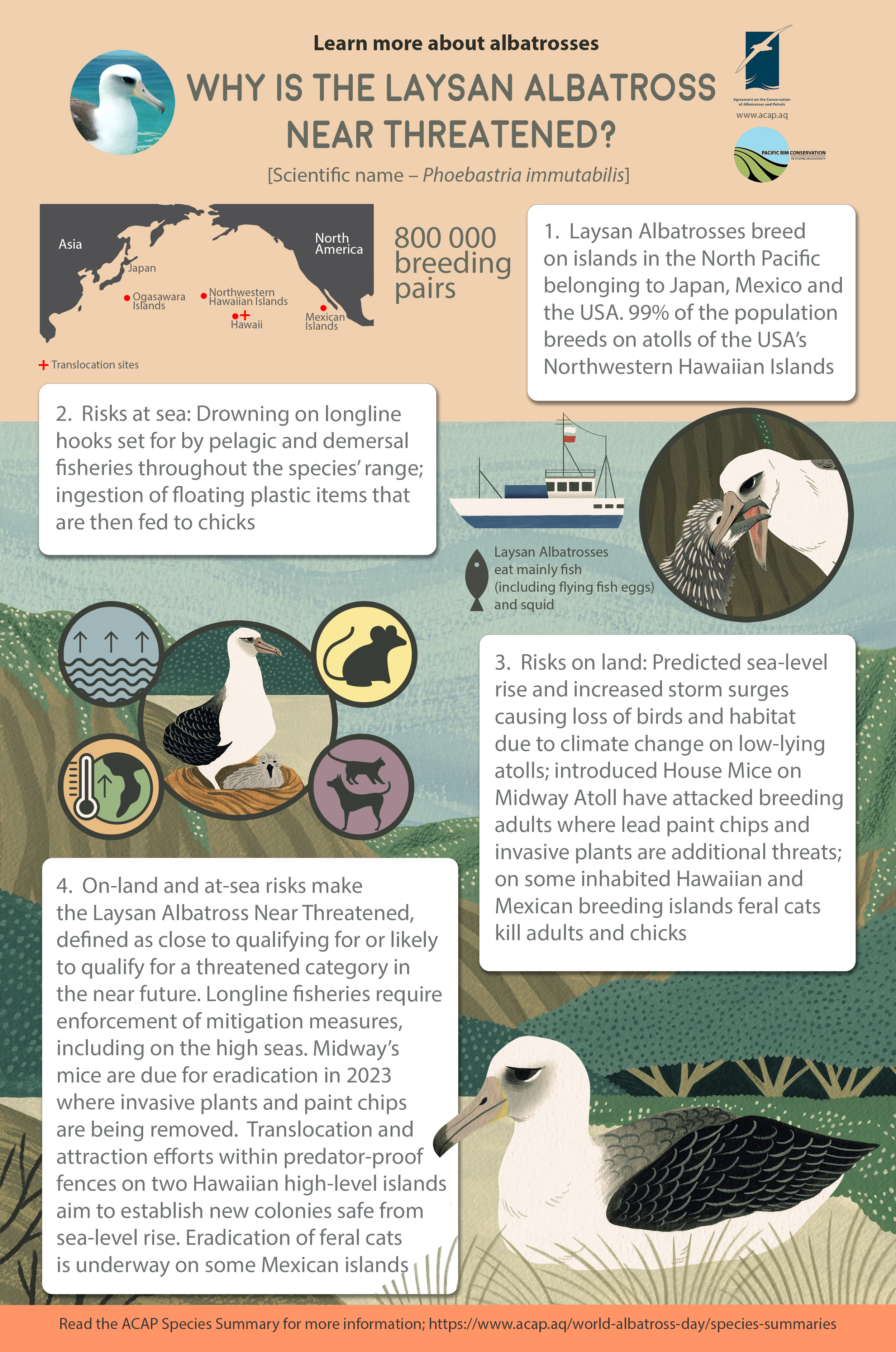 ACAP has once more collaborated with Artists & Biologists Unite for Nature (ABUN) to produce artworks for WAD2022, this time depicting Black-footed and Laysan Albatrosses. From the over 100 artworks received, ACAP has chosen nine by different artists to create downloadable posters to mark 'WAD2022'. In addition, 12 similarly-designed posters have been produced using photographs donated to ACAP by its supporters. Along with the two infographics designed by illustrator Namasri Niumim for the Black-footed and Laysan Albatrosses, these are all available for downloading for non-commercial use, with French and Spanish versions to follow soon. An ACAP 'WAD2022' logo in the three official languages, as well as in Portuguese, is also available.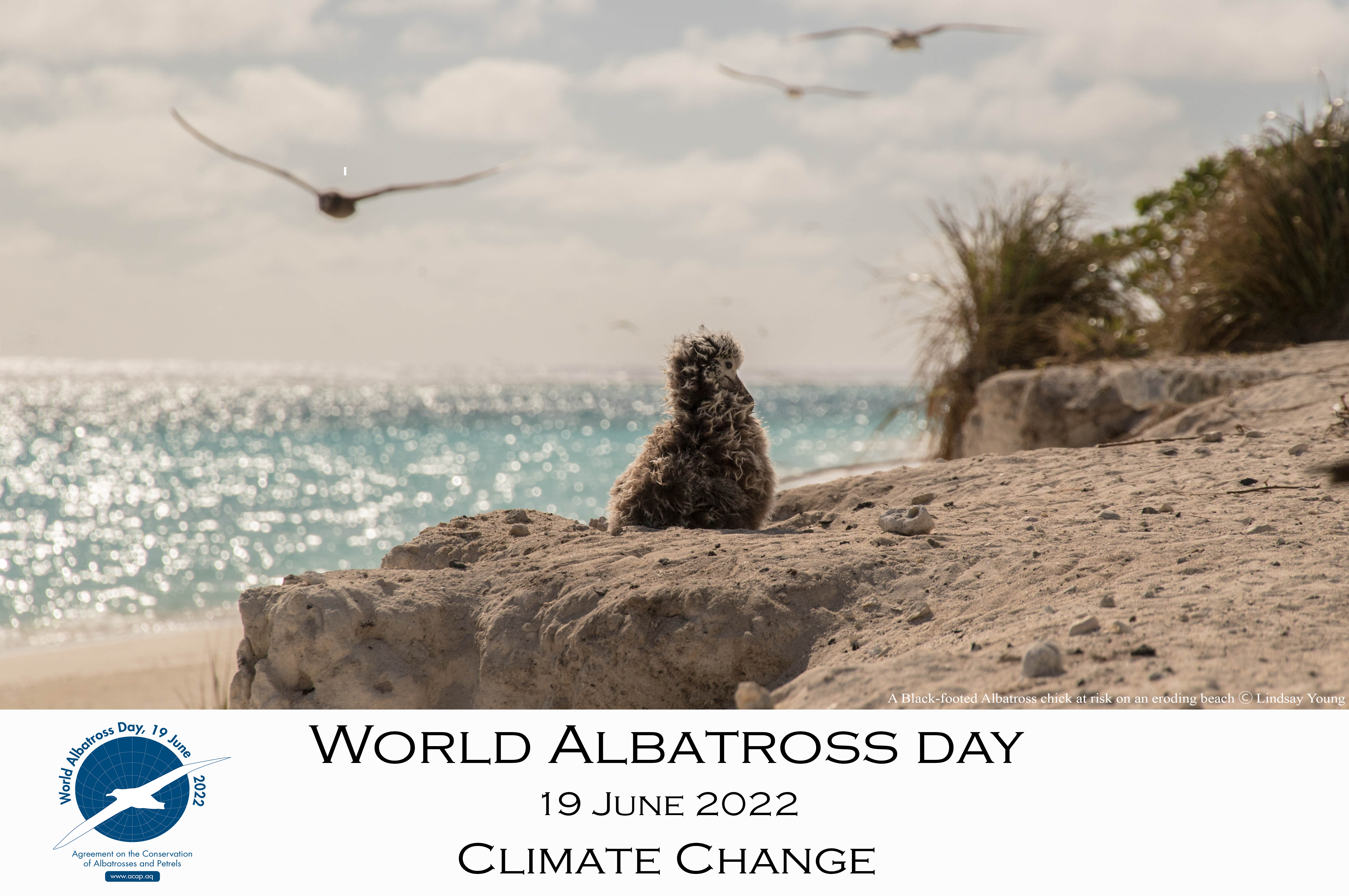 At risk to climate change: a storm surge could easily wash away this Black-footed Albatross chick, photograph by Lindsay Young, poster design by Michelle Risi
ACAP's Executive Secretary, Dr Christine Bogle, commented that "it is tragic that albatrosses, already being killed in their thousands by fishing operations, must also suffer from the impacts of climate change. Strengthened international cooperation is needed to overcome these threats." ACAP will continue to work for the world's albatrosses in the years ahead.
John Cooper, ACAP Information Officer, 19 June 2022