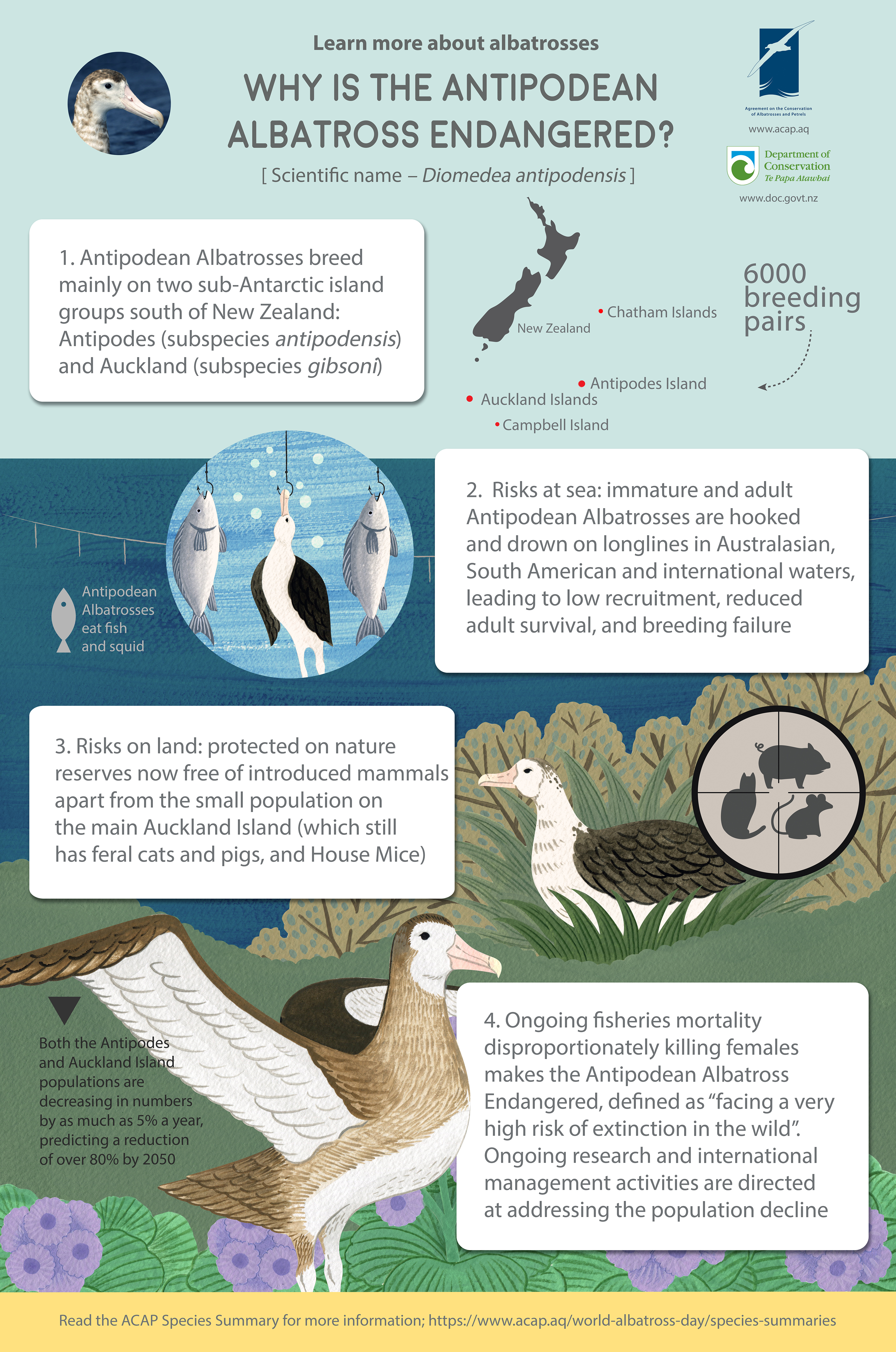 In support of last year's World Albatross Day on 19 June ACAP released three infographics for the Critically Endangered Tristan Diomedea dabbenena and Waved Phoebastria irrorata Albatrosses and for the Vulnerable Wandering Albatross D. exulans. The last species was co-published with the NGO, BirdLife South Africa. All three infographics were designed and illustrated by Namasri 'Namo' Niumim.
The vision of ACAP is, in time, to produce infographics for all 31 ACAP-listed species; efforts are currently being directed at producing infographics for the 22 species of albatrosses, primarily in support of future World Albatross Days. The fourth in the series, again illustrated by Namo Niumim, is of the globally Endangered and Nationally Critical Antipodean Albatross Diomedea antipodensis. This species, endemic to New Zealand, is co-published by that country's Department of Conservation, which has covered the costs of its production. The new infographic refers to the threats the Antipodean Albatross continues to face, notably from interactions at sea with fishing vessels which disproportionally kills females (as illustrated in a recent news article).
Voting in New Zealand's Te Manu Rongonui o te Tau/Bird of the Year (BOTY) competition for 2021 is now open and continues until month end, with the Antipodean Albatross on the list (click here). ACAP's and DOC's infographic helps explain why the Antipodean Albatross would be a deserving winner this year, following its second place in BOTY2020 last year.
French and Spanish versions of the new 'namographic' will follow shortly, when high-quality versions suitable for down loading and printing as either A3 or A2 posters will be freely available on this website, In the meantime the infographics featuring the three previous albatrosses may be viewed and obtained from here.
With thanks to Namasri Niumim for her artistic work, and to Ian Angus, Igor Debski and Johannes Fischer of the New Zealand Department of Conservation, for their valued inputs.
John Cooper, ACAP Information Officer, 21 October 2021