Dundee University Professor Tony Martin, Project Director at the South Georgia Heritage Trust, has been named Conservationist of the Year by the Zoological Society of London.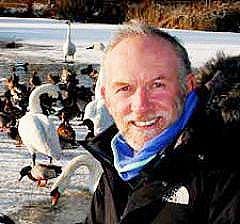 Tony Martin
Professor Martin headed the "Team Rat" project to eradicate Norway Rats Rattus norvegicus and House Mice Mus musculus on South Georgia (Islas Georgias del Sur)*, that was conducted in three phases over 2011 to 2015. Monitoring conducted to date indicates that the first phase of baiting was successful. A survey at the end of next year will assess whether the areas baited during the second and third phases were similarly effective and that the island can be declared free of introduced rodents.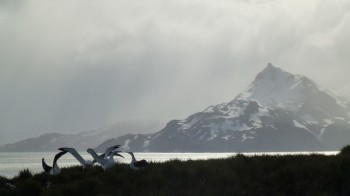 A rugged island now perhaps free of rodents, photograph by Sally Poncet
Professor Martin said he was "immensely proud" to be named Conservationist of the Year. He added: "It was a privilege to lead such a remarkable team of people ... on this breath-taking sub-Antarctic island."
Click here for a review of Tony Martin's book describing the eradication programme. Read previous reports of progress by Team Rat in ACAP Latest News and a news report on the eradication effort here.
Reference:
Martin, T. with photographs by members of Team Rat. undated*. Reclaiming South Georgia. The Defeat of Furry Invaders on a Sub-Antarctic Island. [Dundee]: South Georgia Heritage Trust. 144 pp. ISBN 978-0-9564546-3-8. Hardcover, profusely illustrated in colour. UK£ 25.00.
*Published October 2015.
John Cooper, ACAP Information Officer, 06 June 2017
*A dispute exists between the Governments of Argentina and the United Kingdom of Great Britain and Northern Ireland concerning sovereignty over the Falkland Islands (Islas Malvinas), South Georgia and the South Sandwich Islands (Islas Georgias del Sur y Islas Sandwich del Sur) and the surrounding maritime areas.