Glenfern Sanctuary is a predator-controlled area on Great Barrier Island in the Hauraki Gulf Marine Park of New Zealand.
A 2.1-km Xcluder® fence built across the Kotuku Peninsula on inhabited Great Barrier in 2009 by the Glenfern Sanctuary Charitable Trust helps protect Vulnerable and ACAP-listed Black Petrels Procellaria parkinsoni and other burrowing seabirds within the 250-ha sanctuary against feral domestic cats Felis catus, feral pigs Sus scrofa domesticus, Pacific Rats or Kiore Rattus exulans and Norway or Brown Rats R. norvegicus. Monitoring of over 1000 bait stations and tracking tunnels helps prevent reinvasions of pests becoming established.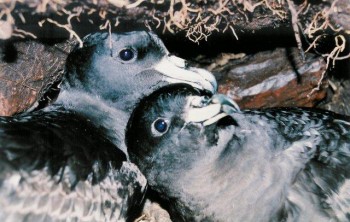 Black Petrels, photograph by Biz Bell
In June this year a major storm caused extensive damage to the natural environment on Great Barrier with landslips, fallen trees and foot bridges and parts of the walkways in the sanctuary washed away – as described in the sanctuary's on-line newsletter (click here).
The winter 2014 newsletter also reports on the last summer's breeding:
"Seasonal monitoring of blacks and Cooks [Pterodroma cookii] petrels is proving very promising with three areas with both Blacks and Cooks within the Sanctuary and confirmation of fluttering shearwaters [Puffinus gavia] located near the cliffs at the western boundary of the Peninsula. In total, 22 Cooks and 16 black petrel burrows were identified this season, including 17 new burrow locations. A total of nine Cooks and six black petrels were considered to have fledged successfully based on our monitoring – and thankfully all before the big storm hit."
A Black Petrel Action Group was established in 2011.
Watch a short video on Black Petrel conservation here.
John Cooper, ACAP Information Officer, 22 August 2014