A Brazilian document recently published in Portuguese sets guidelines for the rehabilitation of albatrosses and petrels.
The document Diretrizes Para a Reabilitação de Albatrozes e Petréls (Guidelines for the Rehabilitation of Albatrosses and Petrels) is the first on the subject produced in Brazil, as part of actions of the Brazilian National Action Plan for the Conservation of Albatrosses and Petrels (NPOA) and the National Center for Research and Conservation of Wild Birds (CEMAVE).
The NGO Projeto Albatroz Brasil collaborated with the preparation of the guidelines which were formulated by experts in bird conservation.
"Because of the low occurrence of these birds in rehabilitation and the fact that they are extremely sensitive species and mostly endangered, the guide is essential to help build capacity to rehabilitate these animals" (translation).
The document includes guidelines for physical structures, use of personal protective equipment, rehabilitation techniques, monitoring, sanitary controls and documentation of cases treated. In addition, issues such as the release of rehabilitated birds in nature, euthanasia and necropsy are covered.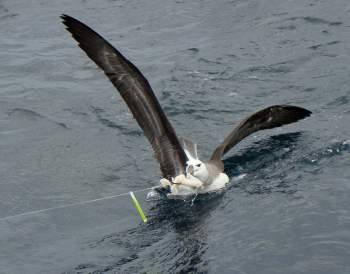 A Black-browed Albatross seizes a baited hook in South American waters, photograph by Martin Abreu
Click here to read more (in Portuguese).
Reference:
Vanstreels, R.E.T., Saviolli, J.Y., Ruoppolo, V., Hurtado, R., Adornes, A.C., Canabarro, P.L., Pinho, R., Filho, S. & Serafini, P.P. 2014. Diretrizes Para a Reabilitação de Albatrozes e Petréls. 12 pp.
John Cooper, ACAP Information Officer, 14 August 2014