"Last season a pair of endangered Short-tailed Albatrosses Phoebastria albatrus (STAL) produced an egg for the first time at a prospective new breeding ground on an uninhabited island. Researchers examining the egg found that it was infertile. Expert analysis continues to determine reasons for failure to successfully hatch an egg at the new breeding site.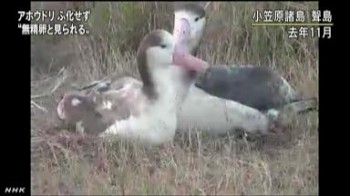 Short-tailed Albatross pair attempts to incubate their apparently infertile egg, Mukojima, Ogasawara Islands, November, 2013
The Japanese Ministry of Environment, Yamashina Institute for Ornithology, and other participants are attempting to establish the new breeding site at Mukojima, Ogasawara Islands, 350 kilometres away from the current breeding site at Torishima, Izu Islands because of the danger of annihilation of the breeding colony by volcanic eruption on Torishima. Last November a surveillance camera installed by NHK and Yamashina Institute on Mukojima confirmed that a nesting STAL pair had again produced an egg.
When the egg failed to hatch on the day predicted early this month, researchers land[ed] on the island to examine the egg, [and] found it to be spoiled. The year before last this same pair produced the first egg on Mukojima, but it failed to hatch, apparently being infertile (click here).
Since this season's egg again did not contain a chick embryo, it appears not to have been fertilized. Yamashina Deputy Director General Kyoaki Ozaki commented, "This is a young pair that we think may not yet have developed compatible breeding rhythms. Considering that the female has a different ancestry from the Torishima population, we next have to investigate the influence of ecological differences."
Kyoaki Ozaki writes to ACAP: "Unfortunately, the egg laid last December did not hatch. [Tomohiro] Deguchi-san checked it on 12 January and the egg was already spoiled. But this time both the male (A01) and female (unbanded) incubated. We are hoping [for] next season!"
Click here to read earlier new stories on the translocation of Short-tailed Albatross chicks to Mukojima.
With thanks to Kiyoaki Ozaki, Division of Avian Conservation, Bird Migration Research Center, Yamashina Institute for Ornithology, Japan for information and to Chuck Pell for the translation from the original Japanese text.
John Cooper, ACAP Information Officer, 05 February 2014