At ACAP Meetings currently being held in Uruguay information was received that in June this year the Fisheries Agency of Taiwan (Chinese Taipei) had unveiled an updated National Plan of Action to reduce the incidental catch of seabirds in the nation's longline tuna fisheries to protect albatrosses and petrels, replacing its first NPOA-Seabirds that was adopted in 2006 (click here).
"The agency said that, as one of the major tuna longline fisheries countries in the world, Taiwan has more than 1,000 longline vessels operating across three oceans that unintentionally affect seabird populations. To reduce the bycatch of seabirds during fishing, the agency said that it developed the first edition of its National Plan of Action on Seabirds in 2006 in accordance with that adopted by the UN's Food and Agriculture Organization. The agency updated its plan this year.
Fisheries Agency Director-General James Sha said that the agency has instructed fishing vessels [in higher latitudes] to install two "bird-scaring" lines since 2006, reducing seabird bycatch by 50 percent. He said that the new edition of the action plan would also require vessels to select at least two of the three other chosen methods to further reduce incidents of seabird bycatch. Apart from installation of bird-scaring lines, fishing vessels might install weighted branch lines or choose to set up baits at night" (click here).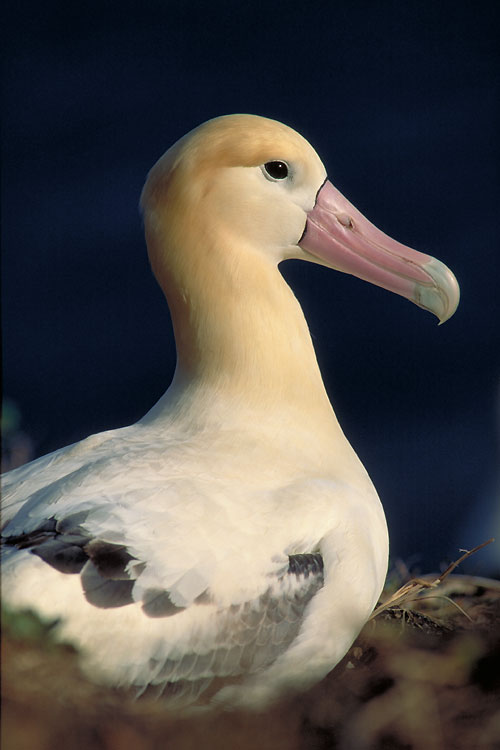 Short-tailed Albatross, photograph by Hiroshi Hasegawa
With thanks to Jonathan Barrington and Mi Ae Kim for information.
Reference:
Fisheries Agency 2014. National Plan of Action for Reducing Incidental Catch of Seabirds in Tuna Longline Fisheries. Fisheries Agency, Council of Agriculture. 104 pp.
John Cooper, ACAP Information Officer, 13 September 2014