***** Watch a short video on the loss of East Island here *****
When Hurricane Walaka worked its way across the northern Pacific Ocean in the first few days of October this year it swept over the USA's French Frigate Shoals (FFS) in the Northwestern Hawaiian Islands, part of the Papahanaumokuakea Marine National Monument. No-one was on the island group at the time, following a pre-storm evacuation of seven researchers, but a satellite photograph taken after theCategory-5 (at its height) hurricane showed that a storm surge had all but completely washed away East Island, one of the small ( 4.5 ha) sandy islets on the western edge of the shoals – and in the face of the storm.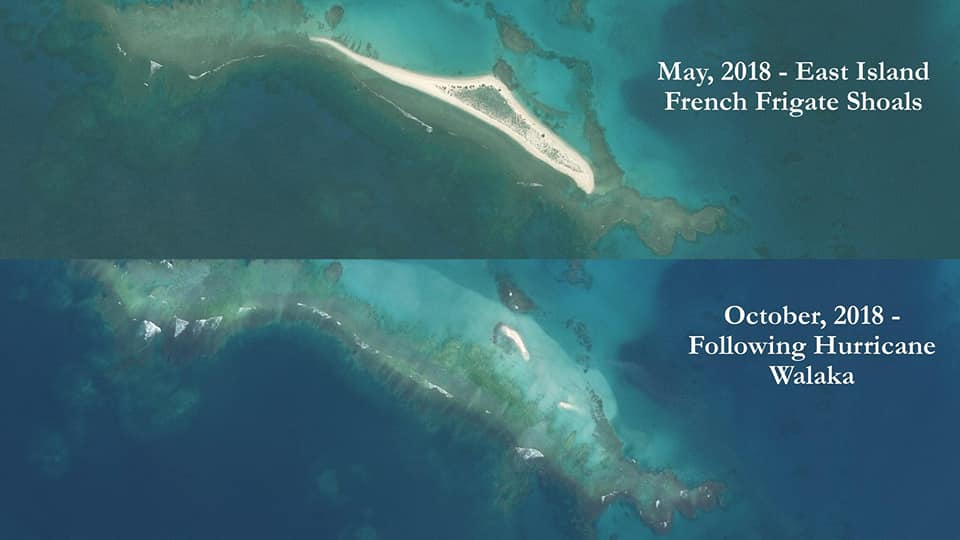 East Island, French Frigate Shoals, before and after Hurricane Walaka
Both Black-footed Phoebastria nigripes and Laysan P. immutabilis Albatrosses breed (or bred) on East Island. According to counts made annually from 1997 to 2011 in the French Frigate Shoals by the United States Fish and Wildlife Service rounded averages of c. 1700 Black-footed and c. 300 Laysan pairs bred. These totals represent roughly 40% of the FFS's Black-footed Albatross breeding population and about 13% of its Laysan Albatrosses. The FFS research station closed after being destroyed in a severe storm in December 2012 so there have been no complete albatross nest counts on the FFS in winter since then.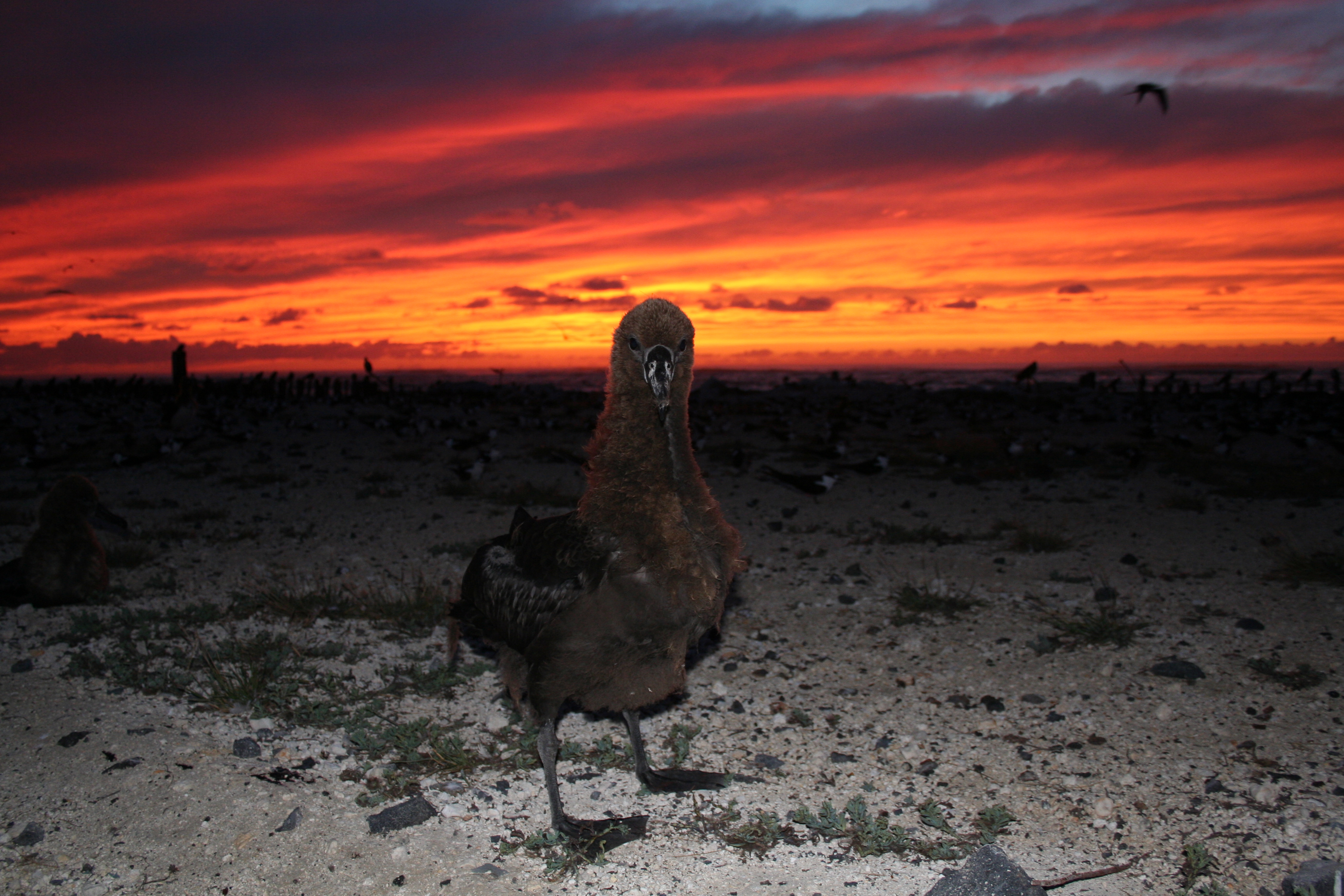 A Black-footed Albatross chick on East Island, photograph courtesy of the United States Fish & Wildlife Service
Nearby Trig Island on the FFS had previously disappeared this year due to high wave activity not attributed to a specific storm (and Whale-Skate Island was lost to erosion during the 1990s). Trig also supported breeding albatross populations but in lower numbers than did East. The largest island in the FFS, Tern Island, is considered to have lost approximately one third of its surface area during the hurricane, with its vegetation replaced by sand. The effect on its albatross populations will need assessment once breeding commences. A post-hurricane visit by U.S. Fish and Wildlife Service biologists over 25/26 October to the FFS to collect marine debris and conduct "Rapid Ecological Assessments" reports:
"At Tern Island, storm surge deposited sand and debris across the island, swept away vegetation, caused erosion, and changed habitat conditions. Portions of the island were completely overwashed or inundated by the ocean. Plants such as beach heliotrope (heliotropium foertherianum) were uprooted, burrows of nesting seabirds were flooded, and infrastructure left behind from the island's days as a U.S. Navy airfield in World War II and a U.S. Coast Guard Long Range Navigation radio station were significantly damaged or destroyed. Unfortunately, some seabirds were also killed and turtle nests washed away by the storm" (click here).
Fortunately when Walaka hit the FFS no albatrosses had as yet returned to commence their 2018/19 breeding season. However, this month they have been returning and several thousand birds will find their breeding site has gone. Future censuses may give an indication whether they have been able to move elsewhere in the French Frigate Shoals.
"This event is confronting biologists with what the future could look like. With global warming and rising sea levels, atolls around the world will struggle to persist. The scientific community has long warned that anthropogenic climate change influences extreme weather events. The loss of this important island is another very real example of that."
East Island, that was second largest islet in the French Frigate Shoals, was also an important refuge for pupping Hawaiian Monk Seals Neomonachus schauinslandi and egg-laying Green Turtles Chelonia mydas. A few seals could still be seen on a tiny sandy remnant of the islet visible on the post-hurricane satellite photo.
Read more via the following links:
https://www.papahanaumokuakea.gov/new-news/2018/10/23/ffs-bulletin/?fbclid=IwAR30bprofScew5wterQGOfW4oNpCpOi02VJmNNRqpLMhK_Q1ccGlChqqRgo
https://www.theguardian.com/us-news/2018/oct/24/hawaiian-island-erased-by-powerful-hurricane
https://www.civilbeat.org/2018/10/this-remote-hawaiian-island-just-vanished/?fbclid=IwAR2WdqGN86CwhQrGFDIKcB3lGQYI9BpexJVhFmxG660qTQL1tUdWHh15XQg
https://www.stuff.co.nz/travel/news/108093462/storm-wipes-hawaiian-island-off-map?fbclid=IwAR18Hc9dWcGgV8poM2ywCQ261uylM8wkWIEYh3k3XNaat5XATreiggYCZv4
https://www.huffingtonpost.com/entry/hawaii-east-island-lost-to-hurricane-walaka-french-frigate-shoals-climate-change_us_5bcf2a8ee4b055bc9484e803
With thanks to the United States Fish and Wildlife Service field crews who braved difficult winter boating conditions to count albatrosses each year and to Beth Flint and Ridge Souza, Marine National Monuments of the Pacific, USFWS, Honolulu, Hawaii.
References:
Amerson, A.B. 2012. The Coral Carrier. French Frigate Shoals, Northwestern Hawaiian Islands: a History. Dallas: Binion Amerson Books. 262 pp.
Arata, J.A., Sievert, P.R. & Naughton, M.B. 2009. Status assessment of Laysan and Black-footed Albatrosses, North Pacific Ocean, 1923-2005. U.S. Geological Survey Scientific Investigations Report 2009-5131. 80 pp.
John Cooper, ACAP information Officer, 23 November 2018, updated 27 November 2018