King George Island is part of the South Shetland Island group and lies about 125 km from the northern tip of the Antarctic Peninsula. Turret Point is a formation of rocky stacks which forms the eastern limit of King George Bay on the south coast of King George Island.
According to the most recent ground census made by Brazilian researchers from the Universidade do Vale do Rio dos Sinos in the austral summer of 2014/2015 (on 8 December), 58 Southern Giant Petrel Macronectes giganteus pairs bred at Turret Point. Breeding grounds are located in three areas above low-lying cliffs close to the sea.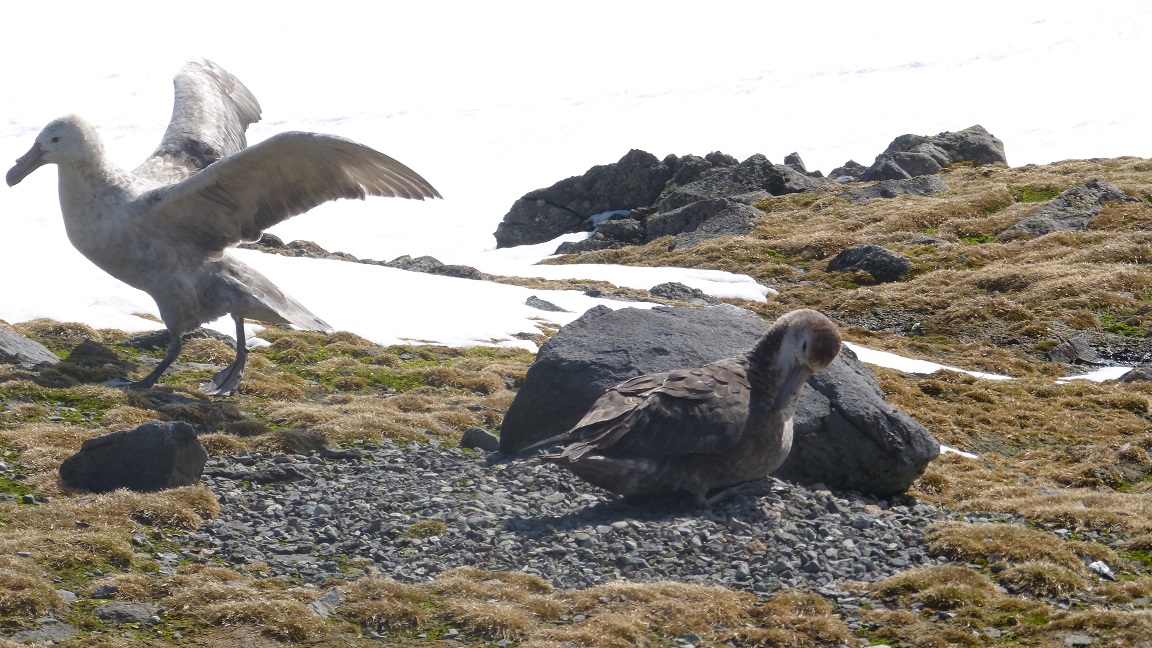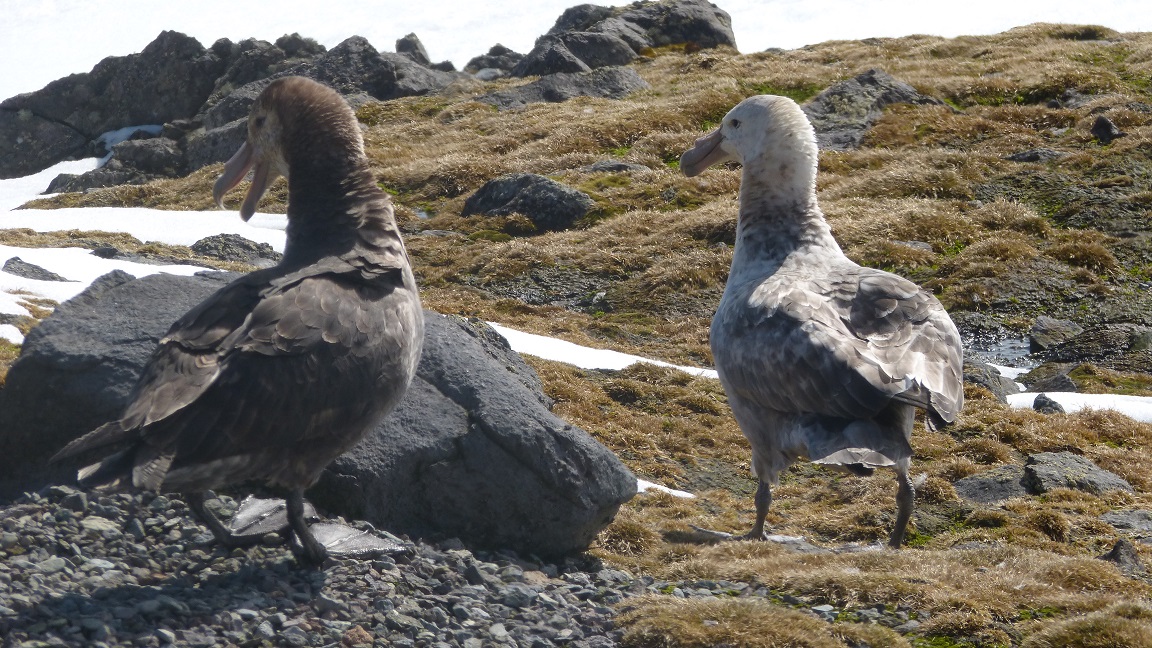 Southern Giant Petrels at Turret Point, photographs by Laura Lindenmeyer-Sousa

Tourist visits to the area are managed by a Visitor Site Guide document for Turret Point produced by the Antarctic Treaty System, which provides specific procedures to follow; the giant petrel breeding sites are closed to visitors with a 50-m precautionary distance.
With thanks to Patricia Pereira Serafini.
Selected literature:
Antarctic Treaty System 2014. Turret Point Antarctic Treaty Visitor Site Guide. 2 pp.
Naveen, R. 1997. The Oceanites Site Guide to the Antarctic Peninsula. Chevy Chase: Oceanites Inc. 129 pp.
Naveen, R. 2003. Compendium of Antarctic Peninsula Visitor Sites 2nd Edition. A Report to the United States Environmental Protection Agency. Chevy Chase: Oceanites Inc. 381 pp.
Patterson, D.L., Woehler, E.J., Croxall, J.P., Cooper, J., Poncet, S., Peter, H.-U., Hunter, S. & Fraser, M.W. 2008. Breeding distribution and population status of the Northern Giant Petrel Macronectes halli and Southern Giant Petrel M. giganteus. Marine Ornithology 36: 115-124 & appendices.
Poncet, S. & Poncet, J. 2007. Southern Ocean Cruising Second Edition. Cambridge: Environmental Research & Assessment. 160 pp.
Maria Virginia Petry & Júlia Victória Grohmann Finger, Laboratório de Ornitologia e Animais Marinhos, Universidade do Vale do Rio dos Sinos, São Leopoldo, Brazil, 13 June 2017