The Southern Giant Petrel Macronectes giganteus, an ACAP-listed species, has been recorded breeding in small numbers in the past on Norway's 5850-ha Bouvet Island (Bouvetøya), an isolated Maritime Antarctic island at 54°S in the Atlantic Sector of the Southern Ocean.  The nearest land is Gough Island, 1860 km away, making Bouvet the world's remotest island.  The island, is a shield volcano, largely covered in glacial ice; the highest point is Olavtoppen at 789 m (also cited as 953 m). The flora consists mainly of lichens and mosses.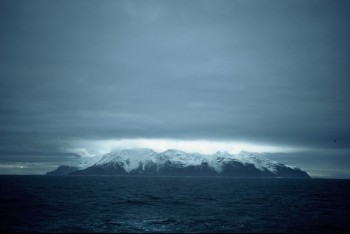 Approaching Bouvet Island, 2014/15
Breeding by Southern Giant Petrels was first reported on Nyrøysa, a rocky terrace on the island's west coast, thought created by a landslide in the 1950s, with 20-25 chicks observed in February 1977.  In December 1978 three incubating adults were seen at Nyrøysa.  The last record of breeding on Bouvet was of a single "nest" (assumed occupied but contents not reported) seen on 24 January 1981 during a three-hour South African visit by helicopter to Nyrøysa.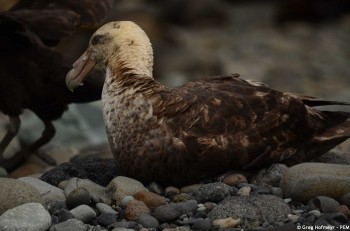 A Southern Giant Petrel on Bouvet Island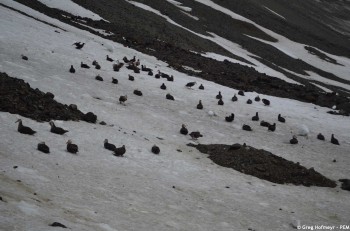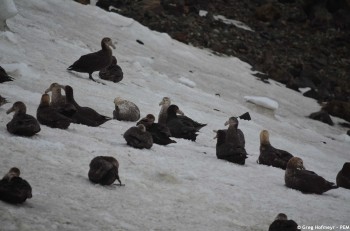 Giant petrels gather to roost above the seal and penguin colonies at Nyrøysa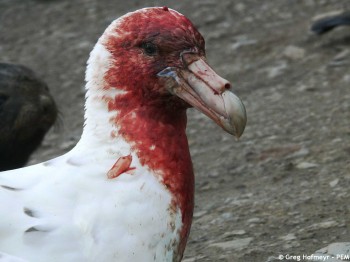 White-phase Southern Giant Petrel after feeding on Bouvet Island
Subsequent summer expeditions to the island in 1989/90, 1996/97, 1998/99, 2000/01, 2001/02, 2007/08 and 2014/15 have all failed to find breeding giant petrels at Nyrøysa, including during the most recent visit by an expedition this last austral summer. Up to 100 giant petrels at a time have been seen around and scavenging within fur seal and penguin congregations at Nyrøysa during summer visits undertaken since 1981. Large parts of Nyrøysa are occupied by Antarctic Fur Seals Arctocephalus gazella.  Despite this potential breeding sites for giant petrels still exist. Seal numbers at Bouvet increased dramatically over the period 1989 to 1996, but are now reported as being stable. However, the cessation of breeding by giant petrels preceded the rapid increase in fur seal numbers, indicating that the seals are unlikely to be the cause of the demise of Bouvet as a giant petrel breeding locality.
It is possible that giant petrels breed elsewhere on the island since Nyrøysa is the only part of the island that has been visited during recent expeditions. However, the mostly glaciated and otherwise rough terrain of the rest of Bouvet mitigate against this.
Both species of giant petrels have been recorded on the island in recent years, although the southern species appears to be the most abundant.  Two colour-banded male Northern Giant Petrels M. halli from Marion Island (where they had previously been recorded breeding) were identified on the island in February 2001.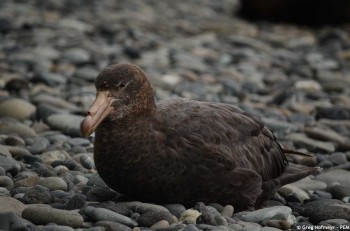 Northern Giant Petrel
All photographs by Greg Hofmeyr
Why Southern Giant Petrels have ceased to breed at Bouvet is not known.  It apparently happened before the increase in seal numbers and it appears there is sufficient breeding space for them – and a good food supply.
Bouvetøya became a Norwegian possession in 1928.  It has been a Nature Reserve (including territorial waters) proclaimed by Royal Resolution (equivalent to IUCN Category Ia, area managed mainly for science or wilderness protection) since December 1971.  Norway has not declared a 200-nautical mile Exclusive Economic Zone around the island.  Bouvet is included on Norway's tentative list for World Heritage status.  It has been designated as an Important Bird Area by BirdLife International.
In 1997 Nyrøysa was declared a CCAMLR (Commission for the Conservation of Antarctic Marine Living Resources) Ecosystem Monitoring Program (CEMP) site for its penguin populations.  Norway became a Party to the Albatross and Petrel Agreement on 1 June 2007.
A small research station designed to house six people for summer periods was erected on Nyrøysa in 2014, replacing one erected in 1996 most likely lost to an avalanche. 
Selected Literature:
Bakken, V. 1991.  Fugle- og selundersøkelser på Bouvetøya I desember/januar 1989/90.  Norsk Polarinstitutt Meddelelser No. 115.  30 pp.
Fevolden, S.E. & Sømme, L. 1977.  Observations on birds and seals at Bouvetøya.  Norsk Polarinstitutt Årbok 1976: 267-371.
Haftorn, S. & Voisin, J.-F. 1982.  The Southern Giant Petrel Macronectes giganteus (Gmelin) on Bouvet Island.  Fauna Norvegica Series C, Cinclus 5: 47-48.
Hofmeyr, G.J.G., Krafft, B.A., Kirkman, S.P., Bester, M.N., Lydersen, C. & Kovacs, K.M. 2005.  Population changes of Antarctic fur seals at Nyrøysa, Bouvetøya.  Polar Biology 28: 725-731.
Huyser, O.  2001.  Bouvetøya (Bouvet Island).  In: Fishpool, L.D.C. & Evans, M.I. (Eds).  Important Bird Areas in Africa and Associated Islands.  Girton: BirdLife International.  pp. 13-115.
Isaksen, K., Huyser, O., Kirkman, S., Wanless, R. & Wilson, W. 2000.  Studies of seabirds and seals on Bouvetøya 1998/99.  Norsk Polarinstitutt Internrapport 2.  6 pp.
Keith, D.G., Harck, B.I.B., Ryan, P.G. & Mehlum, F. 2002.  Post-breeding dispersal of Northern Giant Petrels Macronectes halli from Marion to Bouvet Islands.  Marine Ornithology 30: 31.
Patterson, D.L., Woehler, E.J., Croxall, J.P., Cooper, J., Poncet, S., Peter, H.-U., Hunter, S. & Fraser, W.R. 2008. Breeding distribution and population status of the Northern Giant Petrel Macronectes halli and SMarine Ornithology 36: 115–124.outhern Giant Petrel M. giganteus. 
Watkins, B.P. 1981.  Seabird observations at Bouvet Island.  South African Journal of Antarctic Research 10/11: 38-40.
Watkins, B.P., Cooper, J. & Newton, I.P. 1984.  Scientific research at Bouvet Island, 1785-1983: a bibliography.  South African Journal of Antarctic Research 14: 36-39.
John Cooper, ACAP Information Officer & Greg Hofmeyr, Port Elizabeth Museum, South Africa, 15 April 2015