Ardley Island is situated in Maxwell Bay nearly 500 m east of the coast of the Fildes Peninsula at the south-western end of King George Island, the largest of the South Shetland Islands that lie 120 km off the Antarctic Peninsula. Ardley Island is connected to King George Island by an isthmus that is exposed at low tide, allowing access on foot. It is 137 ha (2 x 1.5 km) in size and rises to a height of 65 m.
"The island … possesses some of the best developed and most extensive plant communities in the South Shetland Islands, notably the peaks, dominated by macrolichens." Antarctic Hair Grass Deschampsia antarctica is colonizing the island, probably reacting to climate change.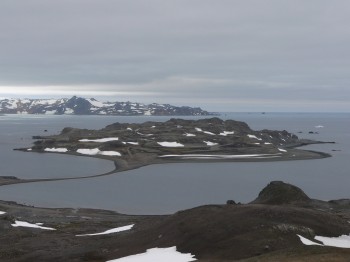 Ardley Island, showing the isthmus that connects it to King George Island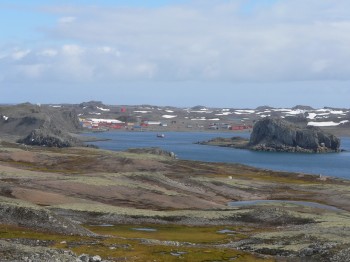 Looking from Ardley Island past Diomedea Island (Isla Albatros) in Ardley Cove towards King George Island (with the Chilean Base Presidente Frei to the left and the Russian Bellingshausen Station on the right)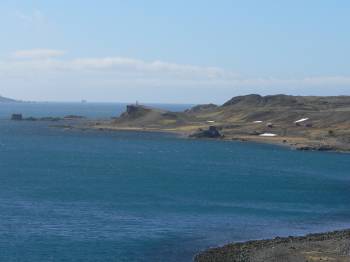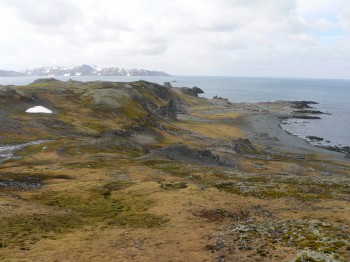 Views of largely snow-free Ardley Island
ACAP-listed Southern Giant Petrels Macronectes giganteus breed on Ardley Island in small numbers. "German studies indicate that the giant petrel breeding population has declined by about 80% since research began in 1979. They point to strong evidence that numerical fluctuations of these particular populations are a direct response to disturbances produced by large numbers of visitors, aircraft overflights and station constructions." In 1998/99 only five pairs of giant petrels were reported (click here), in contrast to the 18 pairs recorded in 1979. However, since the last decade or so the population has stabilized, with 19 pairs reported for the most recent (2013/14) season.
Pintado or Cape Petrel Daption capense, Wilson's Storm Petrel Oceanites oceanicus, Black-bellied Storm Petrel Fregetta tropica and the three species of pygoscelid penguins also breed on Ardley Island.
Designated a Site of Special Scientific Interest (SSSI No. 33) in 1991, Ardley Island is now categorized as an Antarctic Specially Protected Area (No. 150), except for a small section of the coastline where landings by up to 20 tourists at a time are permitted. The island's current management plan was adopted in 2009 under the Antarctic Treaty (click here).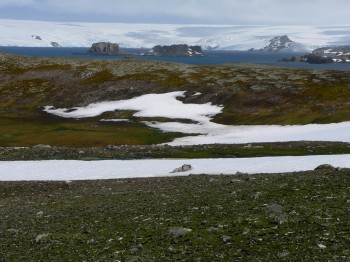 Ardley Island
Entry into the ASPA is prohibited except in accordance with a permit issued by an appropriate national Authority, allowing access by small boat and on foot only.
"The Management Plan for Ardley Island aims to:
Protect the bird community and the terrestrial ecosystem;
Avoid degradation of, or substantial risk to, the values of the Area by preventing unnecessary human disturbance in the Area;
Allow scientific research, with the least possible interference, on marine Antarctic birds, and the ecosystem and physical environment associated with the values for which the Area is protected;
Allow other scientific research in the Area, provided it does not compromise the values for which the Area is protected;
Minimize the possibility of the introduction of non-native plants, animals and microbes to the Area; and
Allow visits for management purposes, and in support of the aims of the Management Plan."
Ardley Island has been categorized as an Important Bird Area by BirdLife International because of its population of several thousand breeding pairs of Gentoo Penguins Pygoscelis papua.
With thanks to Christina Braun, Institute of Ecology, University of Jena, Germany for information and the photographs.
Selected Literature:
Braun, C., Hertel, F., Mustafa, O., Nordt, A., Pfeiffer, S. & Peter, H.-U. 2013. Environmental situation and management challenges for the Fildes Peninsula Region. In: Tin, T., Liggett, D., Maher, P. & Lamers, M.E. (Eds). The Future of Antarctica: Human Impacts, Strategic Planning, and Values for Conservation. Dordrecht: Springer. pp. 169-191.
Braun, C., Mustafa, O., Nordt, A., Pfeiffer, S. & Peter, H.-U. 2012. Environmental monitoring and management proposals for the Fildes Region, King George Island, Antarctica. Polar Research 31. 18 pp.
Novoatti, R. 1962. Birds and mammals of Ardley Island, South Shetland Islands. Polar Record 11: 338.
Patterson, D.L., Woehler, E.J., Croxall, J.P., Cooper, J., Poncet, S., Peter, H.-U., Hunter, S. & Fraser, M.W. 2008. Breeding distribution and population status of the Northern Giant Petrel Macronectes halli and Southern Giant Petrel M. giganteus. Marine Ornithology 36: 115-124.
Peter H.-U., Kaiser M. & Gebauer A. 1991. Breeding ecology of the southern giant petrels Macronectes giganteus on King George Island (South Shetland Islands, Antarctic). Zoologisches Jahrbuch Systematik 118: 465-477.
Roby, D.D., Salaberry, M. & Brink, M. 1986. Notes of petrels (Procellariiformes) breeding on Ardley Island, South Shetland Island. Serie Científica INACH 34: 67-72.
John Cooper, ACAP Information Officer, 23 March 2014