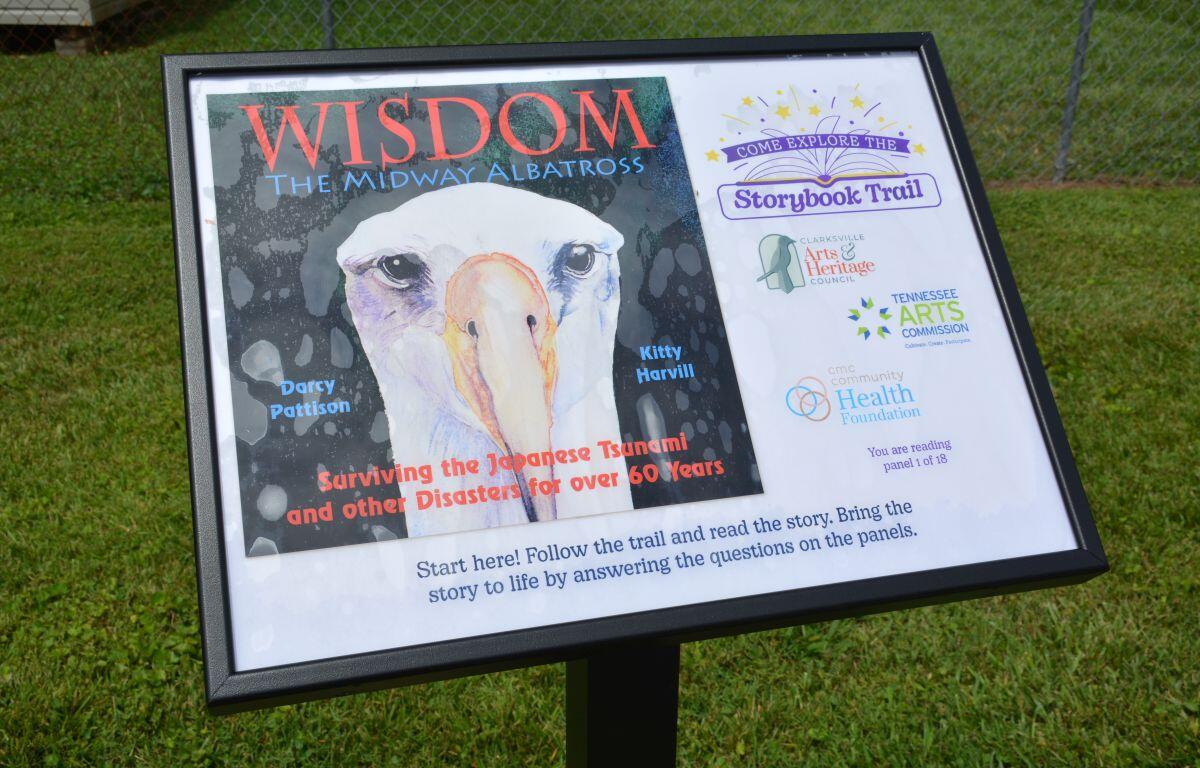 The first stop on the Wisdom Storybook Trail, Bel-Aire Park, Clarksville, Tennessee, USA
The Clarksville Arts & Heritage Council, in partnership with Clarksville Parks & Recreation, unveiled their Storybook Trail at Bel-Aire Park in Clarksville, Tennessee, USA on 22 June, just three days after World Albatross Day, this year with its theme of "Plastic Pollution". The 800-m trail winds its way through the park with 18 stops along the way with information panels that tell a story in words and illustration about Wisdom, the famous Laysan Albatross Phoebastria immutabilis of Midway Atoll, the world's oldest known wild bird, now around 71 years old.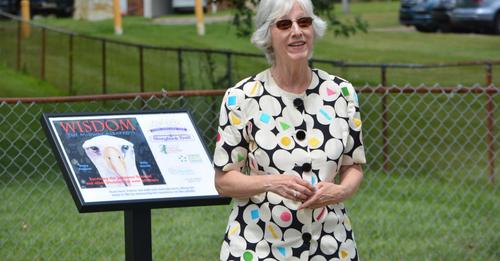 Ellen Kanervo, Executive Director, Clarksville Arts & Heritage Council speaks at the start of the Wisdom Storybook Trail: "We have put up a trail where children and families can go along and walk while reading a book about an albatross named Wisdom", photograph by Lee Erwin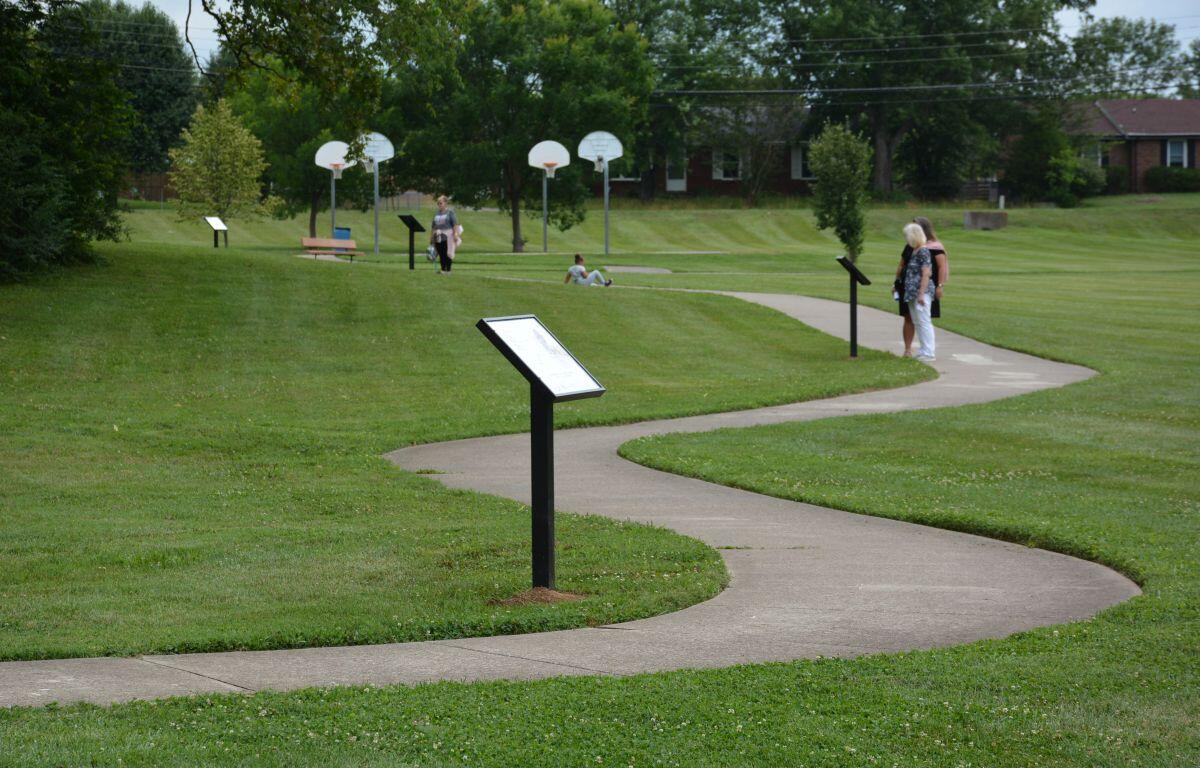 Eighteen story boards are spaced out along the winding trail, photograph by Lee Erwin
The information of each storyboard comes from the book about Wisdom written by Darcy Pattison and illustrated by long-time ACAP supporter, Kitty Harvill, Co-founder, Artists and Biologists Unite for Nature (and a Clarksville native). Kitty writes to ACAP Latest News: "It's so gratifying to feel that I'm contributing back to the community that raised me. This Storybook Trail is a wonderful opportunity to have fun and get some exercise while learning something new, about a species far away, and how the daily activities of humans can eventually reach and harm them."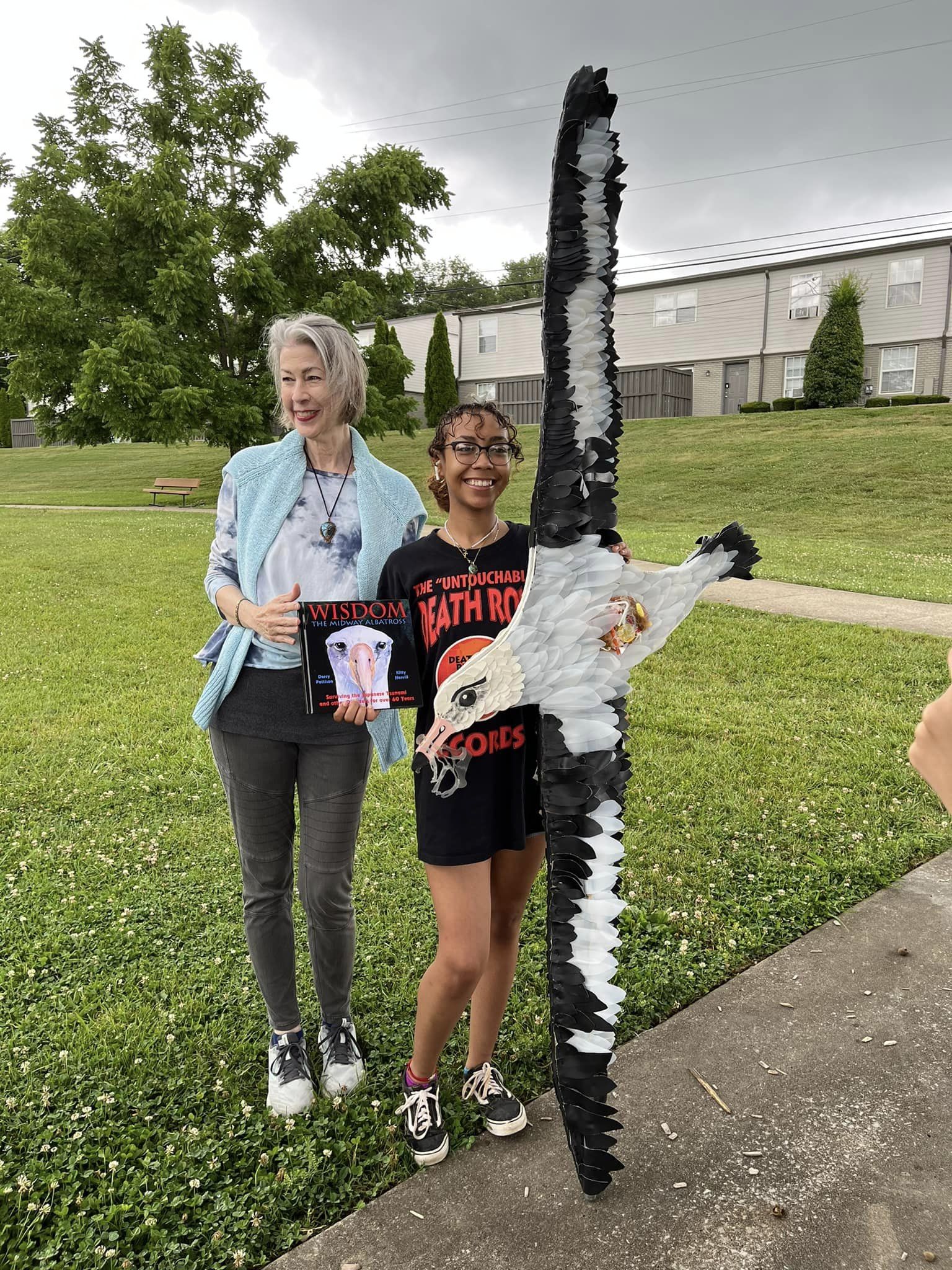 Kitty Harvill (left) poses with a sculpture of Wisdom, along with a student who holds a copy of Wisdom's book
Also at the opening event was Christoph Hrdina, Artists and Biologists Unite for Nature Co-founder, with his model of Wisdom made out of recycled materials, made especially to mark "WAD2023" and its theme. Each individual feather was cut out from recycled milk jugs with the help of Arts for Hearts Clarkesville volunteers led by Barbara Kane, and Norman Smith Elementary School students. Christoph writes: "Albatrosses are fascinating birds from any point of view. As a sculptor, I wanted to show them in their real dimensions: over six-feet [1.8 m] wingspan and show one of their main enemies during their 70-year or more lifespan - Plastic Pollution, mainly created by humans' disrespectful behaviour toward Nature. My sculpture is entirely made of recycled wood, plastic and metal to serve as an educational tool."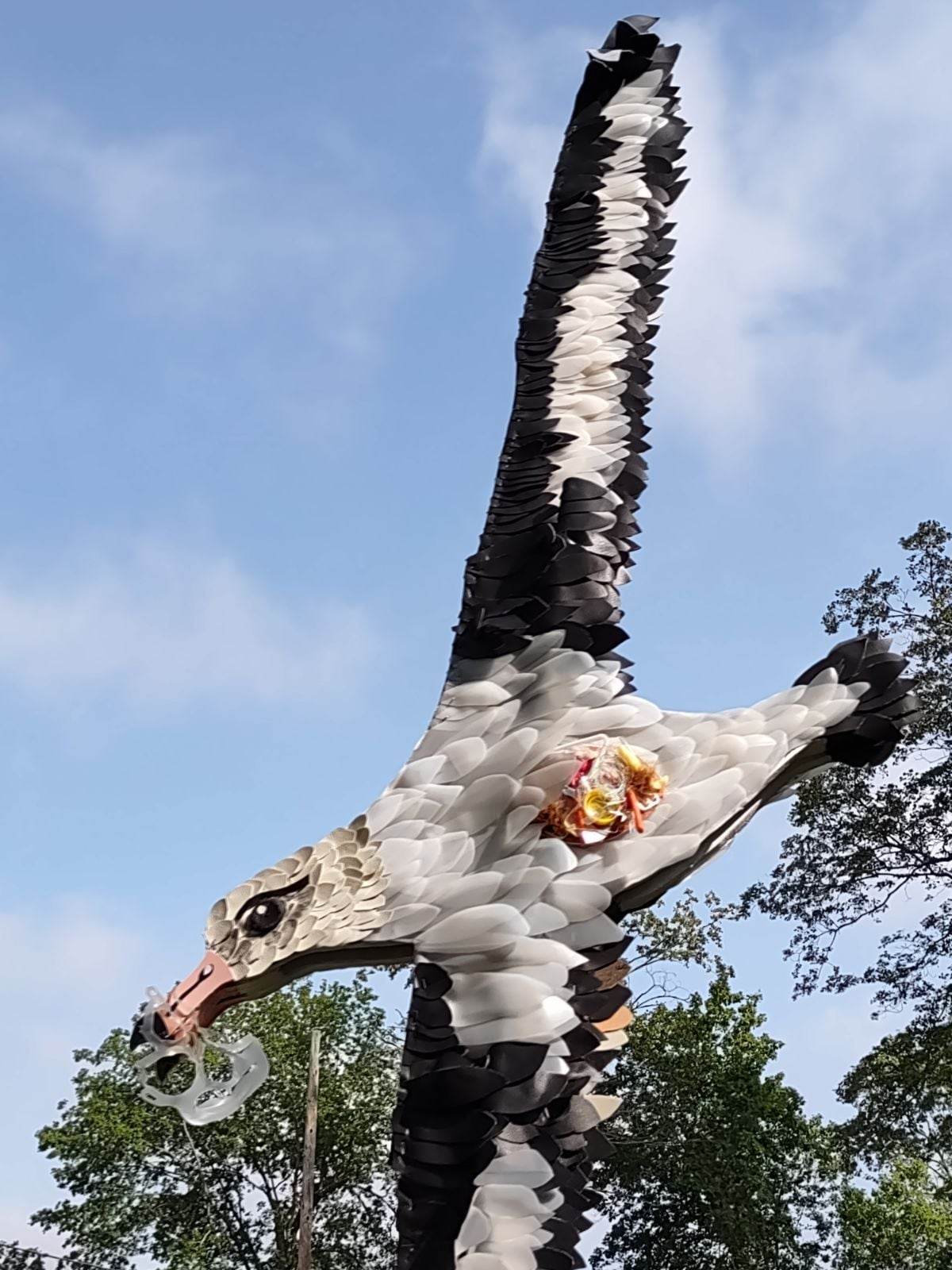 Life-sized sculpture of Wisdom the Laysan Albatross, made from recycled plastic, by Christoph Hrdina, Artists and Biologists Unite for Nature with Barbara Kane, Arts for Hearts Clarksville

At the event, local artist and musician Leo Adames performed his song, "Fly Wisdom Fly" that was inspired by Wisdom's book and children were invited to make albatross puppets to fly along the trail.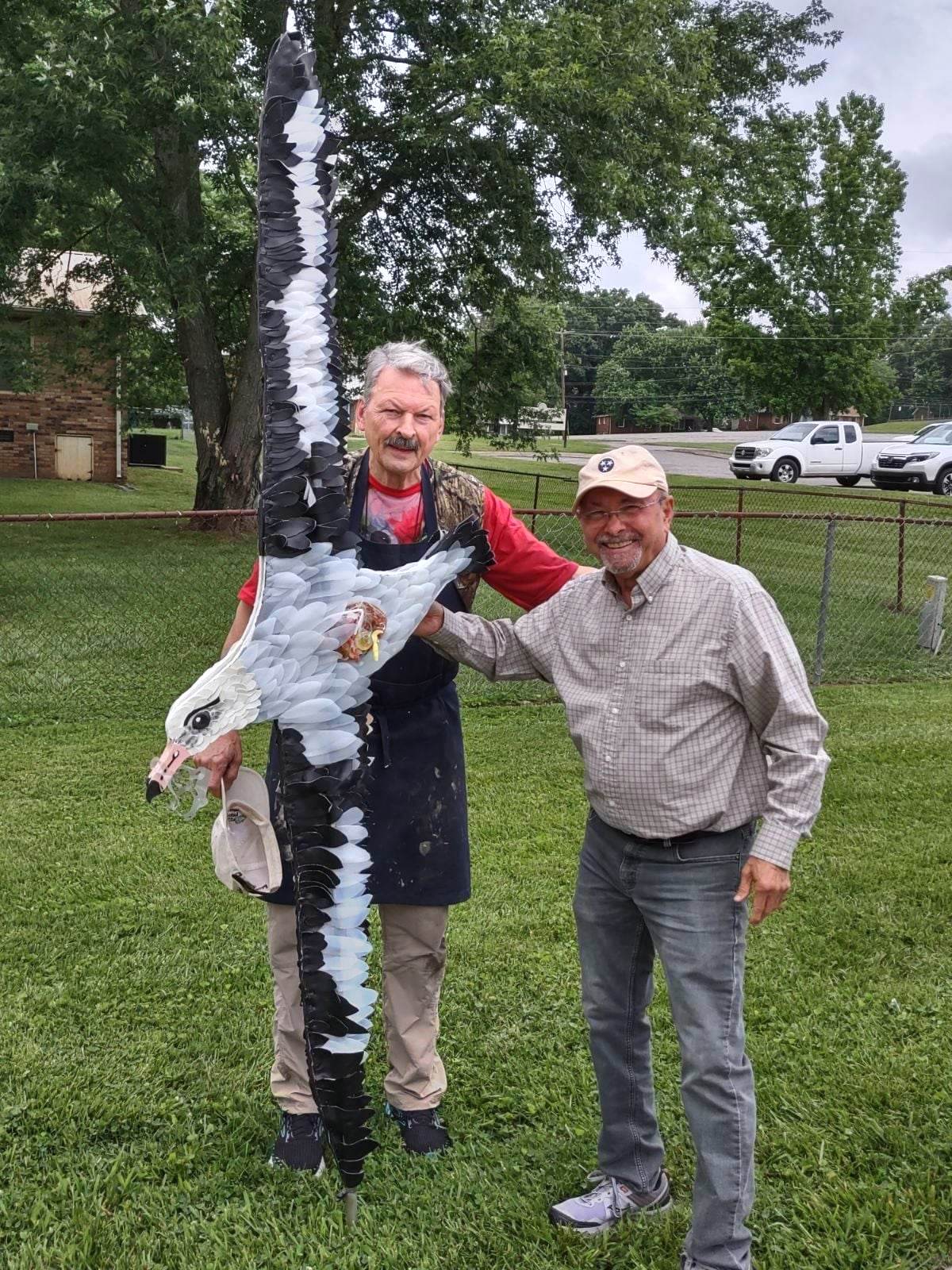 Big bird! Christoph Hrdina stands behind his albatross sculpture of Wisdom, along with artist/musician Leo Adames who performed at the trail-opening event (right)
Read more on the trail and the opening event in local media here and here.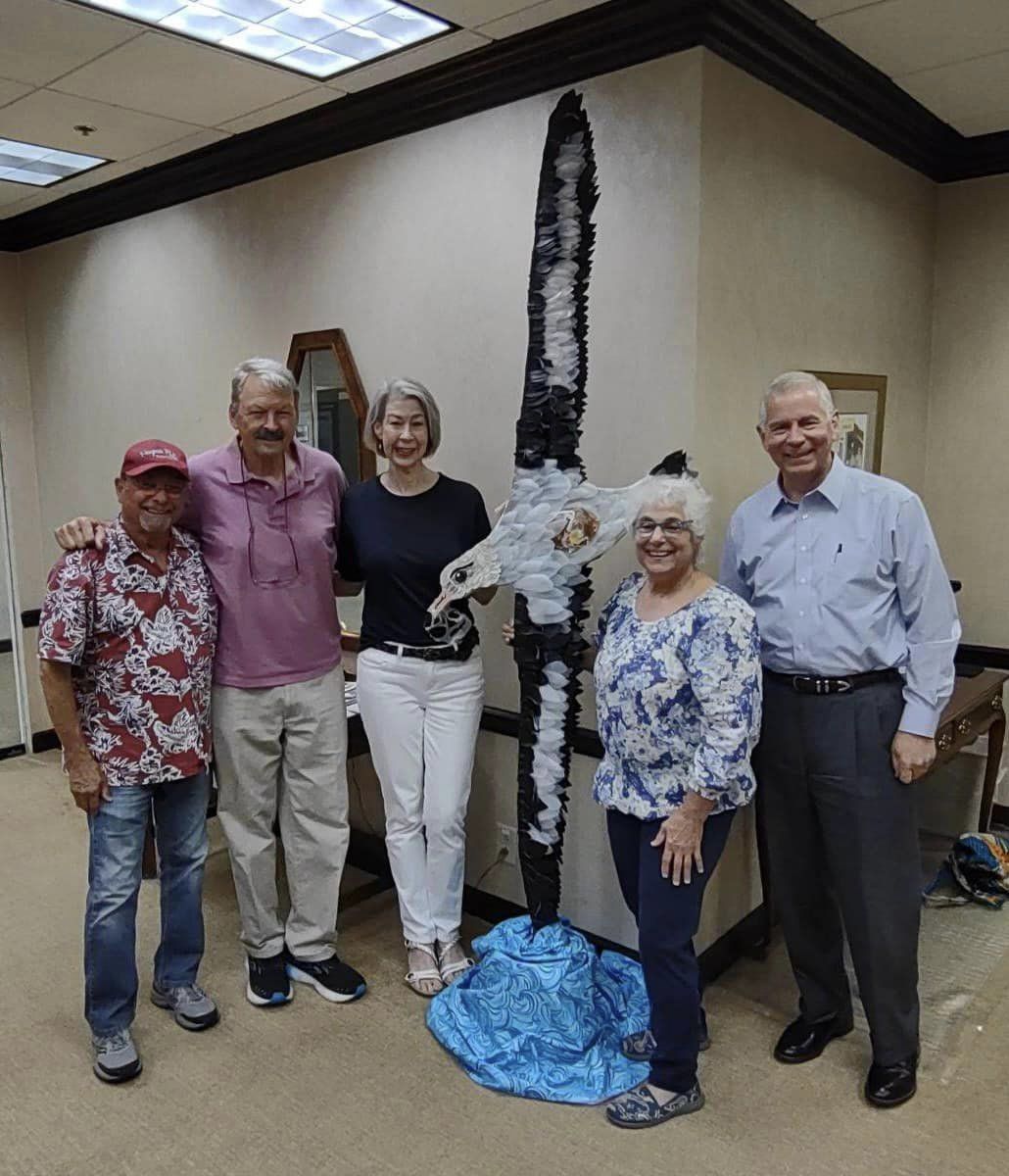 Wisdom meets the Mayor!  From left: Leo Adames, Christoph Hrdina, Kitty Harvill, Wisdom, Barbara Kane and Mayor Joe Pitts, photograph by Michael Rios
After the trail opening, Christoph's sculpture of Wisdom has been on display in the office of the City of Clarksville Mayor, Joe Pitts. The Mayor writes: "When I saw Wisdom at the Storybook Trail dedication her story resonated with me and I wanted to help tell the story.  It is such a magnificent art piece made extra special by those who had a hand in her making.  I am looking forward to telling the story to the hundreds of people who will pass through the doors of the Mayor's office over the next few weeks." 
With thanks to Kitty Harvill and Christoph Hrdina, Artists and Biologists Unite for Nature.
John Cooper, Emeritus Information Officer, Agreement on the Conservation of Albatrosses and Petrels, 13 July 2023