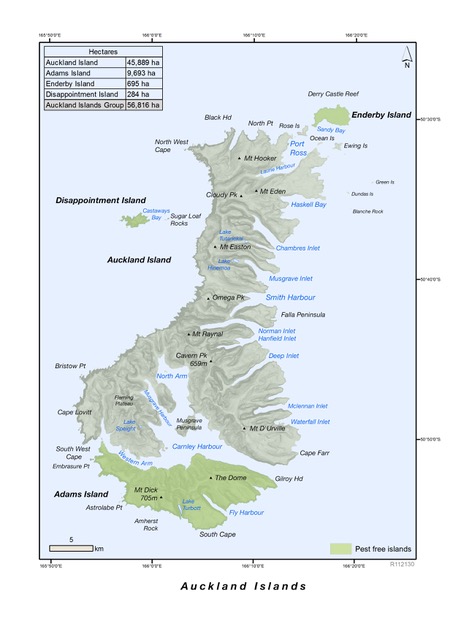 Field teams led by New Zealand's Department of Conservation (DOC) have spent four months of the last (2018/19) austral summer on sub-Antarctic Auckland Island conducting work to inform the ambitious pest eradication project that aims to rid the sub-Antarctic island of its feral pigs and cats and House Mice (click here). An online report of initial findings of the summer's field work is now available, and is summarized here.
Three main research programmes were carried out to test various eradication methods, one for each of the mammal pests:
Feral Pigs. To test island-wide techniques a temporary electrified fence was erected to cut off the 930-ha Falla Peninsula. The enclosed pigs were then largely removed by aerial hunting from a helicopter aided by a thermal imaging camera. Ground hunting with a team of five hunters with 10 dogs in a trial then followed.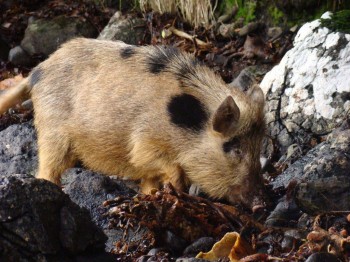 Feral pig on Auckland Island, photograph by Pete McClelland
House Mice. Following the successful removal of the peninsula's pigs a mouse team aerially dispersed non-toxic bait to test the use of a low bait density – and in summer as opposed to the usual winter timing. Results of both these variants to usual methods for mice were deemed to be successful.
Feral Cats. Leg-hold trapping and GPS collars were used to track the movements of 17 cats. Trail cameras were also tested as an aid to assessing presence and scats were collected, with the aid of a dog, for DNA analysis.
The summer report concludes as to what comes next:
"Data analysis, reporting, further trials investigating the use of cat specific toxins on the island, working out how to operate in the Subantarctic environment during the winter and most importantly working with partners and Treasury to source funds and build support for the project to become operational. This is an enormously ambitious project in a wild and ruggedly beautiful place. There's a lot of work still to do, but hopefully in ten years' time we can leave Auckland Island to the seabirds and megaherbs that should be calling it home."
Read an earlier news item by Predator Free NZ, and watch a six-minute video clip that gives further information of the summer field season.
John Cooper, ACAP Information Officer, 11 July 2019