"George" and "Geraldine", a pair of globally Vulnerable Short-tailed Albatrosses Phoebastria albatrus, returned to Sand Island in the USA's Midway Atoll in the north Pacific on October 24 and October 25 this year, respectively, thereafter reported as spending time together on the island.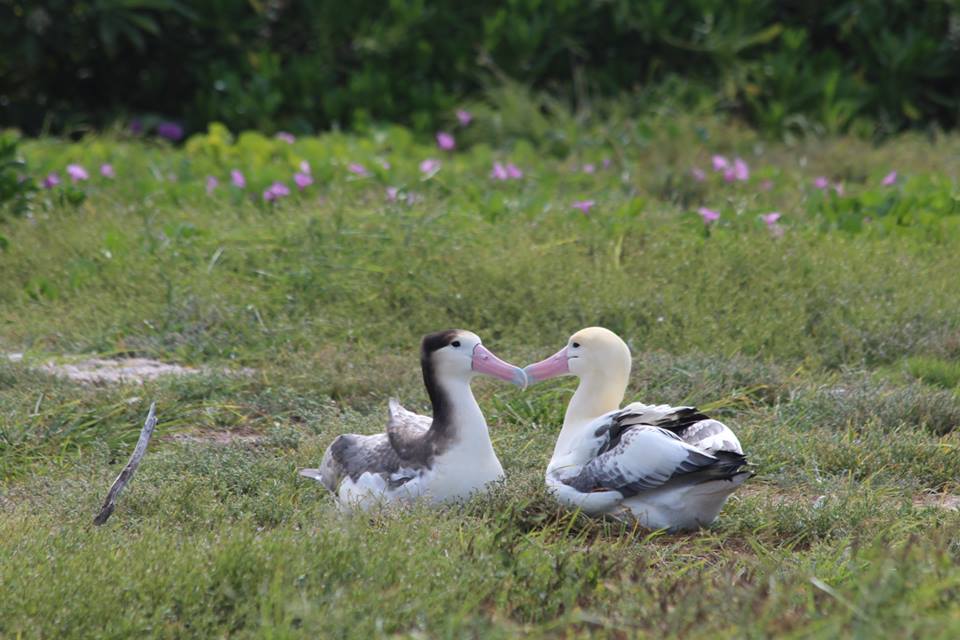 Short-tailed Albatross pair (George is on the right) on Midway Atoll, October 2018; photograph by Madalyn Riley, USFWS Volunteer
George is a male who has been visiting Midway Atoll since November 2006. He hatched from the colony on Japan's Torishima in 2003 and was banded there as a chick.
"George's partner (Geraldine) has not been positively identified by band number since the two birds first appeared together [on Midway] in November 2016, but it is suspected to be an individual that was banded at Torishima in April 2008 and was first observed on Sand Island in early 2012. For several years, the subadult was observed on its own in town and elsewhere on the north side of the island. In late 2016 and early 2017, the two birds spent time together in the male's traditional neighbourhood, where they appeared together last year and again this week."
Last year, the two birds courted and appeared to start nesting activity but then suddenly appeared on an egg a few meters away. When the egg hatched, we confirmed our suspicions that the pair had usurped a neighboring Black-footed albatross [P. nigripes] nest and then had a young black-footed albatross chick, which they successfully cared for until it fledged in mid-June. Geraldine's gender has not been confirmed and remains in question until the pair produce[s] an egg of [its] own".
Previously, a pair of Short-tailed Albatrosses has bred successfully three times in four years on Midway's Eastern Island within the atoll, fledging several chicks (click here).
Related news is that the long-standing female-female pair of Short-tailed Albatrosses is back on Kure Atoll – presumably still awaiting a passing male (click here).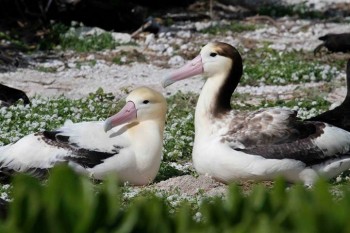 Kure Atoll's female-female pair in 2013
John Cooper, ACAP Information Officer, 22 November 2018