BirdLife International is seeking an experienced biologist with a passion for seabirds, to deliver its marine birds conservation programme in the Pacific.
The primary responsibility will be to lead the globally Critically Endangered Fiji Petrel Pseudobulweria macgillivrayi recovery programme which includes conducting a review of previous Fiji Petrel conservation efforts and identifying priority conservation actions to locate the petrel's breeding grounds.
The position is to be based in the BirdLife Pacific Regional Office in Suva, Fiji and is initially offered as a six-month internship commencing from mid-January 2018.
"Field applications to be supported include applying and developing acoustic search techniques and other ground and marine based search methods as appropriate. Another component involves monitoring a response by seabirds and other biodiversity to the removal of invasive predators from islands in Fiji. A willingness to train locals in these conservation techniques and spend extended periods in basic field conditions will be important. Other responsibilities may include supporting the development of Marine Important Bird Areas for the Pacific, site surveys, and implementation of invasive vertebrate eradications."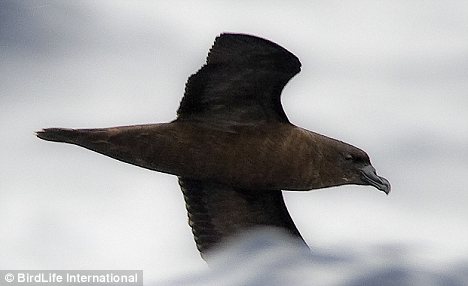 Fiji Petrel, photograph from BirdLife International
Closing date for applications is 3 December 2017.
Read more here.
John Cooper, ACAP Information Officer, 20 November 2017