The US Fish and Wildlife Service seeks volunteers for a six-month period from late March to September 2017 in the Midway Atoll National Wildlife Refuge.
Volunteer work emphasizes habitat restoration including native plant propagation and planting, seed collection and processing, removal of invasive plants both by hand and through chemical application of herbicide, and monitoring plant populations. Other work includes seabird and Laysan Duck Anas laysanensis monitoring, marine debris removal, data entry and equipment maintenance, along with other tasks depending on current projects and refuge needs. Volunteers must be physically fit and be willing to handle albatrosses and other seabirds for banding and monitoring studies.
Preference will be given to those with an educational or professional background in biology, conservation science or botany. Habitat restoration, plant propagation, weed control, remote field and/or bird-handling experience is preferred.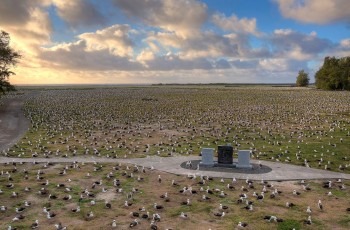 Laysan Albatrosses Phoebastria immutabilis breeding to the horizon on Sand Island, Midway Atoll
Applications are due by 31 December 2016 with selections to be made by the end of January 2017. Read more here, including how to apply.
Read regular news about the island's albatrosses and petrels (and other wildlife) in the Friends of Midway Atoll National Wildlife Refuge's bi-annual on-line newsletter Gooney Gazette.
John Cooper, ACAP Information Officer, 23 November 2016