BirdLife International is looking for someone to lead strategic advocacy in regional and international policy processes to secure improved conservation outcomes for marine Important Bird Areas (mIBA) and Key Biodiversity Areas (KBA), including designation of marine protected areas.
"This exciting new role will play a key role in advancing conservation outcomes for seabirds, by providing strategic advice to the BirdLife International Marine Programme and delivering effective high-level advocacy in regional and international policy fora.
The ideal candidate will have: • Strong understanding of international environmental policy processes. • Demonstrated experience in international policy processes related to nature conservation, fisheries and/or the marine environment. • Experience with policy advocacy, lobbying and negotiation. • Experience in writing reports/position papers relating to policy and MEAs. • The ability to convey scientific/technical information in a clear and concise manner to a range of audiences. • The right to work in the UK."
Click here for more information.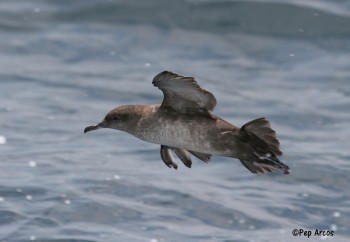 An ACAP-listed Balearic Shearwater at sea; photograph by Pep Arcos
Applications should include a covering letter summarising the applicant's suitability for the position, a detailed CV and contact details of two referees known to the applicant in a professional capacity to This email address is being protected from spambots. You need JavaScript enabled to view it.. The closing date is 14 July 2016.
John Cooper, ACAP Information Officer, 04 July 2016