The ACAP-listed and Vulnerable Black Petrel Procellaria parkinsoni is restricted as a breeding species to Little Barrier and Great Barrier Islands in New Zealand's Hauraki Gulf. The species is at risk to land-based predators (on Great Barrier) and to fishery interactions at sea.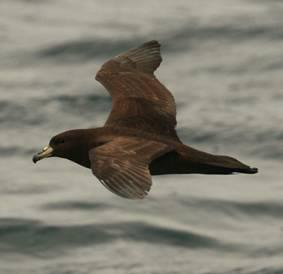 Black Petrel at sea, photograph by Biz Bell
New Zealand's Black Petrel Working Group has now come together to pledge its support for the species (click here). The group, with members drawn from fishing and conservation bodies and communities, met at the end of last month to sign a pledge with commitments that range from "continuous improvement in seabird smart fishing practices to supporting research to better understand the status and trend of the remaining black petrel population."
The pledge's text follows:
"Every year the black petrel (tāiko) returns to our shores after a heroic journey that spans thousands of kilometres across the Pacific Ocean. These seabirds come home for summer, to the only place in the world where they are known to breed, on Great Barrier and Little Barrier Islands.
Once their breeding colonies were found through the North Island and parts of the South Island, and black petrels numbered in the hundreds of thousands. Introduced predators have eliminated all of the mainland colonies and today there are only around 2700 breeding pairs remaining. In New Zealand fishing activity is the main risk to the species nowadays.
We think the black petrel deserves to thrive and we're taking action to make that happen.
Who are we? We're the Black Petrel Working Group, a group of concerned fishers, environmental groups, government agencies, as well as local body, and iwi organisations. This is our pledge to take a stand and help black petrels regain lost ground.
Starting this summer, we pledge to:
• Expand the use of seabird smart fishing practices to avoid harming black petrels across all fishers in the Hauraki area (known as the fishing area FMA 1).
• Look for ongoing ways to improve how to avoid catching black petrels while fishing.
• Assist with the deployment of electronic monitoring and cameras on fishing vessels to prove our methods are in place and working.
• Support research into black petrel biology to better understand the status and trend of the remaining populations.
These commitments are part of a plan, to be backed up by measurable targets and milestones which we will report on yearly, when the breeding season ends and the black petrels depart our shores.
We know there's a lot of work ahead, but with our collaborative approach we can share not only the workload but our collective expertise, learnings and most of all, our passion for the birds.
Many commercial fishers in the Hauraki Gulf already have seabird smart practices in place and we're keen to bring everyone else on board too, including recreational fishers who enjoy the Gulf alongside the black petrel.
So we're asking everyone to take a stand, to join the pledge and be seabird smart on the water, starting this summer."
Click here and here (with a video clip) for media reports on the working group's pledge.
What other ACAP-listed species might benefit from this approach?
John Cooper, AbCAP Information Officer, 02 November 2014