Following on from a recent report in ACAP Latest News of a colour-banded Black-browed Albatross Thalassarche melanophris being photographed in Namibian waters, Chrissie Madden (Albatross Task Force, BirdLife South Africa) photographed a Black-browed Albatross with a white-on-red colour band numbered 554 on its left leg and a metal band on the right beside a demersal trawler on 13 May 2014 off the southern coast of Cape Town, South Africa at 35° 24'S; 18° 48'E.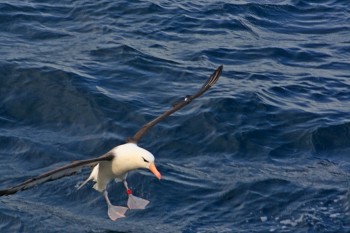 Red 544 comes into for a landing, photograph by Chrissie Madden
Andy Wood of the British Antarctic Survey reports to ACAP Latest News that Red 554 was banded at Bird Island in the South Atlantic:
"It was ringed as an adult bird in 2007/08 with the red darvic [=plastic] and metal ring number 1434093. It was a breeding bird in 2007/08, 2008/09 and 2009/10, then seen as a non-breeder in 2010/11 and again this season (2013/14). The partner in the earlier three breeding seasons was the same bird 1425800/Red 943, and none of the breeding attempts [was] successful, all failing at the late chick stage. 1425800 has not been seen in the colony since 2009/10 - possibly the reason why Red 554 has not bred since then."
With thanks to Chrissie Madden and Andy Wood for information.
John Cooper, ACAP Information Officer, 04 June 2014