David Hyrenbach (Department of Natural Sciences, Hawai'i Pacific University, Honolulu, Hawai'i, USA) and Wendy Johnson write in 'Elepaio, newsletter of the Hawai'i Audubon Society, on their monitoring and management efforts with Wedge-tailed Shearwaters Puffinus pacificus over five years in a colony on the Hawaiian island of Oahu.
Their results show the Freeman Seabird Preserve colony has increased by 25% per year since 2009 from around 75 to 200 breeding pairs: "[t]his trend suggests that the ongoing revegetation efforts and the increasing number of available nesting sites continue to support an unprecedented growth of this Wedge-tailed Shearwater colony…".
"From January through March 2013, while the birds were at sea, Hawai'i Audubon Society members and other volunteers worked to remove alien plant species from the preserve and to maintain wedge-tailed shearwater burrows and nesting sites. Weekly fieldwork opportunities attracted a wide variety of participants, ranging from wildlife conservationists and scientists, to gardening enthusiasts, neighbors and young student groups. These efforts support the work done in 2011 and 2012 by professional native plant landscapers from Hui Ku Maoli Ola, who transformed a vacant house-lot into a unique example of pre-contact Hawaiian dryland coastal habitat with multiple shearwater nesting sites. Repeat volunteers have found it extremely satisfying to witness, and contribute to, the resurgence of native Hawaiian coastal plants at the Freeman Seabird Preserve."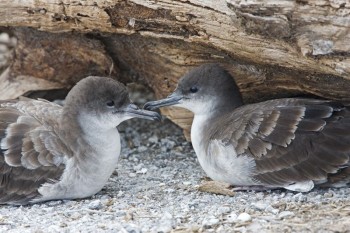 A pair of Wedge-tailed Shearwaters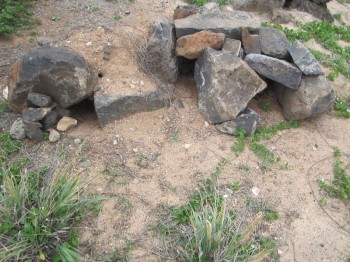 Constructed shearwater burrow in the Freeman Seabird Preserve
Photograph by David Hyrenbach
Click here for an earlier ACAP Latest News item on the Freeman Seabird Preserve.
Reference:
Hyrenbach, K.D. & Johnson, W. 2014. Five years of Wedge-tailed Shearwater monitoring and habitat restoration at the Freeman Seabird Preserve: 2009 – 2013. 'Elepaio 74(2): 5-6.
See also:
Hyrenbach, K.D. 2011. Tale of two years: monitoring Wedge-tailed Shearwaters at Freeman Seabird Preserve in Black Point, O'ahu. 'Elepaio 71(3): 17-20.
Hyrenbach, K.D. 2012. 2011: a mixed year at the Freeman Seabird Preserve. 'Elepaio 72(2): 13-14.
Hyrenbach, K.D. & Johnson, W. 2013. 2012: record breeding shearwater count at the Freeman Seabird Preserve. 'Elepaio 73(2): 14-15.
Young, L., VanderWerf, E.A. & Lohr, M.E. 2012. Freeman Seabird Preserve predator control. 'Elepaio72(1): 6.
John Cooper, ACAP Information Officer, 26 April 2014