New Zealand is a world leader in developing techniques for and undertaking the translocation of burrowing seabird chicks to create new or restore extinct colonies. Translocation attempts in New Zealand have included such procellariiform species as the ACAP-listed Black Petrel Procellaria parkinsoni, Grey-faced Petrel Pterodroma macroptera gouldi, Taiko or Magenta Petrel P. magenta, Chatham Petrel P. axillaris, Pycroft's Petrel P. pycrofti, Hutton's Shearwater Puffinus huttoni, Fluttering Shearwater P. gavia, Common Diving Petrel Pelecanoides urinatrix and Fairy Prion Pachyptila turtur. Click here and here for earlier ACAP Latest News items on some of these translocation efforts.
New Zealand (and Australian) expertise has led to translocation efforts being attempted in other parts of the World. An example is the Critically Endangered Bermuda Petrel or Cahow Pterodroma cahow (click here).
A project to reintroduce Fluttering Shearwaters to 25-ha Matiu/Somes Island Scientific and Historic Reserve in Wellington Harbour has led to further international collaborations. In 2006 and again in 2010 solar-powered sound systems were installed to attract adult birds to artificial burrows with some success: by 2013 a few eggs had been laid but none hatched.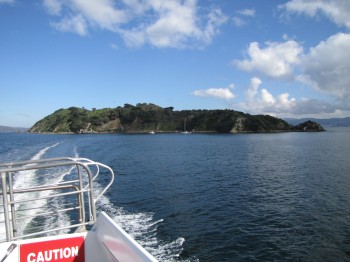 Matiu/Somes Island Scientific and Historic Reserve in Wellington Harbour
Photograph by John Cooper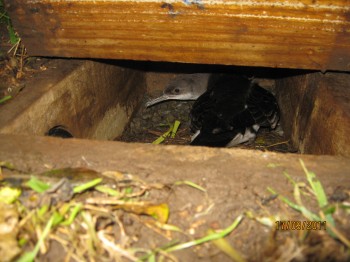 An adult Fluttering Shearwater in an artifical burrow on Matiu/Somes Island
Photograph by Shane Cotter
Following on from this attraction effort 80 Fluttering Shearwater chicks have been brought each year over the period 2012-2014 to Matiu/Somes from Long Island in Queen Charlotte Sound, placed in artificial burrows and fed by hand on "sardine smoothies" as they completed their growth. Nearly all of these chicks successfully fledged each year (click here for more information on this translocation exercise). The operation has been led by the Matiu/Somes Island Charitable Trust with support from the New Zealand Department of Conservation.

The lids of the 93 artificial burrows are sequentially numbered; half the colony can be seen, photograph by Mike Rumble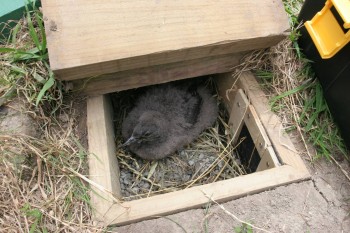 A Fluttering Shearwater chick in its artificial burrow, photograph by David Cornick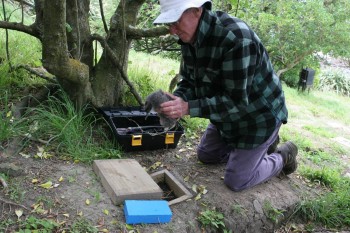 A chick about to be collected from its burrow for feeding. The internal blockade stops the chicks exiting the burrow too early, photograph by David Cornick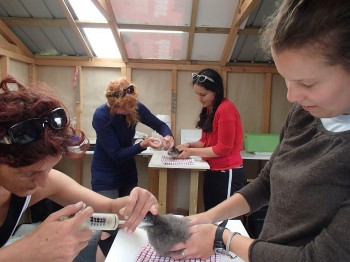 Inside the feeding shed with two chicks being fed sardine smoothies
Photograph by Alison Ballance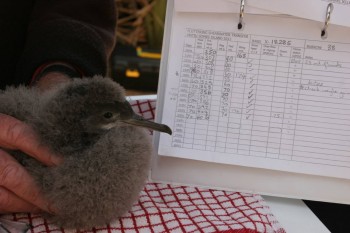 Detailed records are kept for each translocated chick
Photograph by David Cornick
In 2012 the Royal Society for the Protection of Birds (RSPB) Warden from Ramsey Island in Wales visited Matiu/Somes to see the translocation site and particular the nest boxes utilized. Similar boxes have now been installed in a Manx Shearwaters P. puffinus study colony on Ramsay as part of a research effort (click here).
This year the Kaua'i Endangered Seabird Recovery Project and Pacific Rim Conservation from the USA's Hawaiian Islands were invited to assist with the project and to observe the techniques. This gained knowledge will help guide work with Endangered Newell's Shearwaters P. newelli on Kauai where it is intended to translocate chicks into the to-be-fenced area at Nihoku (click here) in the next few years.
A further international connection was when a field trip to the colony as part of the 5th International Albatross and Petrel Conference that was held in Wellington in August 2012. A number of international delegates took this opportunity including from Japan and the USA.
Click here to read of a current New Zealand effort translocating Cook's Petrels Pterodroma cookii.
With thanks to Alison Balance, Shane Cotter, Helen Gummer, David Cornick, Andre Raine and Mike Rumble for information and photographs.
Selected Literature:
Anden Consulting 2013. Draft Environmental Assessment Nihoku Ecosystem Restoration Project Kīlauea Point National Wildlife Refuge Kaua'i, Hawai'i September 2013. Honolulu: Anden Consulting. 169 pp.
Bell, M., Bell, B.D. & Bell, E.A. 2005. Translocation of Fluttering Shearwater (Puffinus gavia) chicks to create a new colony. Notornis 52: 11-15.
Gaze, P. & Cash, B. 2008. A history of wildlife translocations in the Marlborough Sounds. DOC Occasional Publication No. 72. Wellington: Department of Conservation. 23 pp.
Gummer, H. & Adams, L. 2010. Translocation techniques for fluttering shearwaters (Puffinus gavia): establishing a colony on Mana Island, New Zealand. Wellington: Department of Conservation. 52 pp.
Miskelly, C.M. & Taylor, G.A. 2004. Establishment of a colony of Common Diving Petrels (Pelecanoides urinatrix) by chick transfers and acoustic attraction. Emu 104: 205-211.
Miskelly, C.M., Taylor, G.A., Gummer, H. & Williams, R. 2009. Translocations of eight species of burrow-nesting seabirds (genera Pterodroma, Pelecanoides, Pachyptila and Puffinus: Family Procellariidae). Biological Conservation 142: 1965-1980.
John Cooper, ACAP Information Officer, 18 March 2014