Taiaroa Head supports New Zealand's only mainland breeding colony of albatrosses, where ACAP-listed and Endangered Northern Royals Diomedea sanfordi may be viewed by the public.
Seven years since he hatched in 2007 Taiaroa Head's 500th albatross chick has returned to the colony. The bird has been named Toroa - the Maori word for albatross. He is the son of Button, the last chick Grandma produced in 1989. At 62 years of age Grandma was then the oldest recorded albatross in the World and was one of the first birds banded in the colony by Lance Richdale in 1938.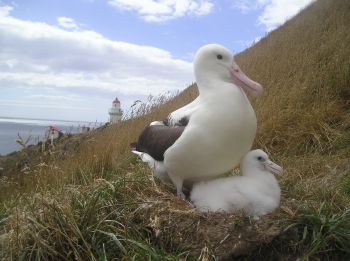 The 500th Northern Royal Albatross chick at Taiaroa Head, Otago Peninsula
Photograph by Lyndon Perriman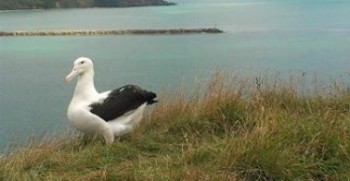 Toroa back at Taiaroa Head, photograph by Department of Conservation
"Department of Conservation ranger Lyndon Perriman said most royal northern albatross fledglings returned from their journey to their South American feeding grounds within four or five years, six at the outside. He had initially been confident Toroa would return after a tracking device put on him and three others had shown he was still alive and feeding off the coast of South America 12 months later."
Read more about Toroa in the Otago Daily Times for 5 February.
Twenty-four albatross chicks have hatched successfully this year at Taiaroa Head.
Selected Literature:
Peat, Neville 2011. Seabird Genius: The Story of L.E. Richdale, the Royal Albatross, and the Yellow-eyed Penguin. Dunedin: Otago University Press. 288 pp.
John Cooper, ACAP Information Officer, 23 February 2014