The 2013 IUCN Red List update was published in November. Seabird species accounts may now be viewed on the BirdLife Data Zone and IUCN Red List website.
In preparation for the 2014 Red List update, BirdLife International has extended an invitation to participate in the forum process to discuss proposed revisions to the global threat status (IUCN Red List category of extinction risk) for selected species, including ACAP-listed albatrosses, petrels and shearwaters and other seabirds. Visit the seabird forum to read of species under review and to post your own comments on proposals.
"The initial deadline for contributions is 10 February 2014, when we will assess the contributions made. We will then post up a draft list of preliminary decisions and you will have two more weeks to comment further before final decisions are posted. The new and revised species assessments and updated factsheets will be published on the BirdLife website and incorporated into the 2014 IUCN Red List, currently scheduled for release in June."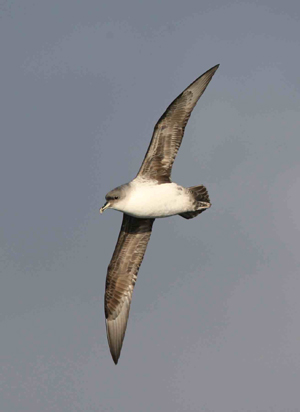 Grey Petrel: proposed for review, photograph by Peter Ryan
To propose additional species for review post a comment on the relevant 'Suggestions for new topics' discussion, or email This email address is being protected from spambots. You need JavaScript enabled to view it.; in either case giving details of population/range size or trend estimates that may require revision.
Assessments of the threat status of newly-defined non-passerine species will be undertaken this year, and Red List assessments for these species will be published in the 2014 Red List update. The vast majority of topics for the 2014 update have now been posted on the forum website, but a few further discussions will be added over the coming days and weeks, so keep checking back for updates.
Read more on the 2013 changes here.
With thanks to Joe Taylor for information.
John Cooper, ACAP Information Officer, 23 January 2014