"The Seabird Restoration Program (SRP) of the National Audubon Society is seeking applicants for the Herz International Seabird Fellowship. The fellowship is intended for biologists working with an NGO or GO from third world countries seeking experience with seabird restoration methods for applied seabird conservation. The 10-week field practicum combines ecosystem and behavior theory with practical experience from applied disciplines such as wildlife management and aviculture to develop proactive techniques for managing rare and endangered seabirds.
Recipients of the Josephine D. Herz Fellowship will begin their internship at Audubon's Hog Island Environmental Education Center (Bremen, Maine USA) on May 26, 2014 where they will take part in an intensive two day orientation program with approximately twenty-summer interns. After the orientation, the Herz Fellow will receive field experience at several managed seabird nesting islands throughout the Gulf of Maine. Instructors for the training program include biologists from Audubon's SRP and other professional seabird biologists and ecologists."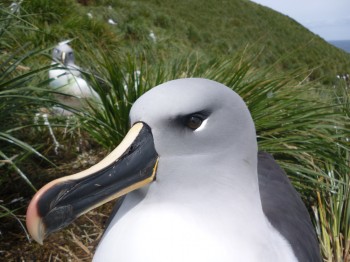 Grey-headed Albatross, photographed by Richard Phillips
The Fellowship provides travel from the recipient's home country, room, board and camping equipment (click here).
Deadline for applications is 15 March 2014 (click here to apply).
Attach completed application and reference letters and send to This email address is being protected from spambots. You need JavaScript enabled to view it., Sanctuary Manager, National Audubon Society.

John Cooper, ACAP Information Officer. 20 January 2014