Graham Parker (Parker Conservation, New Zealand) has reported to ACAP Latest News on contractual field work he has been involved with over the last year on ACAP-listed albatrosses and petrels at New Zealand's sub-Antarctic islands.
Over July and August last year a winter survey of Grey Petrels Procellaria cinerea was undertaken on Campbell Island on behalf of the Department of Conservation and the National Institute of Water and Atmospheric Research (NIWA). The key objectives were defining the spatial extent of breeding colonies, estimating colony densities and obtaining an estimate of burrow occupancy.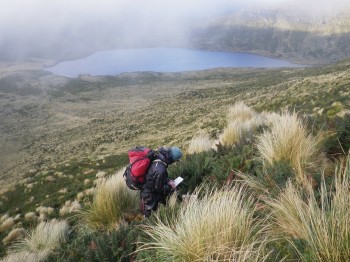 Graham Parker searches for Grey Petrel burrows on Campbell Island
This was followed by a summer visit back to Campbell and to the Auckland Islands, along with Kalinka Rexer-Huber (PhD student, Department of Zoology, University of Otago) and albatross researcher Paul Sagar, recently retired from NIWA. On Campbell activities included trialling a boat-based survey of Light-mantled Albatrosses Phoebetria palpebrata along the island's coastal cliffs, deploying and retrieving GLS loggers on Southern Royal Albatrosses Diomedea epomophora and attempting to retrieve loggers from Campbell Thalassarche impavida and Grey-headed T. chrysostoma Albatrosses.
In the Auckland group, a visit to Disappointment Island allowed a mark-recapture study of White-capped Albatrosses T. steadi to be established. A visit was also paid to Adams Island.
White-capped Albatross on Disappointment Island, photograph by Graham Parker
At all localities visited Kalinka continued to collect information, including on population sizes, on White-chinned Petrels Procellaria aequinoctialis towards her higher degree. Her thesis research entails addressing tracking, provenance and census gaps for White-chinned Petrels. "I aim to produce a population estimate for the Auckland Islands, to track individuals at sea and to assess the taxonomic status of New Zealand populations. More broadly, I will evaluate population genetic structure to determine the origin of petrels caught as fisheries bycatch."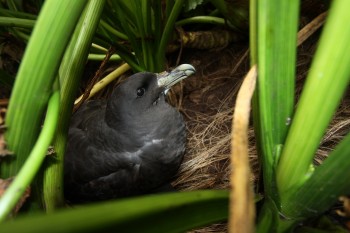 White-chinned Petrel on Disappointment Island, photograph by Graham Parker
Graham is clearly keeping busy. He is now helping with the third year of translocating Vulnerable Pycroft's Petrel Pterodroma pycrofti chicks from Red Mercury Island to 80-ha Motuora Island in the Hauraki Gulf by the Motuora Restoration Society. Motuora is free of introduced mammals (click here) and thus a suitable site for the establishment of new seabird colonies by translocation, such as an earlier transfer of Common Diving Petrels Pelecanoides urinatrix to the island (click here).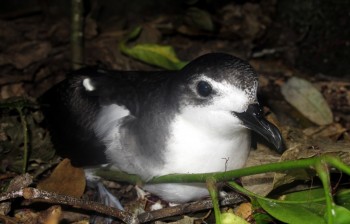 Pycroft's Petrel, photograph by the Motuora Restoration Society
The White-chinned Petrel survey undertaken on Disappointment Island was supported by an award to NIWA from the ACAP Grants Programme in its 2014 round (click here).
With thanks to Graham Parker and Kalinka Rexer-Huber for information and photographs.
John Cooper, ACAP Information Officer, 07 March 2015, updated 13 March 2015