ACAP Latest News has previously reported on vagrant albatrosses of the mollymawk genus Thalassarche turning up in colonies of other mollymawk species (click here).
One of these species, the Salvin's Albatross T. salvini, has been recorded as a vagrant on a number of islands in the Southern Ocean, including on Gough Island (click here) and as referenced below.
The first Salvin's Albatross reported from Gough Island was photographed ashore on 21 October 2008 on the slopes of Richmond Hill loafing among breeding Atlantic Yellow-nosed Albatrosses T. chlororhynchos.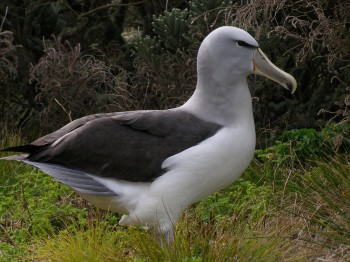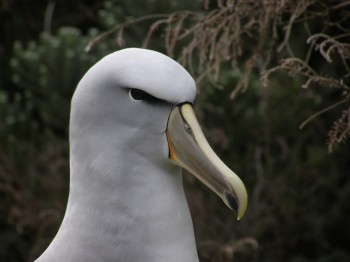 First record of a Salvin's Albatross on Gough, photographs by Paul Visser 
The second record for the island was made on 17 January this year when an adult Salvin's Albatross was seen on the lower slopes of Richmond Hill near Prion Cave and then again two days later on a rock in the Gony River above Swemgat when it was measured (bill, wing and tarsus), banded (SAFRING No. 9A-69251) and photographed.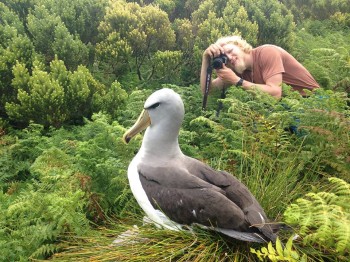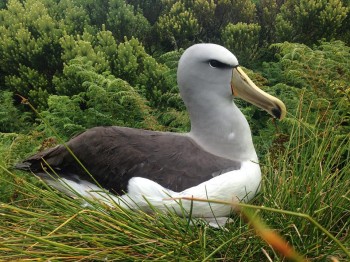 Second record of a Salvin's Albatross on Gough Island, photographs by Michelle Risi
Although it is quite possible the two sightings are of the same bird there appears to be no way of confirming this, as the bird seen in 2008 was not banded.
With thanks to Chris Jones, Michelle Risi and Paul Visser for information and photographs.
References:
Arata, J. 2003.  New record of Salvin's Albatross (Thalassarche salvini) at the Diego Ramirez Islands, Chile.  Notornis 50: 169-171.
Jouventin, P. 1990.  Shy Albatrosses Diomedea cauta salvini breeding on Penguin Island, Crozet Archipelago, Indian Ocean.  Ibis 132: 126-127.
Prince, P.A. & Croxall, J.P. 1983.  Birds of South Georgia: new records and re-evaluations of status.  British Antarctic Survey Bulletin 59: 15-27.
Prince, P.A. & Croxall, J.P. 1996.  The birds of South Georgia.  Bulletin of the British Ornithologists' Club 116: 81-104.
Shirihai, H. 2007.  A Complete Guide to Antarctic Wildlife.  The Birds and Marine Mammals of the Antarctic Continent and the Southern Ocean.  London: A & C Black.
Visser, P., Louw, H., Cuthbert, R.[J.] & Ryan, P.[G.] 2009.  Salvin's Albatross Thalassarche salvini on Gough Island, South Atlantic.  Bulletin of the African Bird Club 16: 215-216.
John Cooper, ACAP Information Officer, 31 January 2015