The Sixth Session of ACAP's Meeting of Parties wrapped up four days of deliberations last week Friday in Skukuza Rest Camp in South Africa's Kruger National Park. The session was opened by Dr Luthando Dziba of South African National Parks. In his address he said "South Africa hopes that other range states for albatrosses and petrels will soon join the Agreement and that, in collaboration with other organisations, the Agreement will shortly make significant progress with regard to the understanding and addressing the threats to albatross and petrels on the High Seas".
Dr Dziba also noted that South Africa has substantially reduced the by-catch of seabirds in its pelagic long-line fisheries, from 1.6 birds per 1000 hooks at the turn of the century to fewer than 0.5 birds per 1000 hooks at present (click here). "During his address Dziba expressed South Africa's gratitude for the wonderful generosity of the ACAP States and organisations, and all the hard work that the ACAP Secretariat have contributed to ensuring the success of the Agreement from its infancy to a stage where it has now been in operation for 14 years and has made substantial progress."
South Africa hosted delegates to a number of game drives during the week. With friendly competition between the game-viewing vehicles, a combined list of 38 mammal species was made, including the "Big Five" of Lion, Leopard, Cape Buffalo, White Rhinoceros and African Elephant, as well as Giraffe, Hippopotamus and several species of buck. Smaller mammals seen in the evening and at night by spotlight included Spotted Hyaena, Honey Badger, African Wild Cat, Civet and Scrub Hare. For a number of delegates from outside Africa views of these charismatic animals was a novel and lifetime experience, many of whom spent time bird watching as well.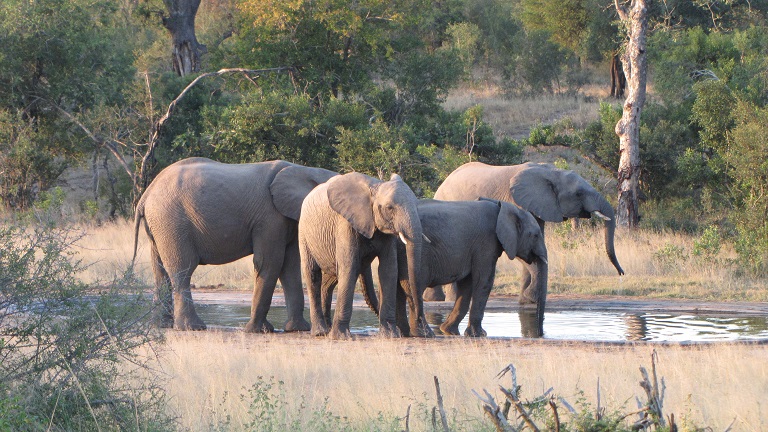 During the session Australia made an offer to host the Seventh Session of the Meeting of Parties in 2021, when the Agreement will be 20 years old. The 11th Meeting of ACAP's Advisory Committee is due to be held next year in Florianópolis, Santa Catarina, Brazil.
Following adoption of the session's report, the Chair, Ashley Naidoo of South Africa's Department of Environmental Affairs closed the meeting, thanking the delegates for their contributions and wishing them safe journeys to their homes. He also thanked South Africa for hosting the session and for its hospitality.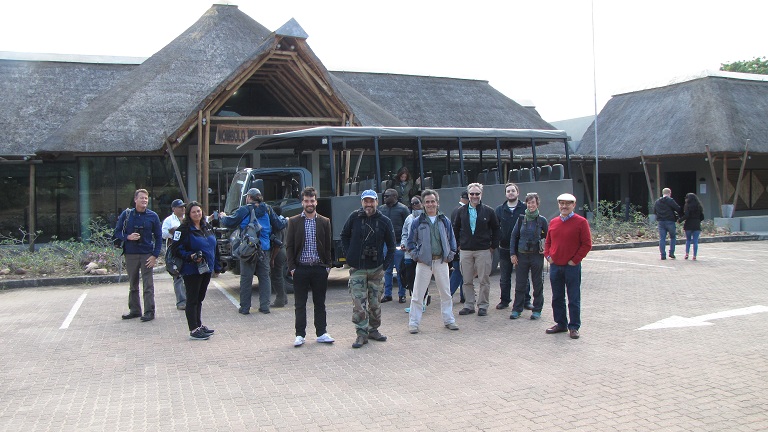 A group of MoP6 Delegates after a morning game drive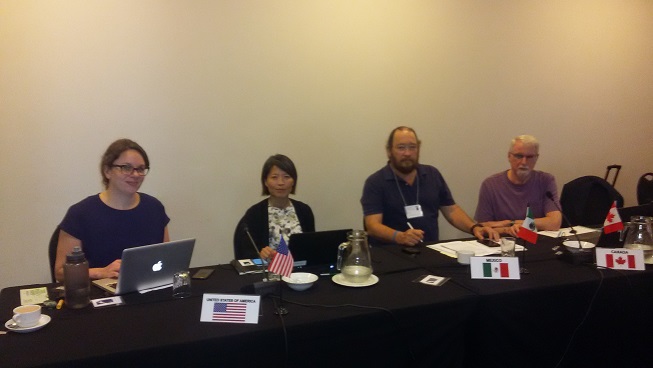 Three Ranges States, Canada, Mexico and the USA, attended as observers; Mexico for the first time at an ACAP meeting with Humberto Berlanga García behind his national flag.
Katy Sater and Mi Ae Kim (USA) and Ken Morgan (Canada) complete the group
MoP6 Delegates gather outside the Nombolo Mdhluli Conference Centre at Skukuza
Photographs by John Cooper
On the last evening South Africa hosted delegates to a traditional potjiekos meal (meat and vegetables slow cooked in a cast-iron pot over an open fire) in an outdoor boma (stockade) within the camp. A vegerarian potjie was also available and proved popular.
The report of the session will be posted to this web site in ACAP's three official languages of English, French and Spanish in due course.
John Cooper, ACAP Information Officer, 14 May 2018