ACAP's three official working languages are English, French and Spanish and its website exists in three language versions. To help keep all three versions up-to-date four translation students have recently spent an intensive working week in ACAP's Hobart office, assisting the Secretariat by translating documents, reports and website sections from English into French and Spanish.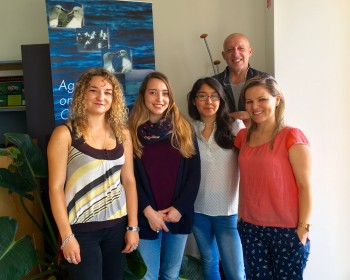 From left Elodie, Chloe, Paula and Janneth; ACAP's Executive Secretary Marco Favero behind
This year's interns came from the School of Languages, Literatures, Cultures and Linguistics, Monash University, Melbourne (Elodie Genin, Paula Alejandra Aparicio Bravo and Janneth del Carmen Santafe Sanchez) and from the School of Humanities and Languages, University of New South Wales, Sydney (Chloe Sautereau).
Their translations are now in the process of being posted to the French and Spanish versions of the ACAP website. Examples include articles in the Education section under Resources such as What is a Seabird? (Qu'est-ce qu'un oiseau marin? and ¿Qué es un ave marina?) and About ACAP (À propos de l'ACAP and Acerca de ACAP).
The 2016 intern programme follows on from similar placements in previous years (click here for the 2013 cohort).
John Cooper, ACAP Information Officer, 23 February 2016