At least three Laysan Albatrosses Phoebastria immutabilis were killed, with their legs cut off and their bands removed, in the Kaena Point breeding colony in Oahu, Hawaii during the night of 27 December.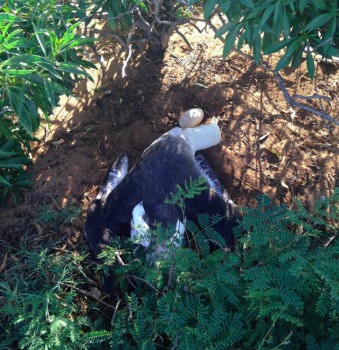 A mutilated Laysan Albatross corpse lies next to its egg, Photograph from Pacific Rim Conservation
The albatrosses in the Kaena Point Natural Area Reserve are protected by a predator-proof fence but this did not stop entrance being gained at night by an intruder (or intruders), who also broke 15 eggs of the 75 that were being incubated. Missing banded birds at nest sites the next day where eggs were smashed may suggest more than three adults were killed.
In addition, three trail cameras, a battery, two solar panels and the sound system that had been used to attract Black- footed Albatrosses P. nigripes to the area were stolen. This equipment has a replacement value of US$ 3100.
Not all the trail cameras in the reserve were stolen and one captured the image depicted here of a person walking past it who was within 10 m of the destroyed albatross nests on the night of the intrusion.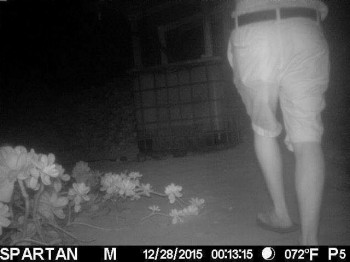 Is this the miscreant? The search is on, photograph from Pacific Rim Conservation
A reward of US$ 10 000 has been offered by the Conservation Council for Hawai'i, Pacific Rim Conservation and several individuals for information leading to the arrest of the person(s) responsible for the crime.
The Hawaiian Department of Land and Natural Resources is working with the U.S. Fish & Wildlife Service law enforcement office and the Honolulu Police Department on the investigation. The three adult carcasses were taken for necropsy to the U.S. Geological Survey Honolulu office for a necropsy to identify the cause of death.
Read more here.
In 2009 what might have been a similar incident happened at a nearby colony of Laysan Albatrosses in the Kuaokala Game Management Area with breeding birds, chicks and eggs going missing without explanation (click here).
John Cooper, ACAP Information Officer, 01 January 2016