The Vulnerable Chatham Albatross Thalassarche eremita breeds only at a single locality, The Pyramid, a privately-owned rock stack in the Chatham Islands, New Zealand.
The Pyramid: home of the Chatham Albatross
Photograph by David Thompson
On 21 January 30 downy chicks were collected from The Pyramid and moved by boat to a privately-owned release site at Point Gap, on the south-west coast of Main Chatham, where artificial nests and dummy adults had been previously set up (click here for a video clip of the operation). The translocated chicks are being hand-fed daily on blended squid-mackerel "smoothies" and chunks of squid until they fledge in three to four months' time.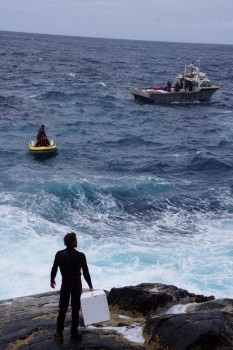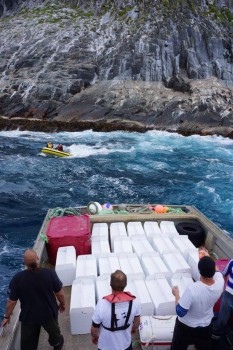 Loading chicks at The Pyramid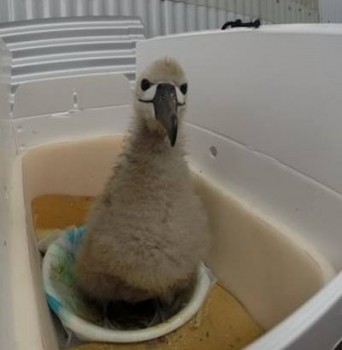 On the way to the translocation site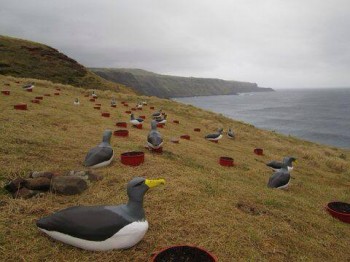 At the translocation site before the chicks arrive: dummies and "nests" in place
Translocated chicks settle into the artificial colony among the dummy adults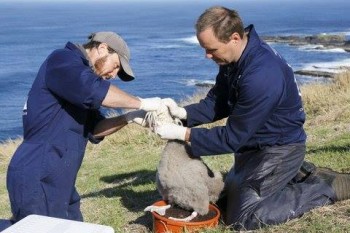 Hand-feeding chicks in the translocation colony
It is intended to translocate chicks over three summers. Fledged chicks could start returning to the colony at the age of four, and begin breeding at the age of seven.
The Chatham Island Taiko Trust is a non-profit community conservation trust, established in 1998 by Chatham residents, to protect and recover the unique and precious island's wildlife with the support and involvement of the Chatham Island community. The trust was originally created to conserve the Critically Endangered Magenta Petrel Pterodroma magentae or Taiko.
The Chatham Island Albatross Translocation Project is partnered with the Yamashina Institute of Ornithology in Japan as well as with Chatham Island landowners. Additional support for the translocation project has been received from the Royal Forest and Bird Society, BirdLife International, Chatham Island Conservation Board, Enterprise Trust and owners of The Pyramid, as well as from the local Chatham Island community.
The project is following methods developed by Tomohiro Deguchi and colleagues of the Yamashina Institute which is attempting to establish a new breeding population of threatened Short-tailed Albatrosses Phoebastria albatrus on Japan's Mukojima Island (click here).
You can follow the fortunes of the Chatham Island Albatross Translocation Project on the Trust's Facebook page.
Click here to access the ACAP Species Assessment for the Chatham Albatross and here to read earlier ACAP Latest News items on the translocation.
Translocation photographs by the Chatham Island Taiko Trust.
John Cooper, ACAP Information Officer, 24 February 2014