USFWS Bio-technician Laura Brazier and Supervisory Biologist Jon Plissner band Midway's latest Short-tailed Albatross chick on 16 April 2023, photograph by USFWS Volunteer Andrew Sullivan-Haskins
"Wow! What a big chunky fuzzball" – Hob Osterlund, Kaua'i Albatross Network
The 2022/23 Short-tailed Albatross Phoebastria albatrus chick on the Midway Atoll National Wildlife Refuge was banded last month, with uniquely numbered metal and green plastic bands, the latter for easy recognition at a distance. Noticeably larger than the surrounding Laysan Albatross P. immutabilis chicks, the Short-tail chick is the fourth to be reared to banding age by its parents, the well-known pair George and Geraldine, on Sand Island since 2019.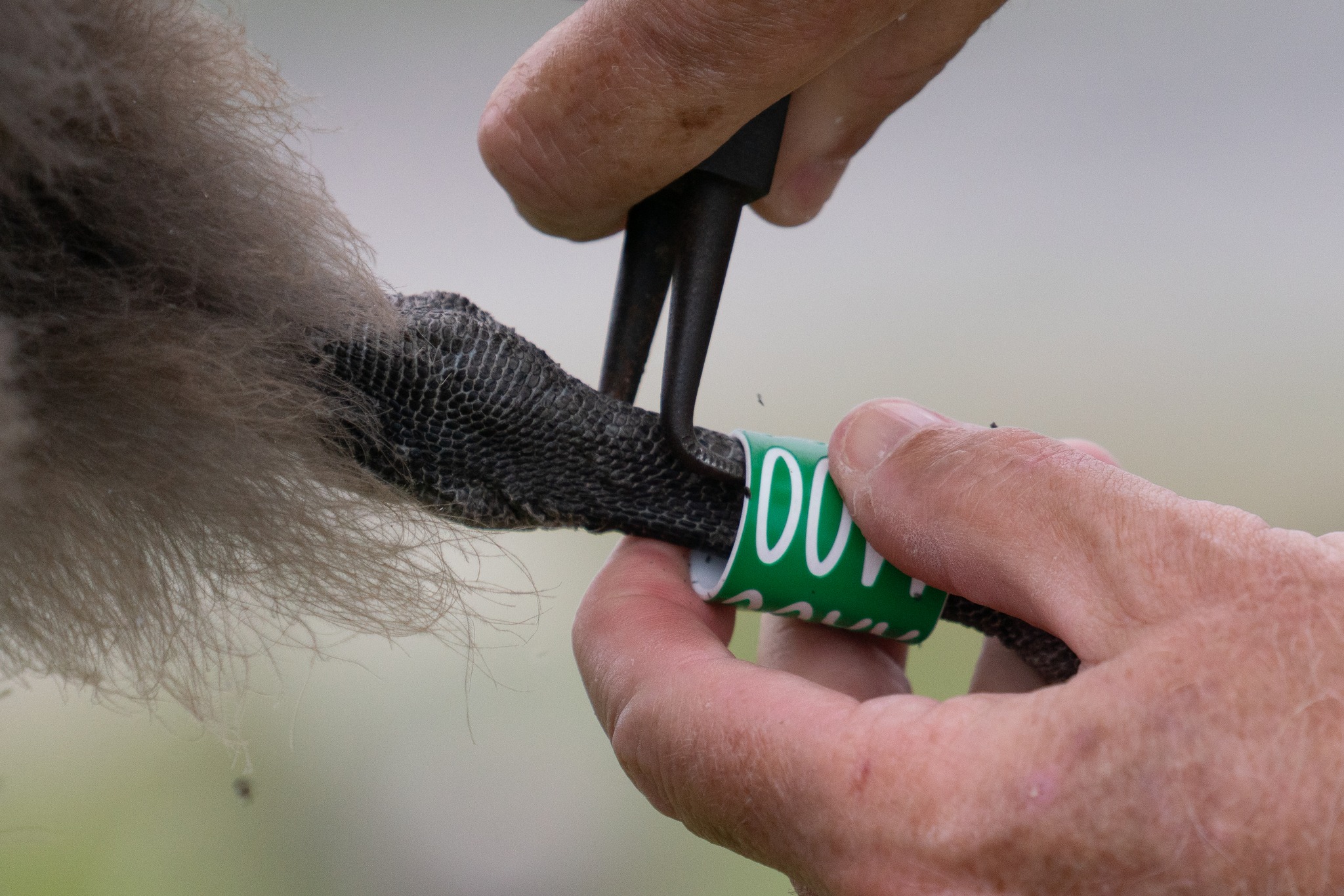 On goes the green MOO colour band, photograph by USFWS Volunteer Andrew Sullivan-Haskins
The 2022/23 chick has been observed interacting with its four-year-old and thee-year-old siblings who have been returning to the island as pre-breeding juveniles, as recorded on a wildlife field camera.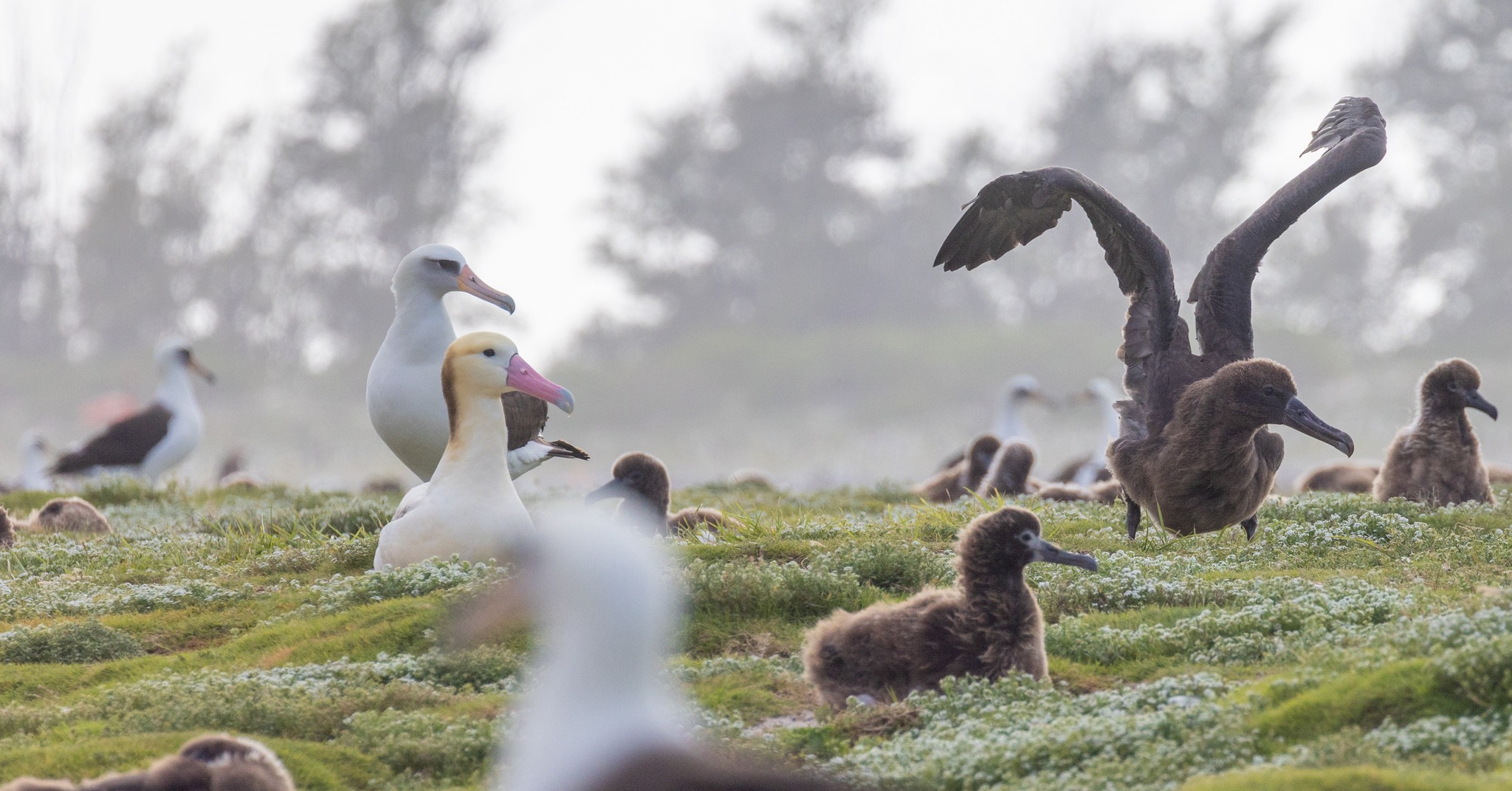 Close to fledging? Geraldine returns to feed her chick and then settles down to watch it exercise its wings on 6 May 2023, photograph by USFWS Volunteer Scott Wolff
The chick's parents were originally banded on the Vulnerable species' stronghold, Torishima and are currently the only Short-tailed Albatrosses breeding east of Japan. Three chicks were banded on Eastern Island in the atoll between 2010/2011 and 2013/2014, reared by a different Short-tailed Albatross pair. An unbanded male in adult plumage was found freshly dead on 13 December 2014 on the island from unexplained causes (click here), and was initially thought to be one of the breeding pair.
Access the many earlier ACAP Latest News articles about George and Geraldine, and other Short-tails on Midway, from here.
UPDATE.  The Short-tailed Albatross chick was videoed successfully fledging on the afternoon of 23 May, flying towards the fringing reef. "Despite the moderately strong winds and rough seas; the bird seemed to be faring well as it continued making its way south of Spit Island and out of sight" (read more details on the Friends of Midway National Wildlife Refuge Facebook page).
Video by by Fish and Wildlife Service  volunteer, Alex Teodorescu
" The chick was still present near the nest on May 20th. The chick's father [George] was last at the nest site on May 5 and its mother [Geraldine] was present from May 5-May 8. One of the chick's older siblings (either the 2019 or 2020 chick) revisited the site May 16-19." (information from a game camera).
John Cooper, Emeritus Information Officer, Agreement on the Conservation of Albatrosses and Petrels, 30 May 2023, updated 02 June 2023