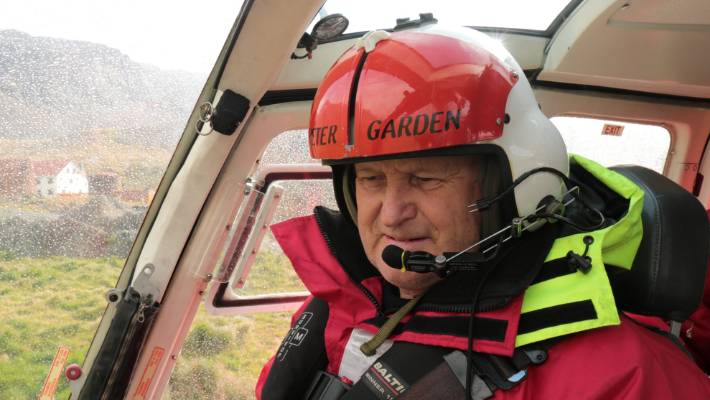 Peter Garden flying on the South Georgia eradication, photograph by John Guthrie
NOTE:  Peter Garden ONZM, a helicopter pilot from Wanaka on New Zealand's South Island, has flown on some of the most ground-breaking island eradication exercises over much of the world.  His flying skills and leadership have in no small part been pivotal in the successful eradication of introduced rodents from such islands as Campbell in New Zealand's sub-Antarctic (when he was the Chief Pilot), Alaska's Hawadax, Palmyra and Henderson in the Pacific and South Georgia (Islas Georgias del Sur)* in the South Atlantic – as Flight Operations Manager and Chief Pilot once more - surely the most ambitious island eradication to date.  Now in his 70s, Peter is retired from flying bait buckets over rodent-infested islands, but he remains involved with combating alien invasions as he writes to ACAP: "I am running trap lines for rats, stoats, possums and wild cats in a 10 500-ha native bush block near my home.  Very much enjoying being back at the 'coal face'".
Peter is the first guest to be featured in ACAP Monthly Missives, the fourth in the series.  He writes of his personal journey from possum trapper to being invested (although he is too modest to mention it) as an Officer of the New Zealand Order of Merit in 2016 for "services to aviation and conservation" (click here).
It was a great pleasure for me to spend a night camping on Gough with Peter on my last visit to that South Atlantic island in 2013 when over two days we conducted the annual monitoring of a long-term study colony of colour-banded Southern Giant Petrels Macronectes giganteus.  Peter was on the visit to advise the Gough Island Restoration Programme and the Mouse-Free Marion Project on their respective plans to eradicate the House Mice that have taken to killing albatrosses and other seabirds on both islands.
You can read more about Peter Garden's adventurous life flying helicopters over remote islands here.
John Cooper, Emeritus Information Officer, Albatross and Petrel Agreement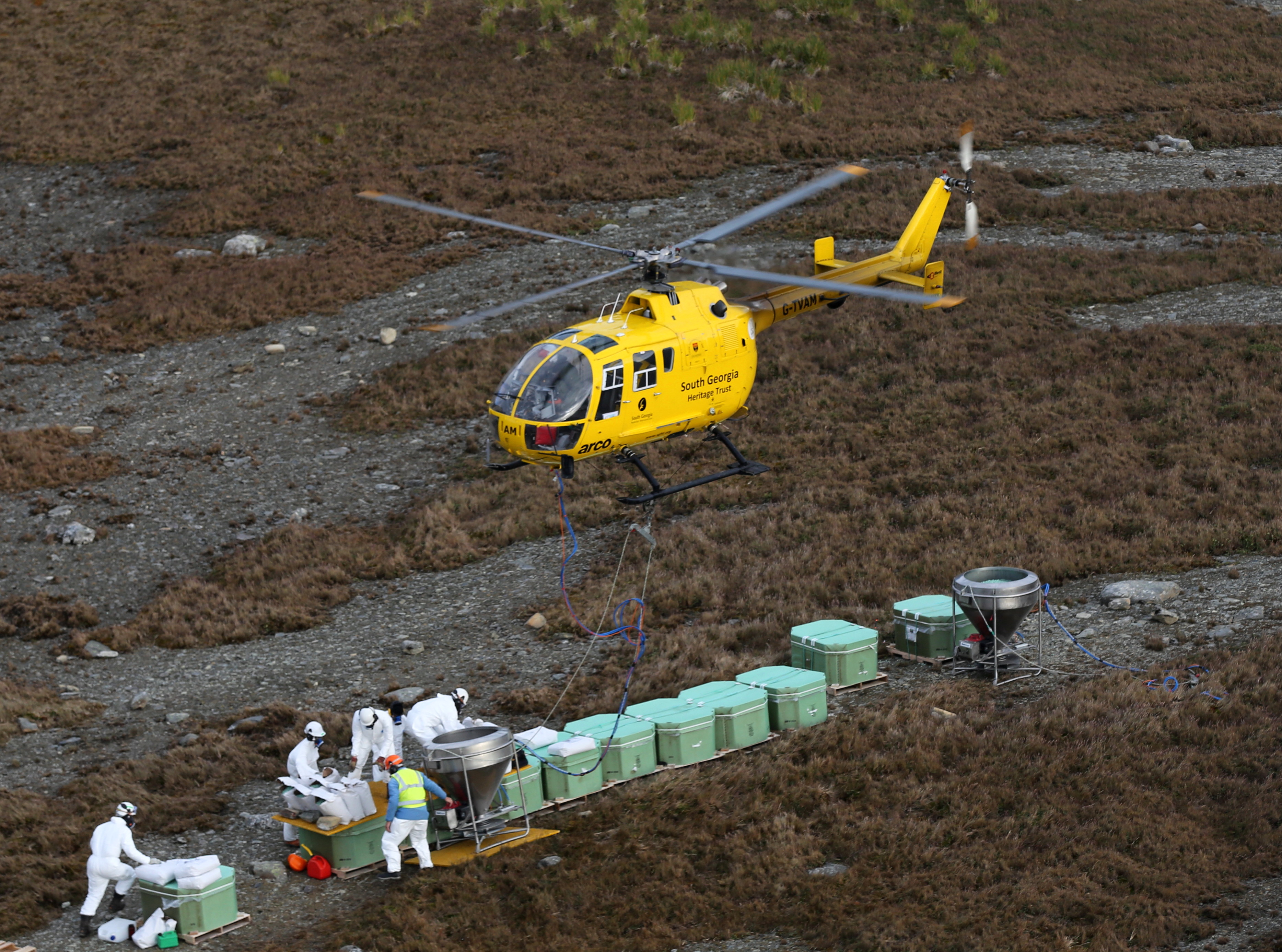 Chief Pilot Peter Garden at the controls in 2015.  Loading rodenticide bait for aerial dispersal on South Georgia (Islas Georgias del Sur)*, photograph by Tony Martin
We all come to conservation from different perspectives, but our end goal is to understand better and help to improve the decline of biodiversity that the world is currently experiencing.  As a New Zealander (Kiwi) I, along with most of my compatriots, have experienced first-hand the loss of iconic species and this has led to an uprising of commitment to do something about this decline.
New Zealand broke away from Gondwana some 80 million years ago and, in the interim, this land mass and the group of islands that developed have drifted across the southern part of the globe in isolation from mammalian predators.  These conditions created a virtual utopia for the unique flora and fauna that evolved.  However, that utopian spell was broken around 1000 years ago with the arrival of Polynesian travellers who bought with them their domestic dogs and Pacific or Polynesian Rats.  This was exacerbated 800 years later with the arrival of European sealers and whalers who brought Black and Brown Rats and House Mice in their infested ships.  The European settlers who followed introduced European Rabbits, Red Deer, Himalayan Thar, Chamois, domestic pigs (which soon became feral) and Brush-tailed Possums for food and sport, and Gorse Ulex europaeus and Common Broom Cytisus scoparius to provide hedgerows, along with many invasive garden plants.  Stoats and Ferrets were introduced in an effort to control the burgeoning rabbit numbers, but they preferred our native birds as they were easier to catch, being completely naive to mammalian predators.
My journey began as a possum trapper in the 1960s.  I hunted these animals, introduced to New Zealand from Australia, for their fur, but the animal rights people got the fur trade stopped and possum numbers soon escalated out of hand.  They now munch through millions of tonnes of native vegetation every year and also prey upon bird's eggs and chicks.  As an agricultural helicopter pilot, I was employed spraying noxious weeds such as gorse and broom and spreading toxins to control rabbits and possums.
Then in the 1990s I was involved in a programme to recover the last remaining wild Kakapo from Stewart Island in an effort to save this Critically Endangered ground parrot from certain extinction.  This work was being carried out by the inspirational Don Merton who had been so successful in the efforts to save the now Vulnerable Black Robin, restricted to the Chatham Islands.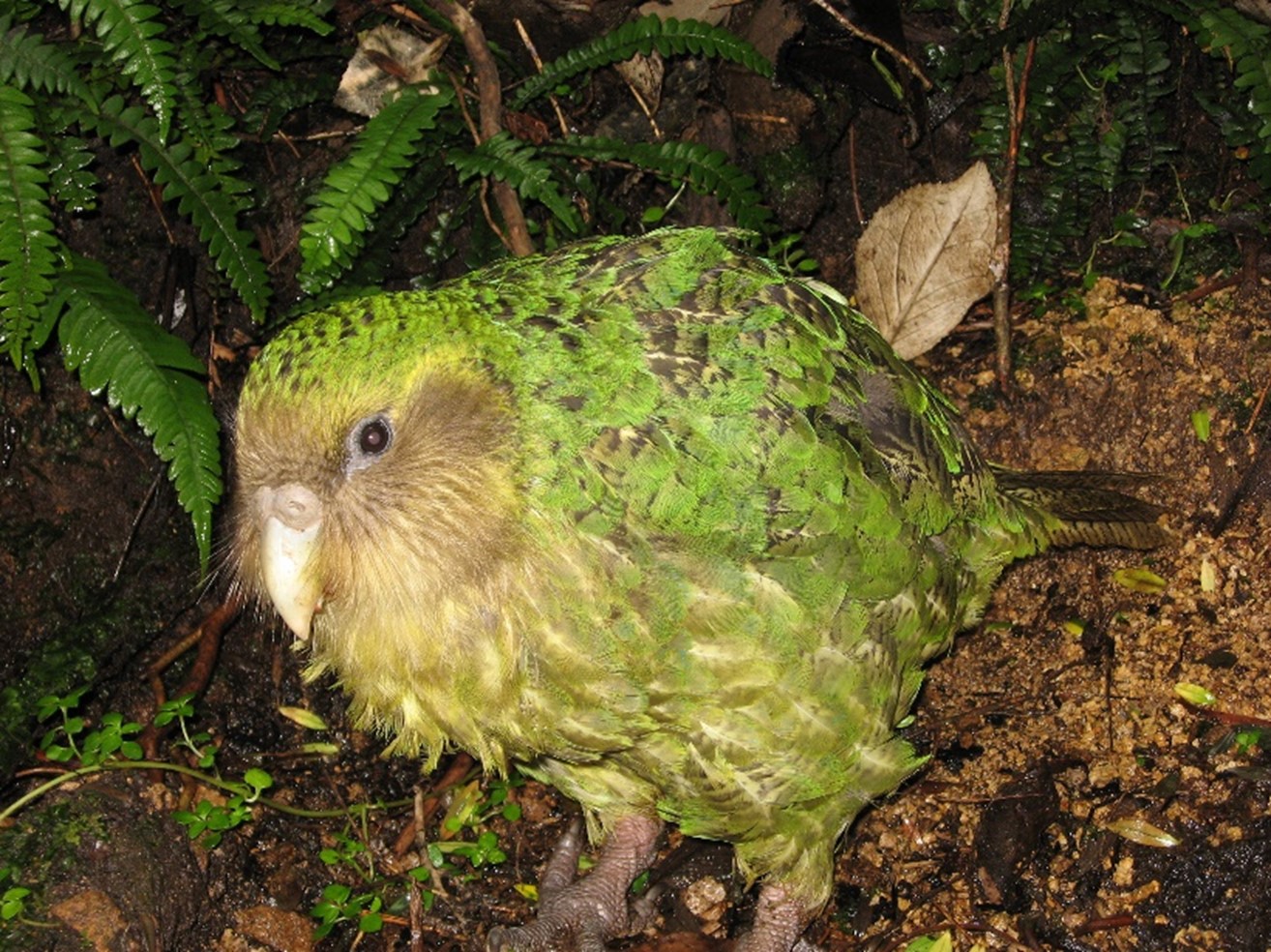 A Kakapo eyes the camera, photograph by Pete McClelland
The recovery programme for the Kakapo required the removal of possums and Pacific Rats from the 1400-ha island of Whenua Hou off the southern coast of New Zealand to provide a safe breeding habitat.  In order to prove the concept of exterminating a resident population of predators, several smaller islands were treated first.  This was carried out to establish application rates and procedures to ensure bait was available to all the target species and that no long-term damage would occur to non-target species.
The success of the Whenua Hou programme encouraged the New Zealand Department of Conservation to tackle a much more ambitious target – Norway Rats on Campbell Island.  The 11 300-ha sub-Antarctic island is located in the Southern Ocean 700 km south of New Zealand and required a change in strategy. The remote location and the size of the island meant using the traditional two times 10 kg/ha applications of bait would be economically unfeasible. A single 6 kg/ha application was proposed.  Campbell was treated in July 2001 and was declared free of rats two years later.  The island's environment soon recovered with flora and fauna flourishing (click here).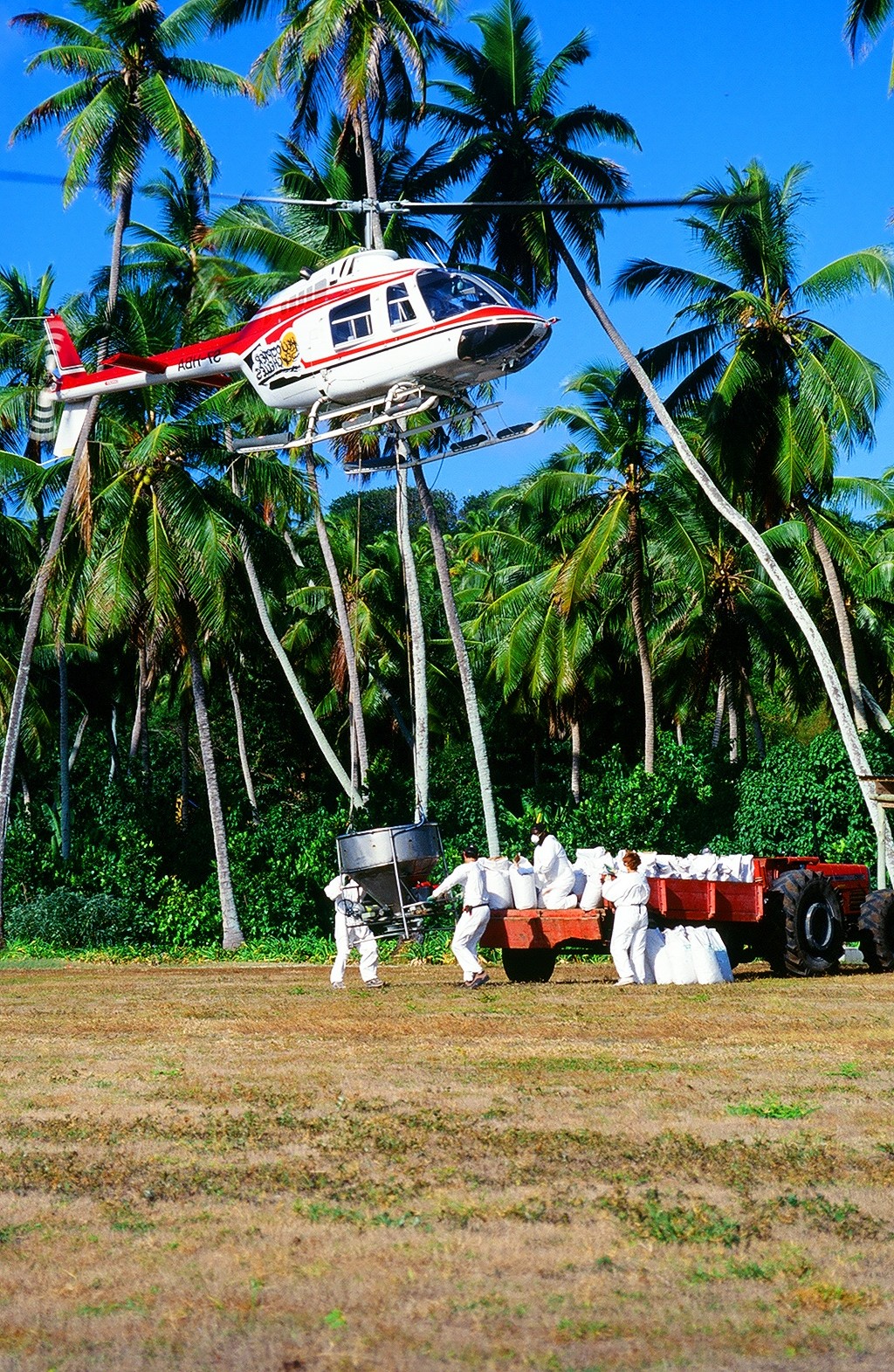 Bait loading against Norway Rats on Frigate Island in the Seychelles in 2000, photograph by Don Merton
The conservation world began to realise that it was possible to reverse the balance that had swung in favour of introduced predators.  I was asked to help out on eradication programmes on the islands of Denis, Frigate and Curiuse in the Seychelles in 2000 (Norway Rats) and against Norway Rats on Hawadax (formerly Rat Island) in the Alaskan Aleutian Chain in 2008.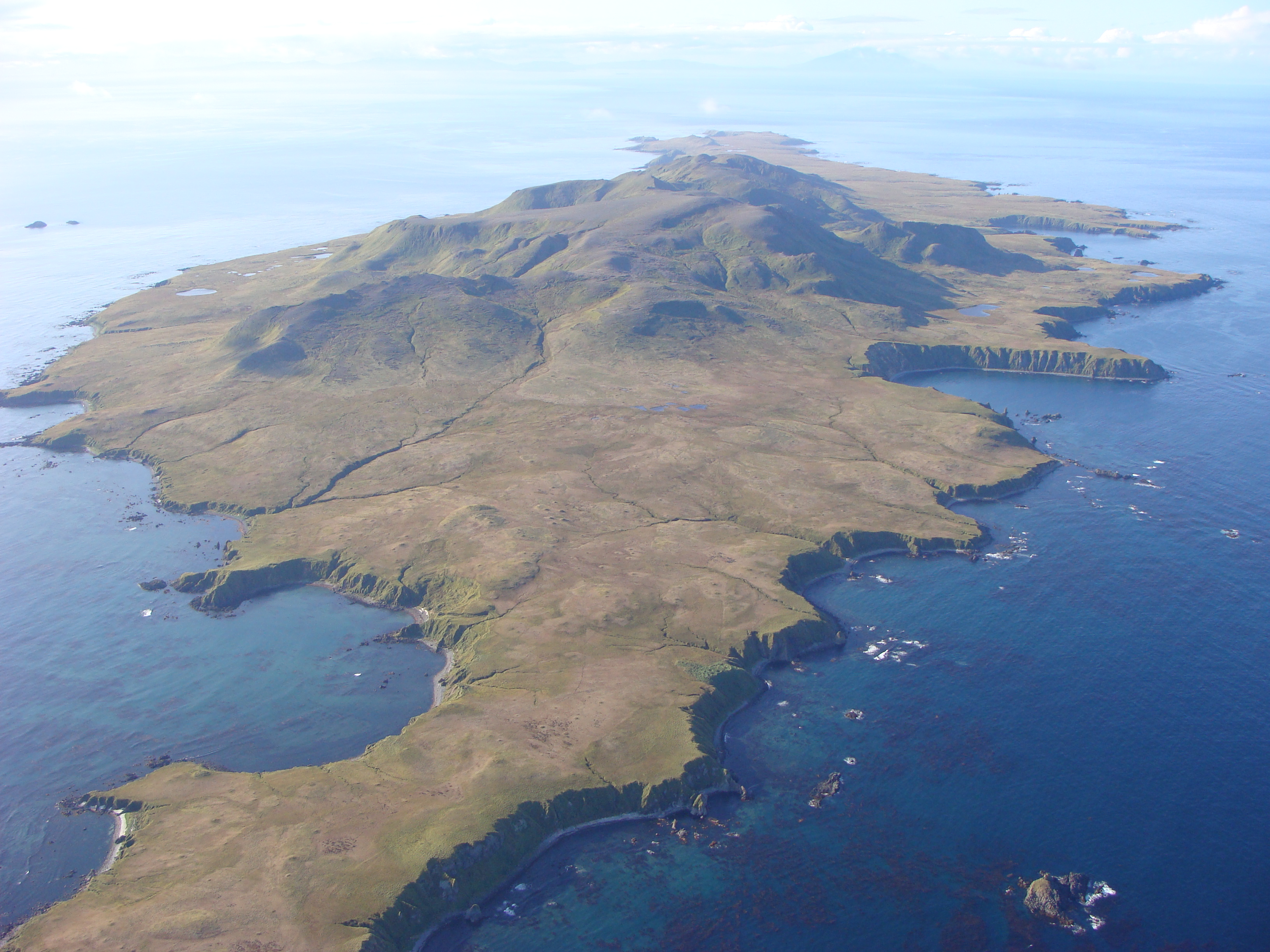 Hawadax Island from the air, photograph by Graeme Gale
In 2011/12 I was a pilot again on a single ship-based expedition that successively treated USA's Palmyra Atoll in the Central Pacific's Line Islands (Black Rats), and then in the South Pacific, Kiribati's Phoenix Islands (Pacific Rats) and Pitcairn's Henderson Island (Pacific Rats).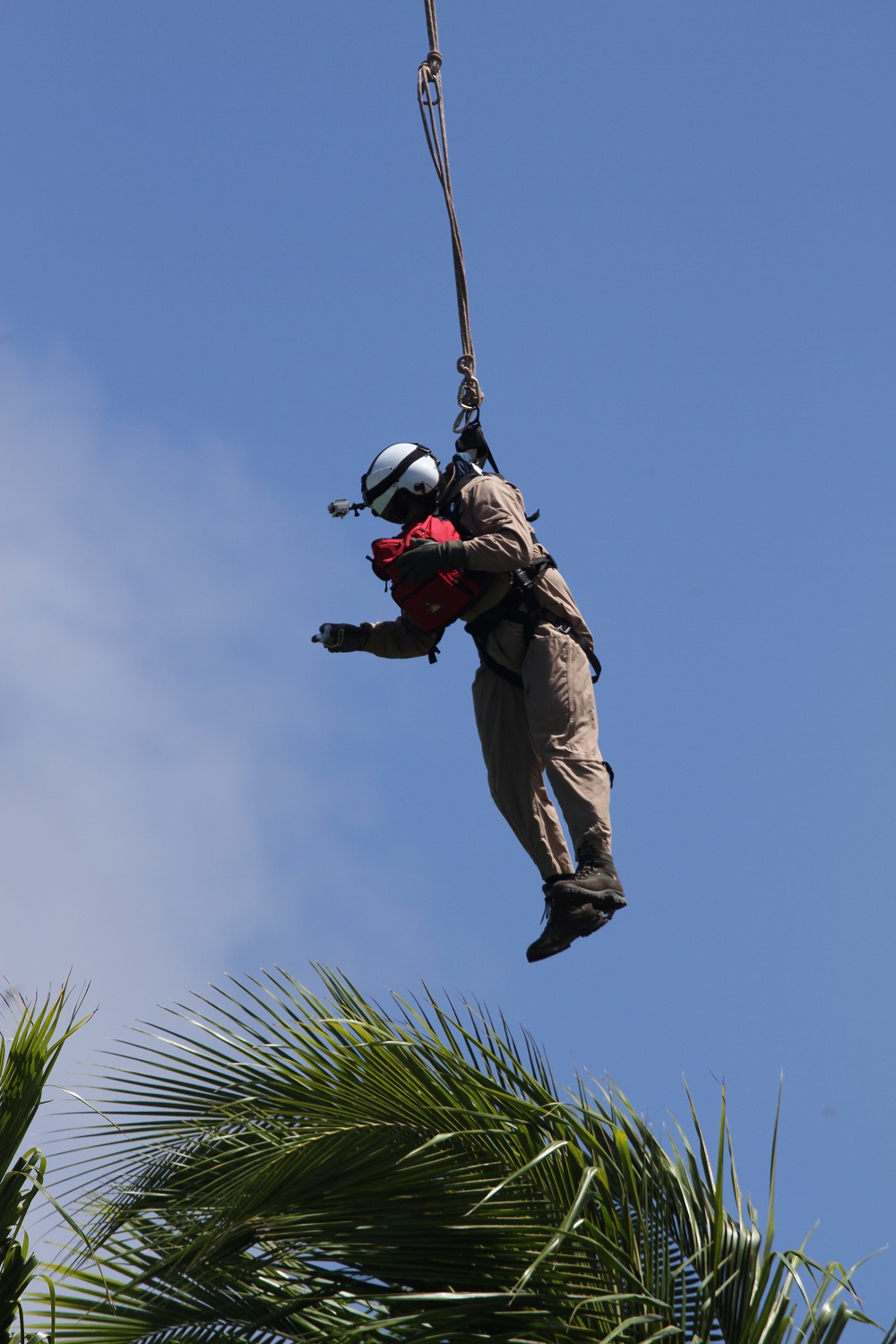 'Dope on a rope': Pete McClelland treats coconut palms with rodenticide on Palmyra Atoll, photograph by Kale Garcia
A problem we had to overcome when treating Palmyra Atoll was that a large number of coconut palms overhung the lagoon.  We knew that rats were living in the tree canopies and could remain there for long periods as there was adequate food and water.  Treating these using the bait-spreading bucket would have meant a considerable amount of bait entering the marine environment.  To avoid this, we devised a method (known as a 'dope on a rope') to drop packages of bait into the treetops.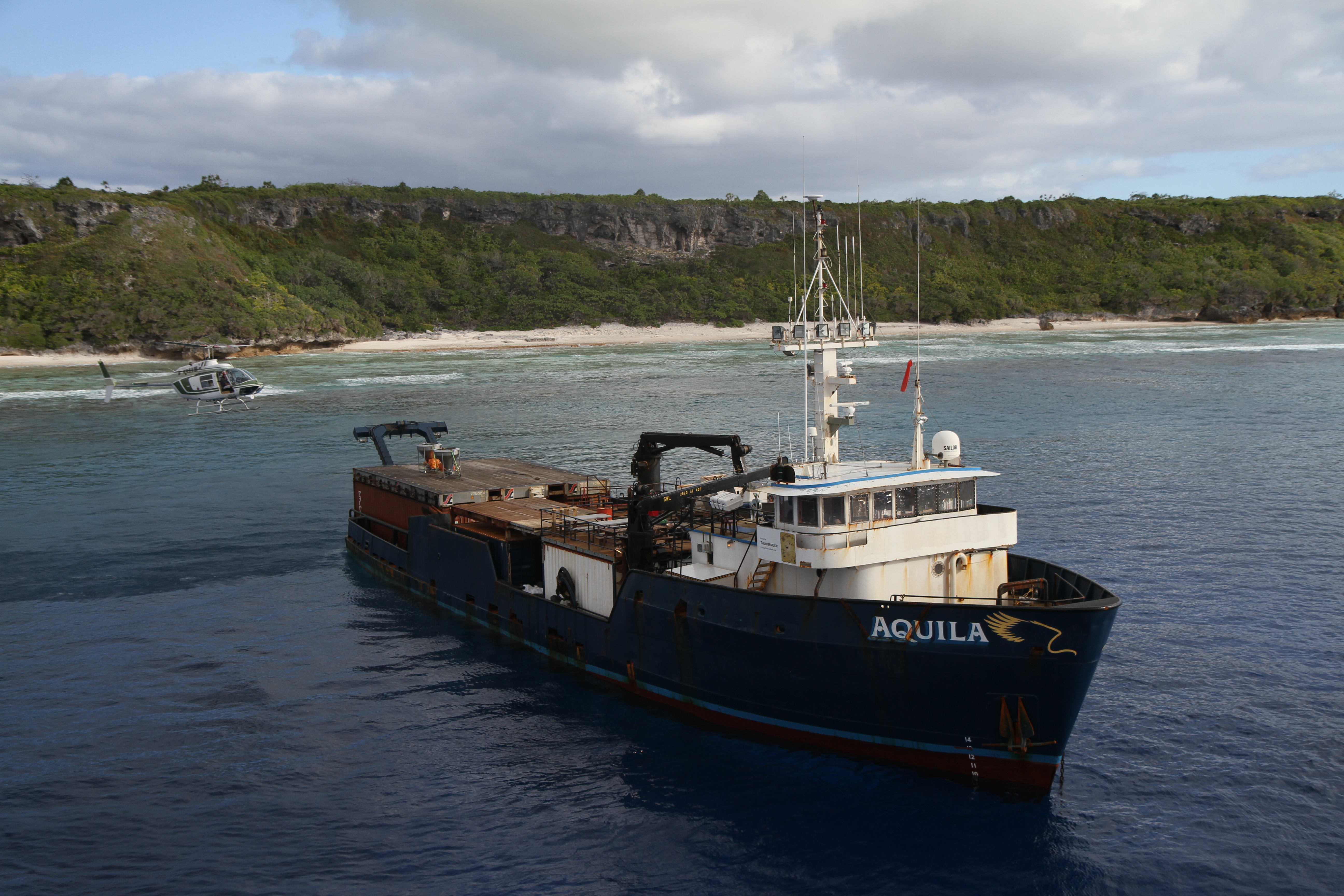 Flying from the support ship Aquila at Henderson Island in the South Pacific in 2011; the attempt to eradicate Pacific Rats was unsuccessful, photograph by Kale Garcia
Targeting Black Rats on Desecheo Island off Puerto Rico in the Caribbean followed in 2012. But for me the greatest challenge (and reward) lay in the sub-Antarctic Atlantic on the enigmatic island of South Georgia (Islas Georgias del Sur)*, with its chequered history linked to whaling.  At just under 4000 square kilometres, it was by far the largest island that had ever been considered for treatment.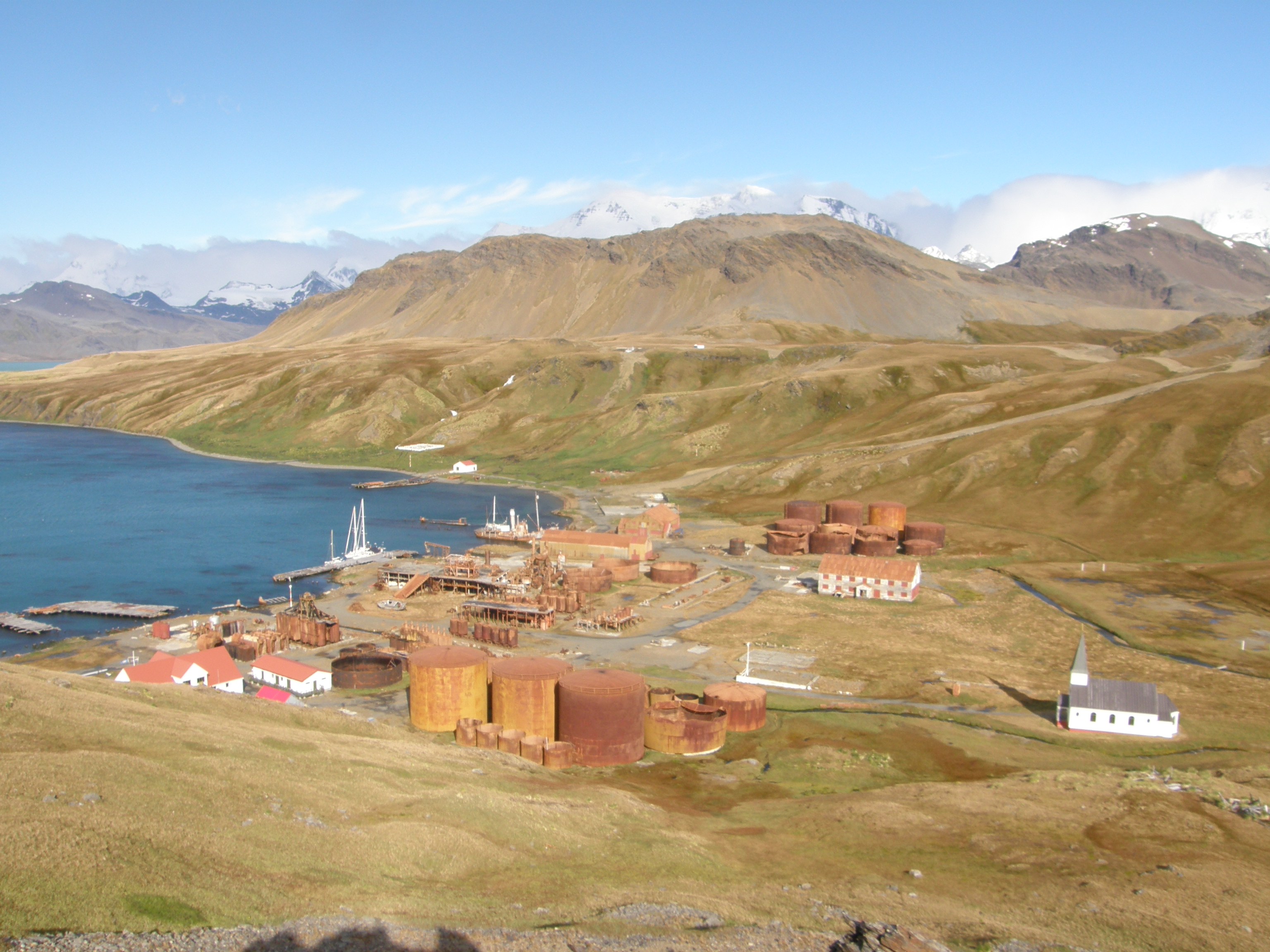 The derelict Grytviken whaling station in the South Atlantic; rats were cleared by hand baiting, photograph by Roland Gockel
Fortunately, much of the island is covered in permanent snow and ice but some 1000 km² still needed to be treated to remove the Norway Rats and House Mice that had been in residence since the sealing and whaling days.  The island has several large glaciers which calve directly into the sea and create barriers to the spread of rodents between zones.  This allowed the treatment to be carried out over several years as there is insufficient suitable weather to complete the job in one season.  A large project like this spread over a five-year period warranted the purchase of helicopters, so three Bolkow BO 105 aircraft were secured by the South Georgia Habitat Restoration Project, these proving ideal for the terrain and weather conditions experienced.  After carrying out a three-phased operation between 2011 and 2015, followed by an extensive monitoring programme completed in 2017, the island was declared rodent free in 2018 and since them island's fauna has shown a remarkable recovery (click here).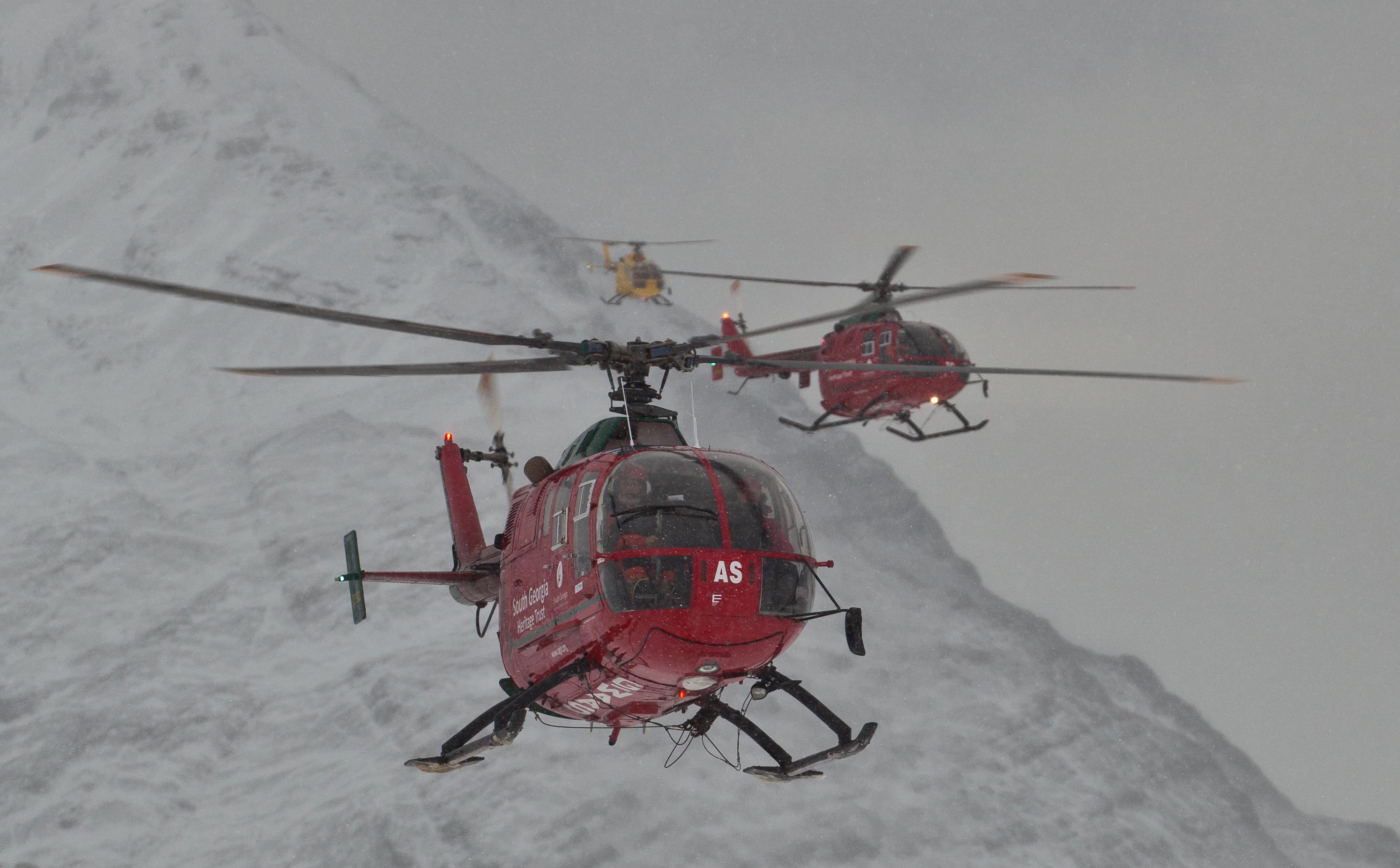 Doing their job.  The three Bolkow BO 105 helicopters fly together in 2013, photograph by Oli Prince
Much has been learned over the past decade or so, but real change is still elusive.  Gene drive technology offers a glimpse of what the future may hold for the eradication of island rodents, but we must continue to use and develop the tools that are currently available in order to slow the present alarming rate of biodiversity loss that the world is experiencing.
Selected Publications:
Martin, T. with photographs by members of Team Rat [2015].  Reclaiming South Georgia.  The Defeat of Furry Invaders on a Sub-Antarctic Island..  [Dundee]: South Georgia Heritage Trust.  144 pp.  ACAP review.
Stolzenburg, W. 2001.  Rat Island.  Predators in Paradise and the World's Greatest Wildlife Rescue.  New York: Bloomsbury.  278 pp.
Peter Garden, Wanaka, New Zealand, 03 January 2022
*A dispute exists between the Governments of Argentina and the United Kingdom of Great Britain and Northern Ireland concerning sovereignty over the Falkland Islands (Islas Malvinas), South Georgia and the South Sandwich Islands (Islas Georgias del Sur y Islas Sandwich del Sur) and the surrounding maritime areas.