The Kauai Endangered Seabird Recovery Project (KESRP) has turned to lasers in an effort to halt Endangered Newell's Shearwaters Puffinus newelli from flying into power lines at night. A shortened version of KERSP's news report follows.
""We have power lines that go all around the island and the birds … obviously have trouble seeing them because the lines stretch across the fly paths," said KERSP's Andre Raine.
The Kauai Island Utility Cooperative and Kauai Endangered Seabird Recovery Project came up with a plan. They installed 30 lasers on utility poles in 'Ele'ele which creates what they call a light fence. "So we are firing the lasers in front of the lines and the idea is make the lines more visible," said Raine. After more than year of positive results the laser experiment will continue. Starting this month new lasers will be installed and testing will run through December.
The biologists observed birds flying above the light fence to avoid it, but it is too soon to tell if the experiment is a success, so that is why [they] are continuing the project. The lasers run parallel to the ground and pose no threat to aircraft or people. In addition to the lasers, the groups will be installing bird diverters, known as firefly units. The devices hang from the power lines and have reflectors and glow in the dark features that make them visible to birds in low light conditions. The lasers are also meant to keep other endangered seabirds safe as well."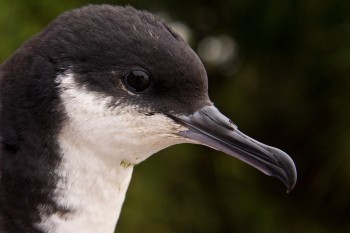 Newell's Shearwater, photograph by Eric Vanderwerf
The KESRP is a Division of Forestry and Wildlife (DOFAW) project, administered through the Pacific Studies Co-operative Unit of the University of Hawai'i. Formed in 2006, the project focuses primarily on three threatened seabirds found on the island of Kauai – Newell's Shearwater, Hawaiian Petrel Pterodroma sandwichensis and Band-rumped Storm Petrel Oceanodroma castro. Work involves identifying the breeding distribution of these rare seabirds, monitoring their breeding colonies, undertaking research projects to better understand their life histories and the various threats which they face, and working with partner projects and organizations to ensure their long-term conservation.
Read earlier news items on Newell's Shearwater in ACAP Latest News including on its status as a full species.
John Cooper, ACAP Information Officer, 21 August 2015