The following report by Tasmanian Parks and Wildlife Service Ranger Anna Lashko is taken from the on-line newsletter "This week at Macquarie Island" for 24 July. It shows that ACAP-listed Grey Petrels Procellaria cinerea are returning to previous breeding sites following vegetation recovery after the eradication of European Rabbits Oryctolagus cuniculus and rodents by the Macquarie Island Pest Eradication Project (MIPEP) four years ago.
"On our recent trip down island, Andrea [Turbett] and I went searching for grey petrels at some of the remote west coast breeding sites. Many of these sites suffered major degradation in the years prior to the Macquarie Island Pest Eradication Program [sic] due to the combination of rabbit burrowing destabilising sites and high grazing pressure removing vegetation cover. During the worst years, some of these sites were so unstable that rangers were unable to safely visit to check if petrels were present. Happily, these sites are now recovering and are once again accessible.
Many of these sites have had no sign of breeding for around 10 years, so I did not hold out huge hopes for a successful search. Still, not finding birds breeding is an important result and so off we headed northwards along the coast from Davis Point one grey morning. Sure enough, at the first site we checked (North Double Point) there was no sign of petrel activity - no burrows with scratching at the entrance, or poo or the distinctive petrel smell.
Our second stop for the day was at Flynn Point where, searching up on the ridgeline, Andrea poked her head up from a burrow entrance with a cheeky grin. "You'll be visiting here again!" she said, and passed me the camera she'd just poked into the burrow to see into its depths. There was a downy grey petrel chick, the first seen at the site since 2004! We were lucky again at our third and final spot for the day, Sellick Pt, where we found another grey petrel chick, the first at that site since 2006.
It was a red letter petrel hunting day for the rangers and a very promising one for grey petrels on Macquarie Island."
Click here for a previous ACAP Latest News item on Macca's Grey Petrels.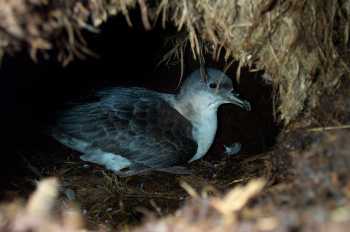 Grey Petrel breeding on Macquarie Island
John Cooper, ACAP Information Officer, 14 August 2015