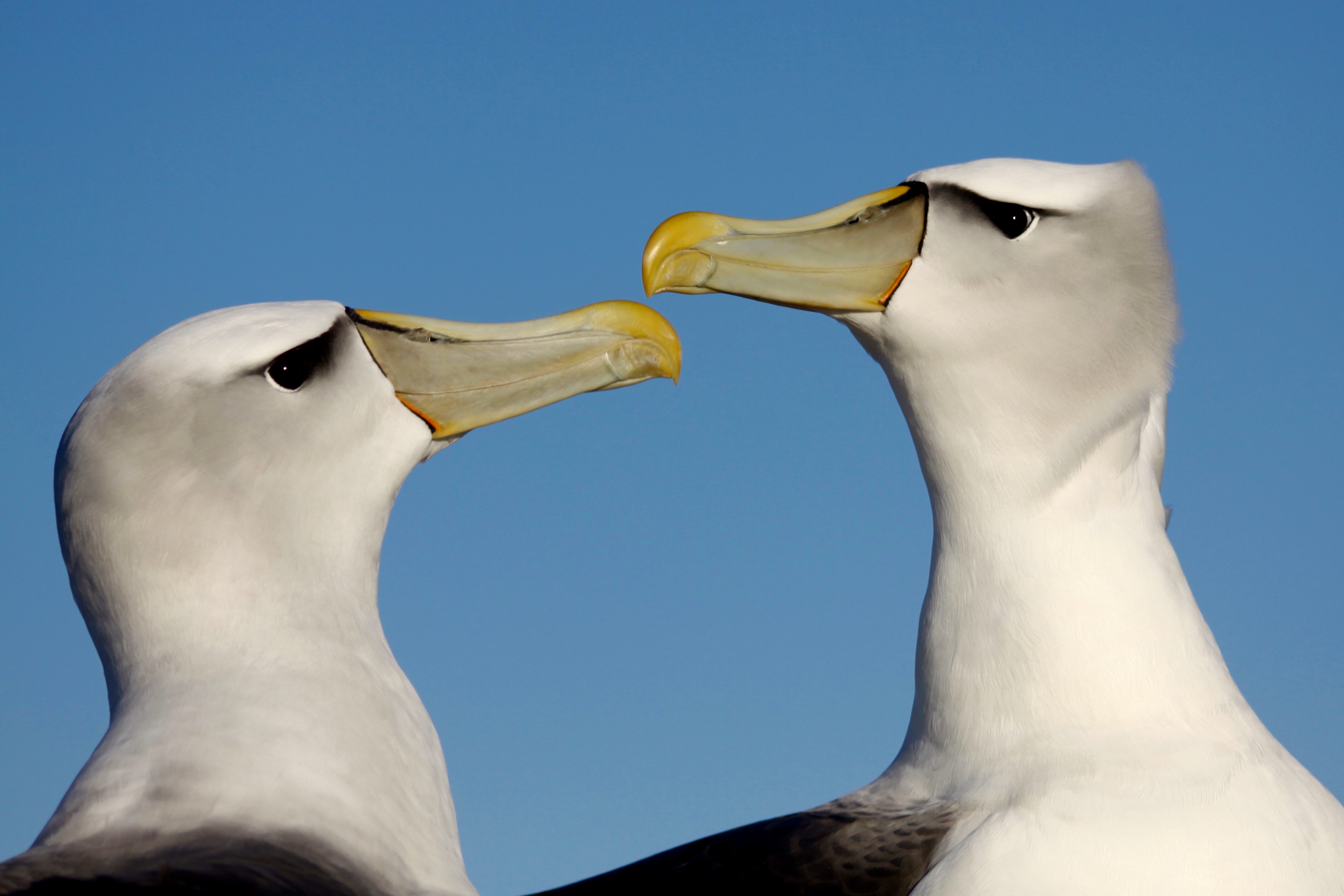 Two Shy Albatrosses interact
NOTE: This post continues an occasional series that features photographs of the 31 ACAP-listed species, along with information from and about their photographers. Here, Kris Carlyon, Section Head, Wildlife Health and Marine with the Department of Natural Resources and Environment Tasmania (NRE Tas), writes about the population research he has been involved with over the past 11 years on the globally Near Threatened Shy Albatross Thalassarche cauta, endemic to Tasmania, Australia.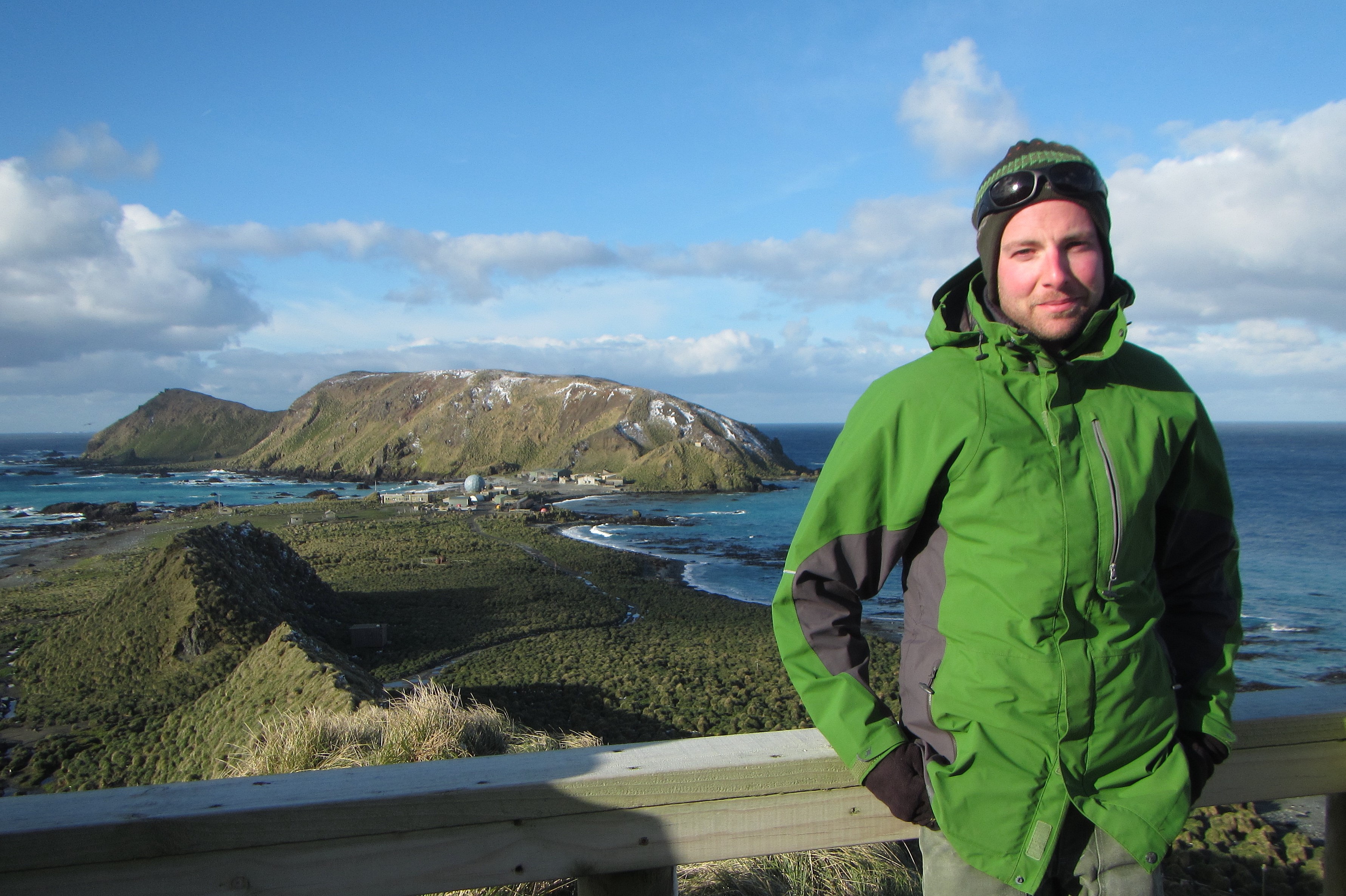 Kris Carlyon on Macquarie Island
The long-term (now in its 42nd season) monitoring programme on Shy Albatrosses was instigated by Nigel Brothers in 1980/81. Since then, there have been numerous contributions and collaborations from a range of government and university personnel (hence the attached publication list from several researchers).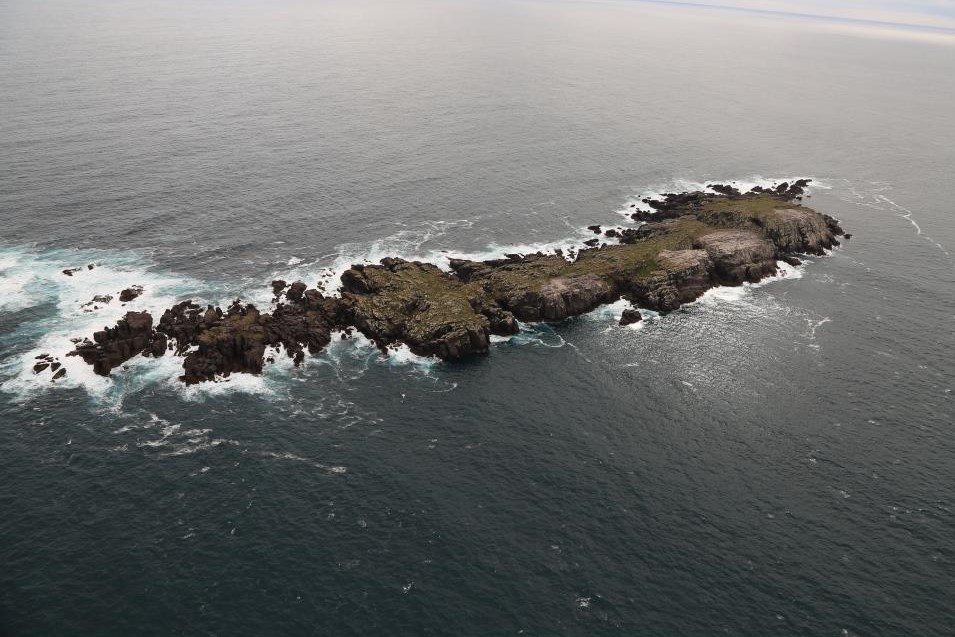 Albatross Island from the air
I first visited 18-ha Albatross Island in the Bass Strait north-west of Tasmania, one of just three global breeding colonies for this species, in 2010. This was my first field trip in my shiny new role with DPIPWE's Marine Conservation Program (now NRE Tas) and set the tone for what has been an incredibly rewarding decade contributing to the long-term monitoring of Shy Albatrosses. None of the three breeding islands is easy to visit. However, access to Albatross Island in Tasmania's north-west is relatively straightforward compared to the imposing rock pyramids of Pedra Branca and the Mewstone off the southern Tasmanian coastline, and it is here that the bulk of our monitoring efforts is undertaken. Aerial photography provides an option for the regular monitoring of the two south coast colonies.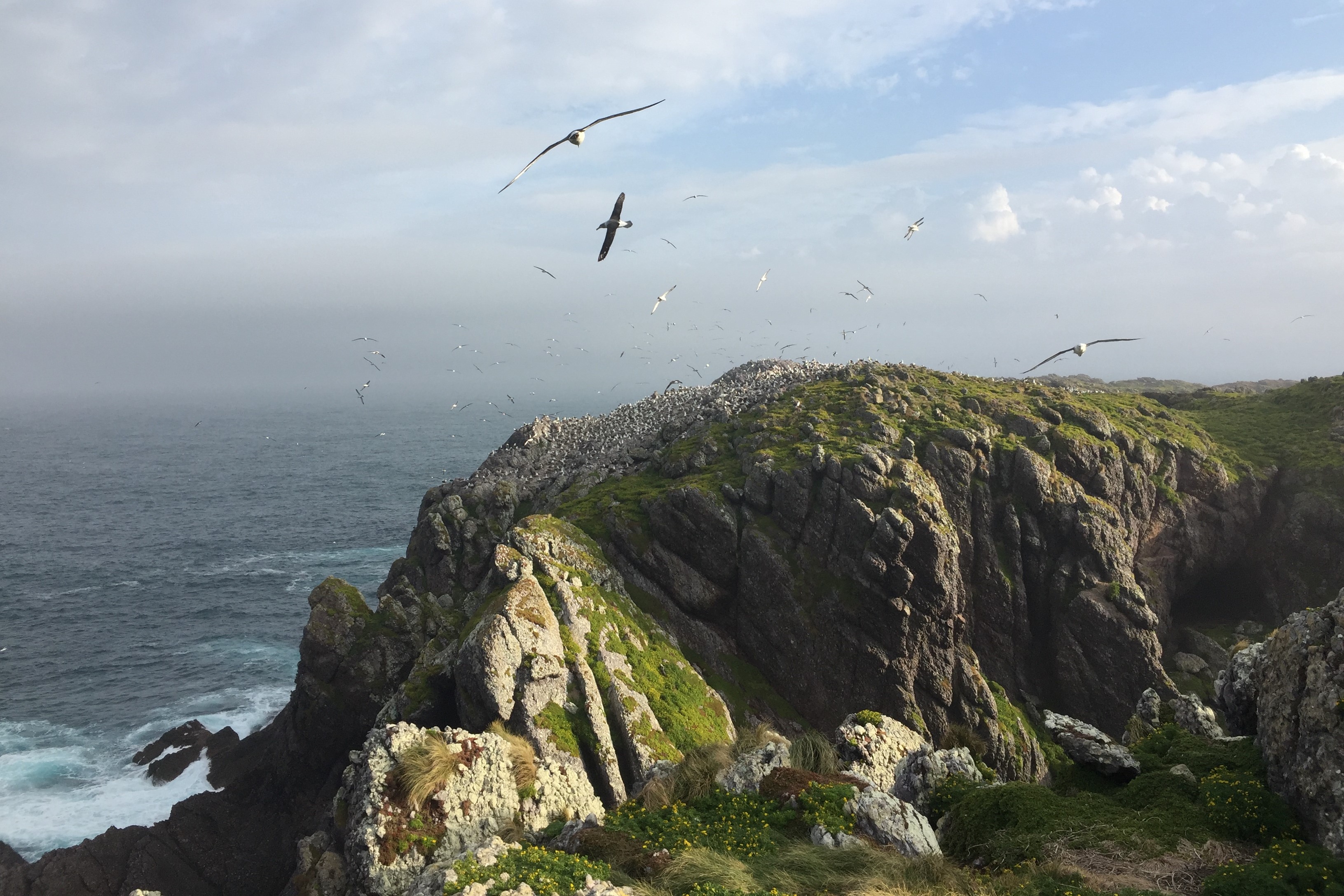 Shy Albatrosses wheel above Albatross Island
A 90-minute boat ride through the Hunter Island Group, followed by an intense offloading of the field team and a mountain of gear, heralds the start of one of two main monitoring trips to Albatross Island each year. Watching the boat retreat into the agitated waters of the Bass Strait, leaving us to a week or more of living and working amongst these amazing birds, is a perpetual highlight. A lengthy gear shuffle sees us set up camp in the huge sea cave at the north of the island, all the while welcomed by continuous chatter from the albatross colony above and barks from the island's increasing fur seal Arctocephalus spp. residents; both species on the long road of recovery after sealers heavily exploited both the seal and albatross populations in the early 1800s. As darkness falls and we eat dinner under torchlight, masses of Fairy Prions Pachyptila turtur return to the cave and commence their nightly and sometimes deafening chorus that continues unbroken until dawn. I don't sleep better anywhere else.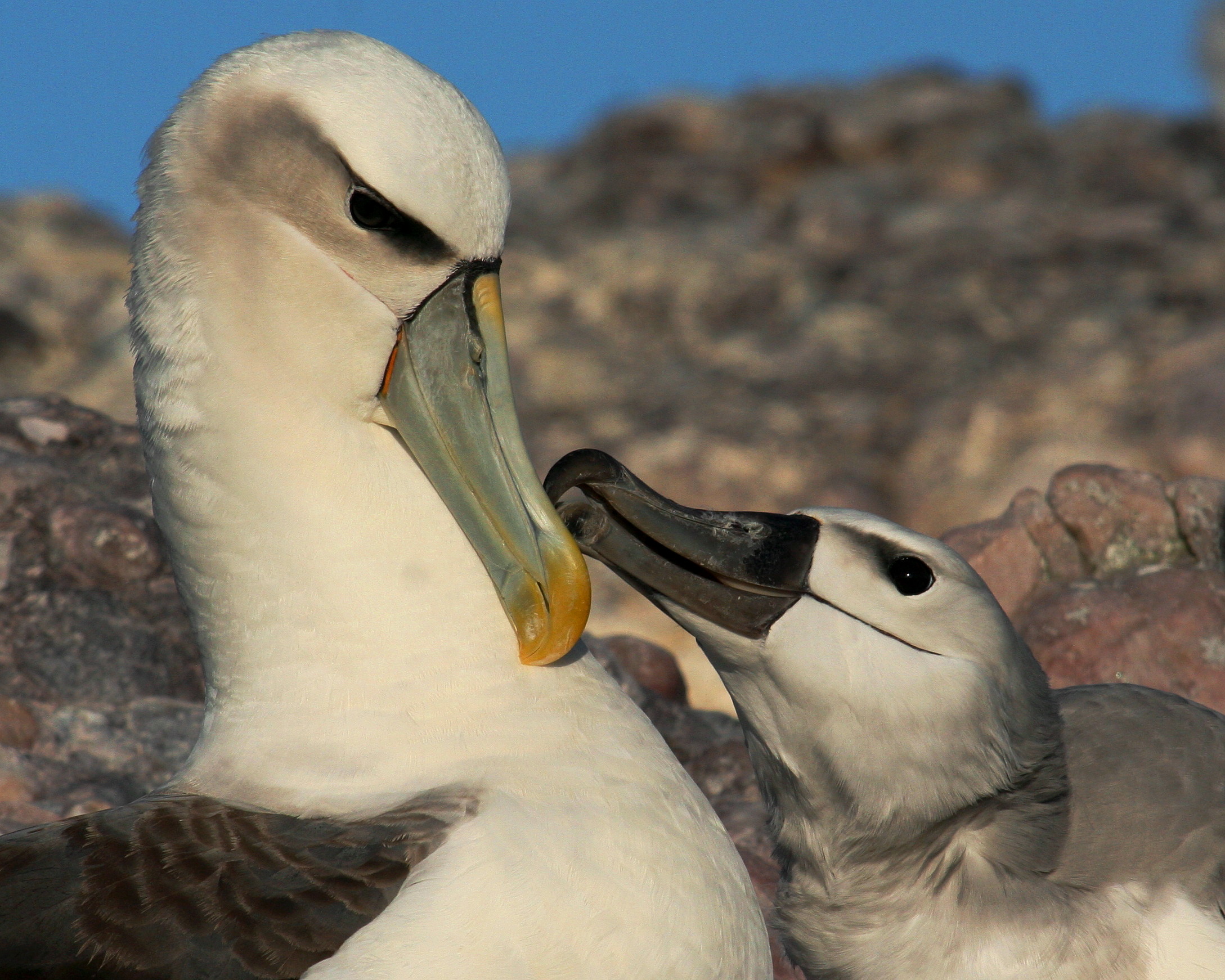 A Shy Albatross chick close to fledging (right) begs for a meal
The rest of the trip is a happy routine of long days amongst the wind and the birds. On a good evening, some cheap wine amongst the tussock grass, watching curious albatross or an occasional White-bellied Sea Eagle Haliaeetus leucogaster glide overhead, is a great way to recover from hours of clambering over rough ground and dodging sharp beaks. As the sun sinks below the waves of the western Bass Strait, evenings also offer the best light for photography and the addictive but unending pursuit of trying to capture a good image of these beautiful birds.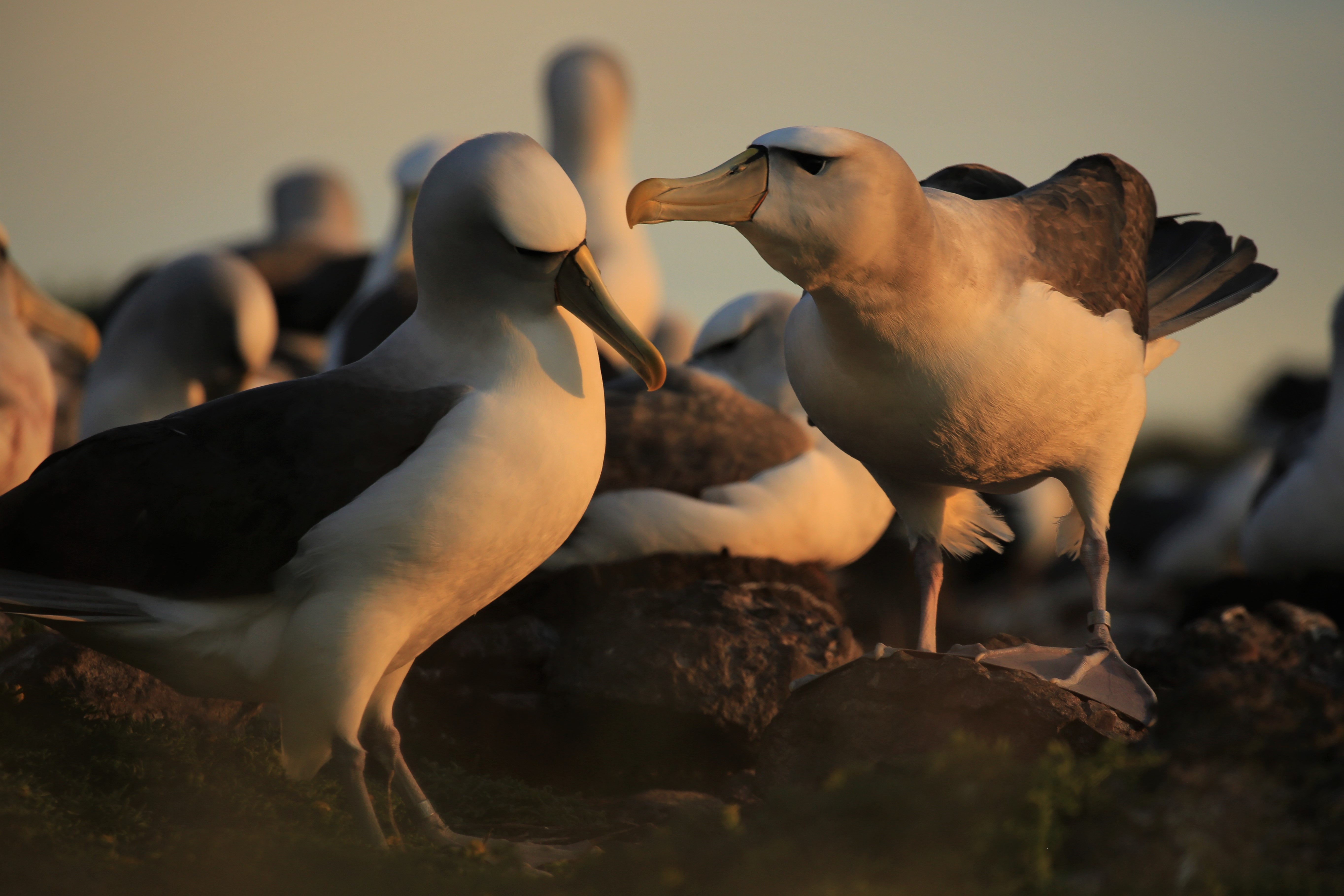 Shy Albatrosses on Albatross Island in the evening light
Our long-term population monitoring, including tracking and diet studies and investigation of climate-change impacts, tells the story of gradual colony recovery. But these birds continue to face significant threats. Like most procellariforms, the impacts from fisheries bycatch mortality and environmental change at breeding sites and foraging areas due to a changing climate are an increasing concern for the Shy Albatross. Our precious trips to these island outposts certainly have a sobering serious purpose and become only more important as the impacts of global heating become more apparent. Documenting population trends is now coupled with testing of climate adaptation tools to help ensure intervention options are available if needed.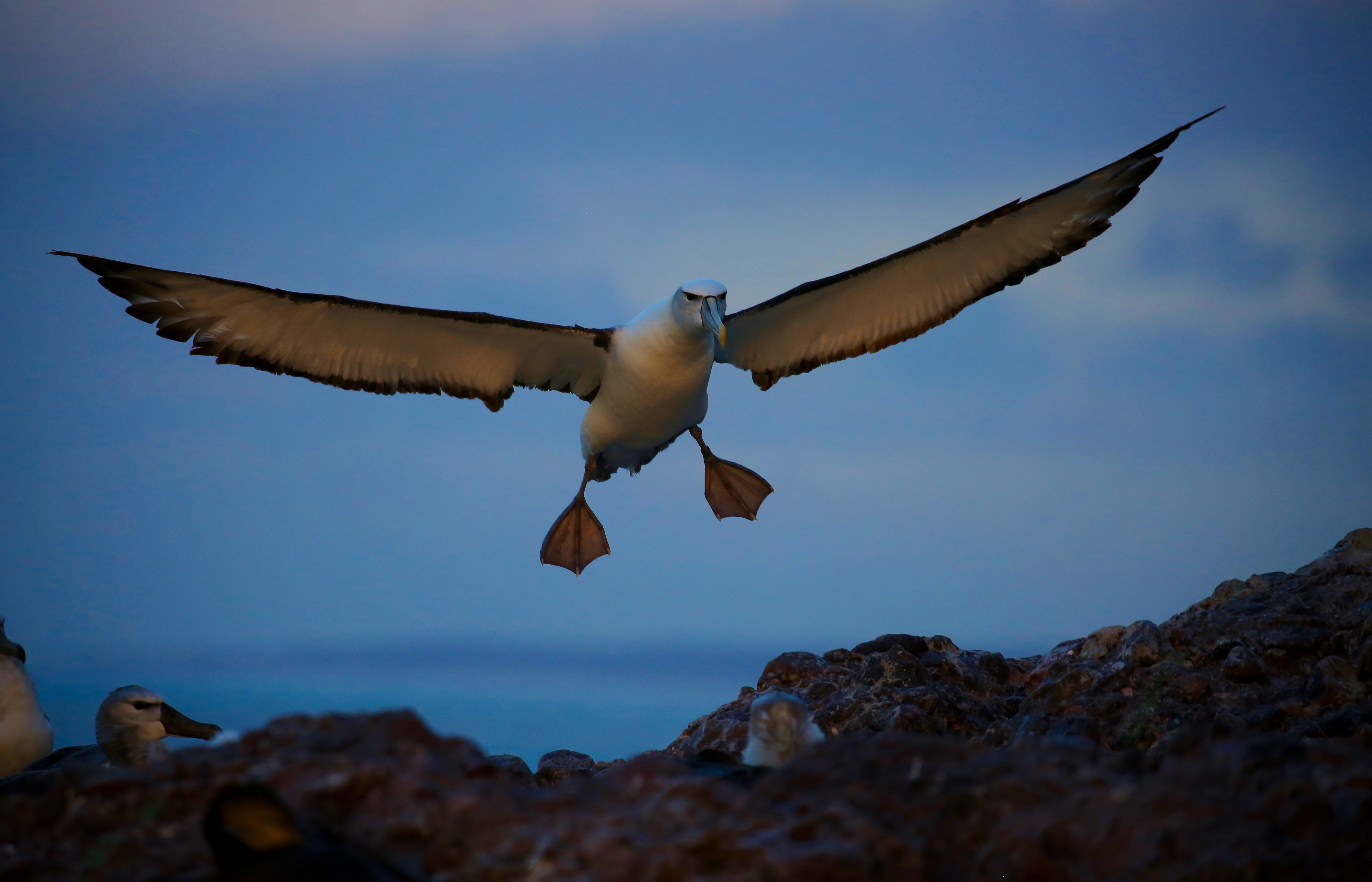 Cleared for landing: a Shy Albatross returns to its nest site on Albatross Island,; photographs by Kris Carlyon
And, in the background, we continue to raise public awareness of our unique Tasmanian resident. For this, a single photograph can prove invaluable.
With thanks to Sheryl Hamilton.
Selected publications:
Alderman, R., Gales, R., Hobday, A.J. & Candy, S. 2010. Post-fledging survival and dispersal of shy albatrosses from three breeding colonies in Tasmania. Marine Ecology Progress Series 405: 271-285.
Alderman, R., Gales, R., Tuck, G. & Lebreton, J.D. 2011. Global population status of shy albatross and an assessment of colony-specific trends and drivers. Wildlife Research 38: 672-686.
Alderman, R. & Hobday, A. 2016. Developing a climate adaptation strategy for vulnerable seabirds based on prioritization of intervention options. Deep Sea Research II 140: 2960-2967.
Baker, G.B., Double, M.C., Gales, R., Tuck, G.N., Abbott, C.L., Ryan, P.G., Petersen, S.L., Robertson C.R. & Alderman, R. 2007. A global assessment of the impact of fisheries-related mortality on shy and white-capped albatrosses: conservation implications. Biological Conservation 137: 319-333.
Baker, G.B., Gales, R., Hamilton, S. & Wilkinson, V. 2002. Albatrosses and petrels in Australia: a review of their conservation and management. Emu 102: 71-97.
Brothers, N., Pemberton, D., Pryor, H. & Halley, V. 2001. Tasmania's Offshore Islands: Seabirds and other Natural Features. Hobart: Tasmanian Museum and Art Gallery. 641 pp.
Hedd, A. & Gales, R. 2001. The diet of Shy Albatrosses Thalassarche cauta at Albatross Island, Tasmania. Journal of Zoology 2 253: 69-90.
Hedd. A. & Gales, R. 2005. Breeding and overwintering ecology of Shy Albatrosses in southern Australia: year-round patterns of colony attendance and foraging-trip durations. The Condor 107: 375-387.
Mason C., Alderman, R., McGowan, J., Possingham, H.P., Hobday, A.J., Sumner, M. & Shaw, J. 2018. Telemetry reveals existing marine protected areas are worse than random for protecting the foraging habitat of threatened Shy Albatross (Thalassarche cauta). Diversity and Distributions 24: 1744-1755.
McInnes, J.C., Alderman, R., Deagle, B., Lea, M.-A., Raymond, B. & Jarman, S.N. 2017. Optimised scat collection protocols for dietary DNA metabarcoding in vertebrates. Methods in Ecology and Evolution 8: 192-202.
Thomson, R.B., Alderman, R.L., Tuck, G.N. & Hobday, A.J. 2015. Effects of climate change and fisheries bycatch on Shy Albatross (Thalassarche cauta) in Southern Australia. PLOS ONE DOI: 10.1371/journal.pone.0127006.
Kris Carlyon, Marine Conservation Program, Department of Natural Resources and Environment Tasmania, Hobart, Australia, 10 December 2021, corrected 28 December 2021