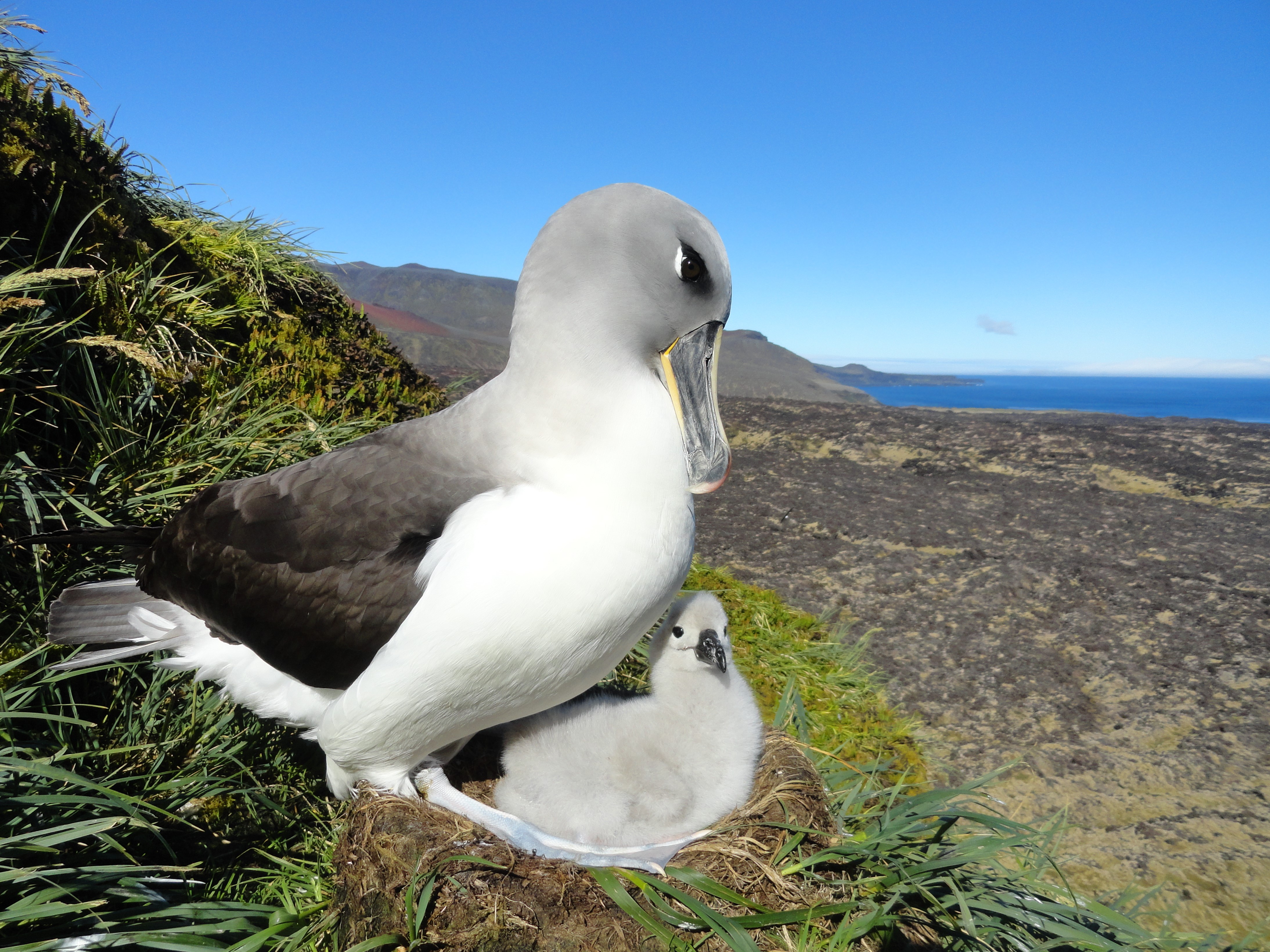 A Grey-headed Albatross guards its downy chick on Marion Island's Grey-headed Albatross Ridge – site of a long-term monitoring colony
NOTE: This post continues an occasional series that features photographs of the 31 ACAP-listed species, along with information from and about their photographers. Here, Kim Stevens, currently on Gough Island in the South Atlantic, writes about her PhD research on the globally and regionally Endangered Grey-Headed Albatrosses Thalassarche chrysostoma of South Africa's Marion Island in the southern Indian Ocean. See species so far covered in the series in the Photo Essays section on this website.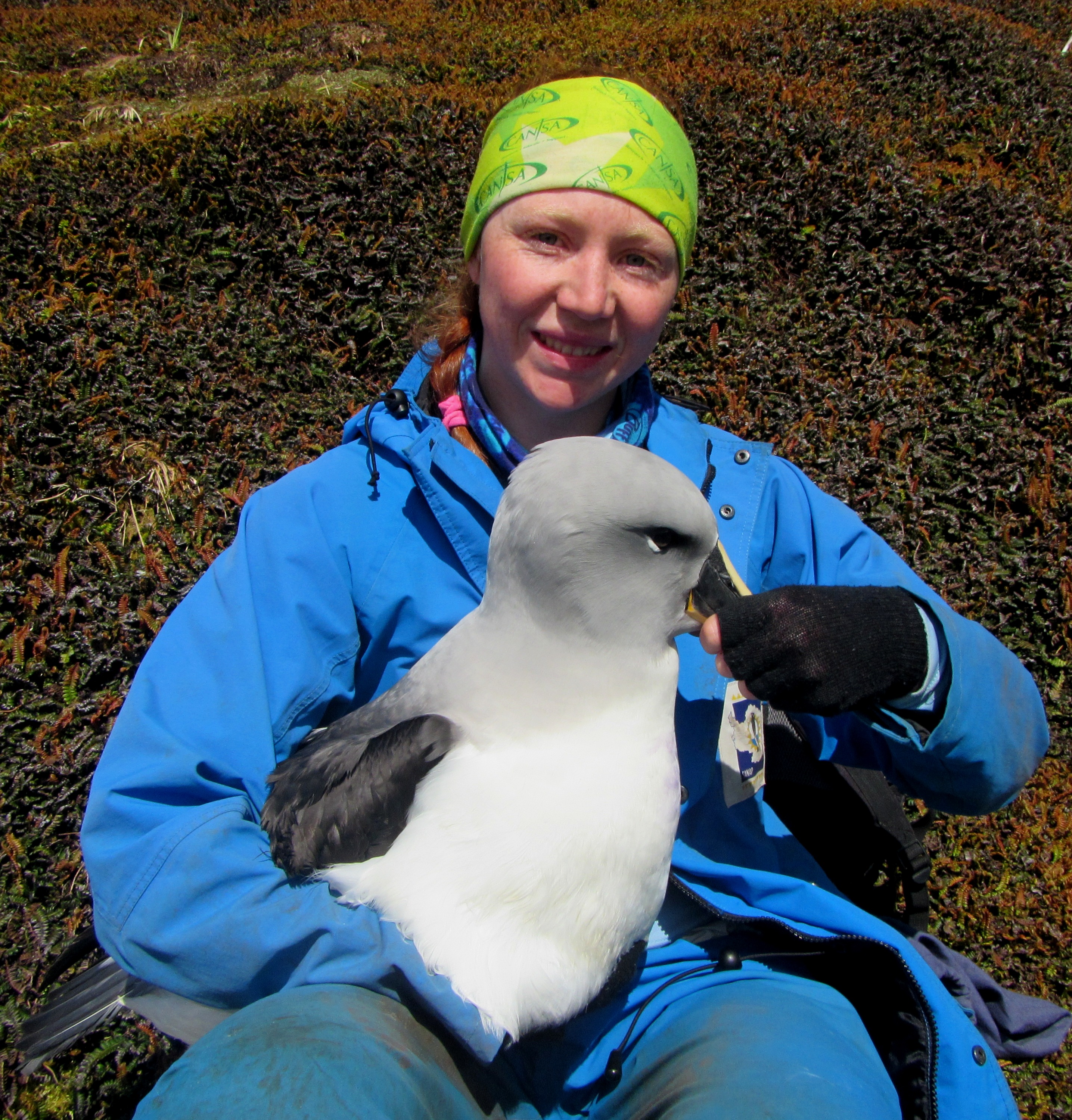 Kim Stevens carefully restrains a Grey-headed Albatross. All research on seabirds on Marion Island is conducted under a research permit issued in terms of the island's management plan; photograph by Jess Berndt

My journey with seabirds began in 2013 when I hopped on to South Africa's Antarctic research and supply ship, the S.A. Agulhas II, and headed south for a year-long expedition as a member of the M70 Overwintering Team to sub-Antarctic Marion Island. Unbeknownst to me, this adventure would turn into a deep love for seabirds and the special places they inhabit. Before this I did my undergraduate degree in Marine Biology and Ocean and Atmosphere Science, followed by a BSc (Hons) specialising in Zoology, at the University of Cape Town (UCT). Upon seeing a job advertised to work as a seabird field assistant in the sub-Antarctic, I could not resist applying.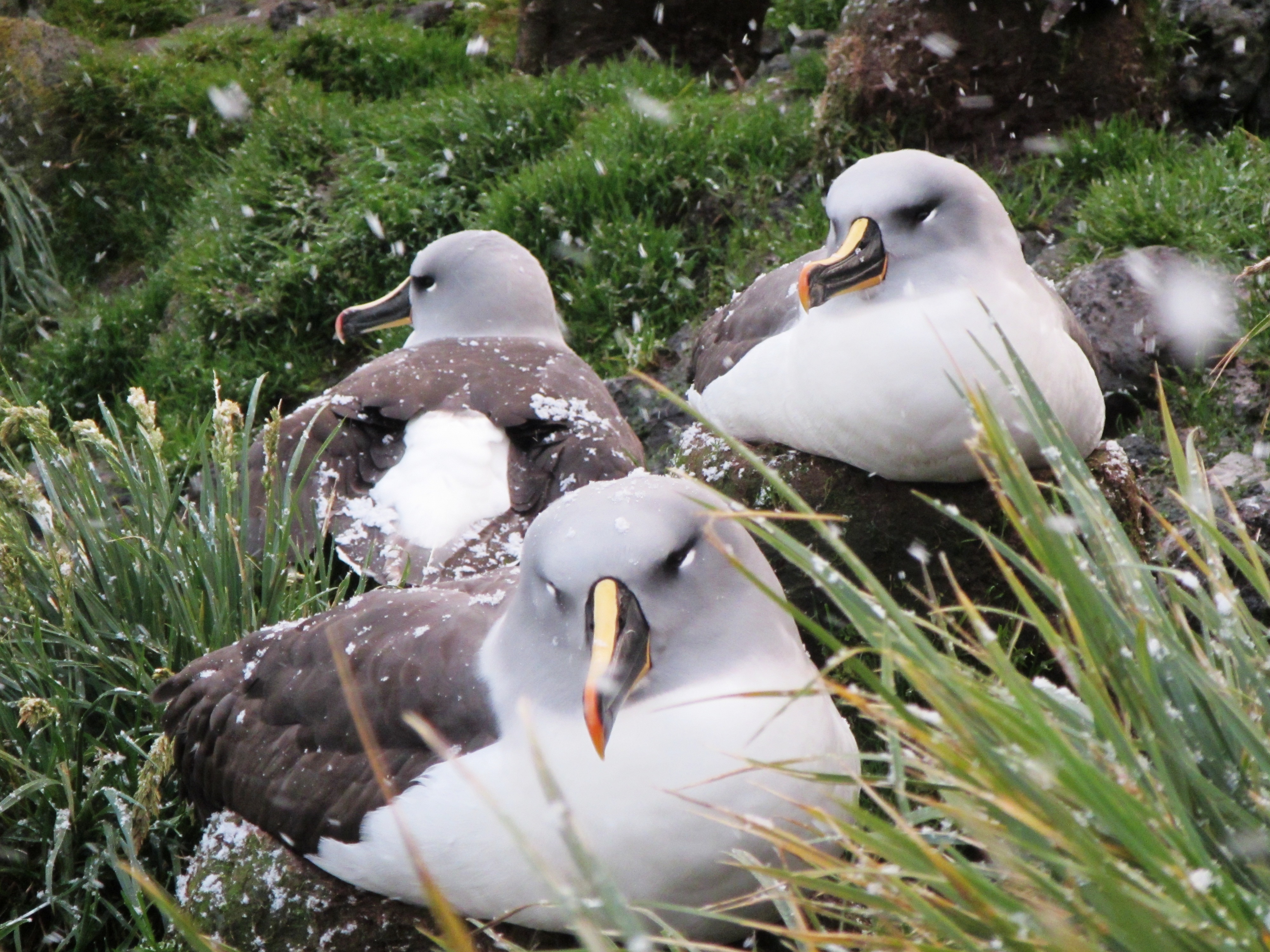 Not always good weather for both bird and researcher: incubating Grey-headed Albatrosses in a snowstorm
At Marion Island I spent the year working on several albatross, petrel and penguin species, with a specific focus on the Grey-headed Albatrosses – deploying geolocation and GPS tracking devices on them to understand where they go at sea during and outside of their breeding season. I used these data towards an MSc on returning to South Africa, whcch I later upgraded to a PhD with UCT's FitzPatrick Institute of African Ornithology to incorporate an analysis of the species' long-term population dynamics. A few months after upgrading I returned to Marion Island for a second expedition over 2016/17 (M73) to collect more data. It was on this second expedition that I was unfortunately greeted by many a Grey-headed Albatross chick with large wounds inflicted by introduced House Mice Mus musculus and it was part of my job to record and monitor them. It was difficult to see these chicks, so close to fledging and so badly affected by mice.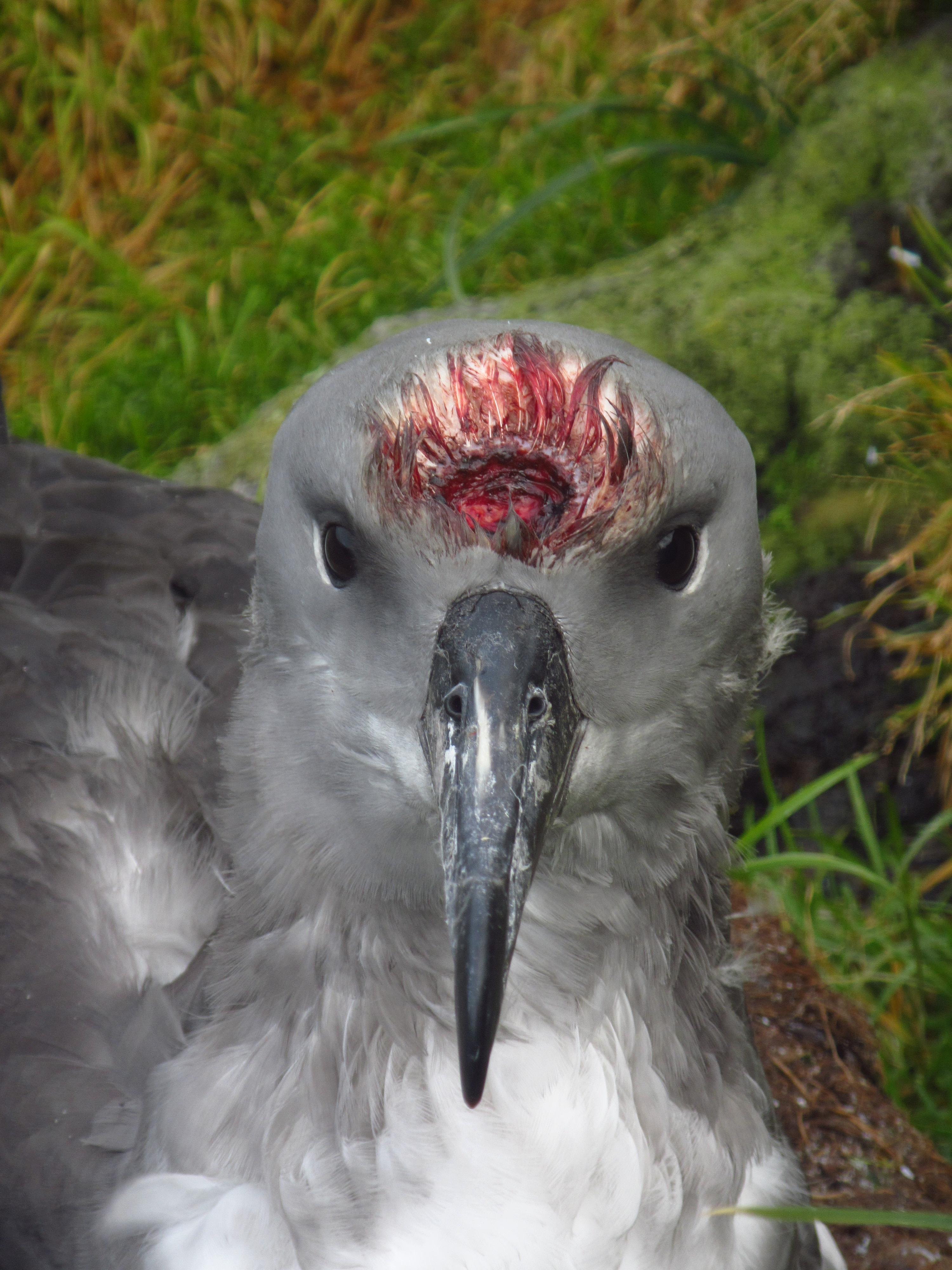 Right between the eyes: a Grey-headed Albatross chick has been badly wounded by House Mice at night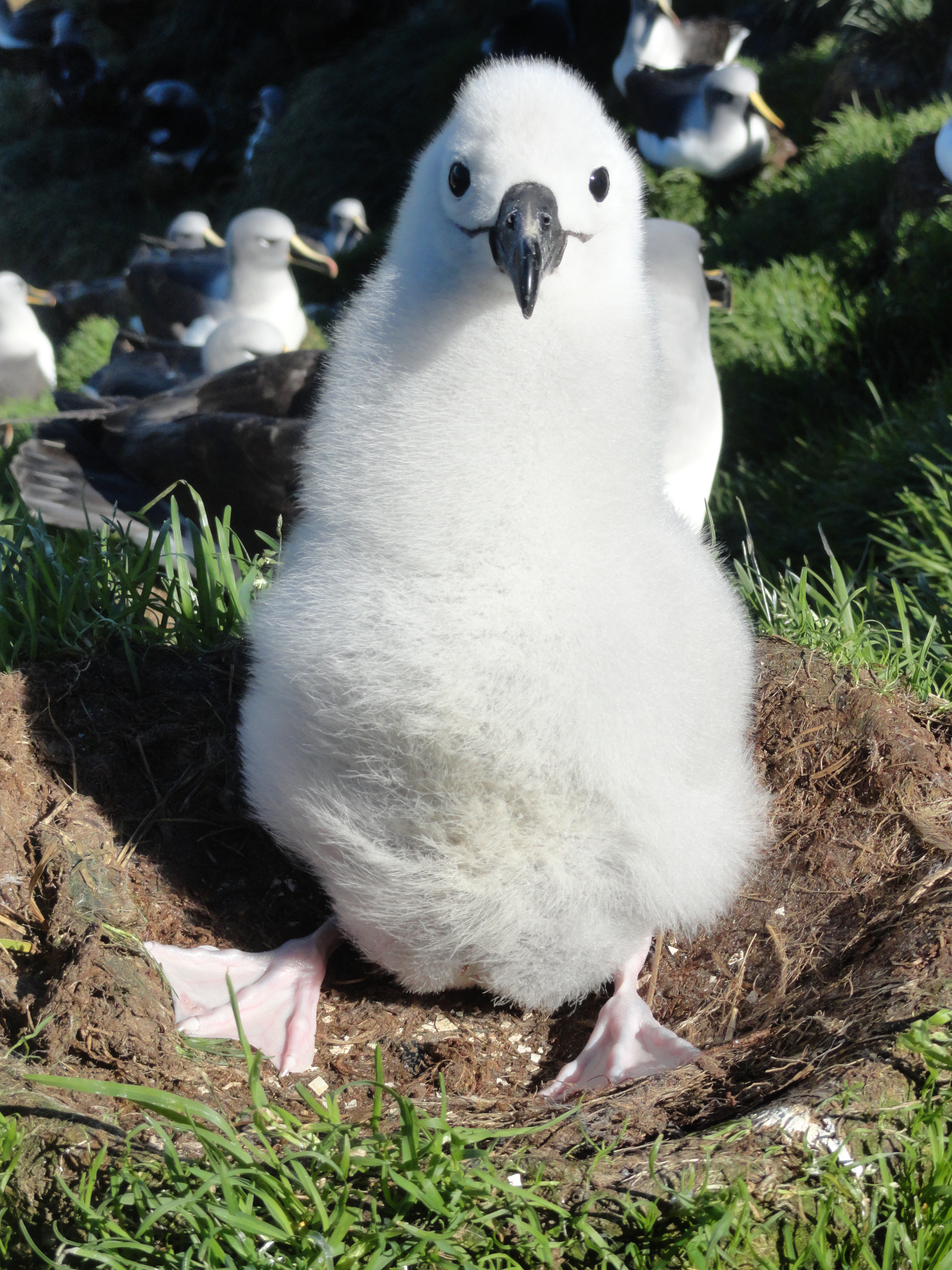 Post-guard stage: a healthy - and - curious chick regards the photographer; eggshell fragments litter the nest bowl
Since then, I have continued my PhD journey grappling with data, with some short sea-birding stints in between, including volunteering as a seabird observer for BirdLife South Africa's Atlas of Seabirds at Sea (AS@S) on a winter research cruise to the Antarctic sea ice. I also assisted researchers from the South African Department of Forestry, Fisheries and the Environment (DFFE) counting and deploying tracking devices on Snow Petrels Pagodroma nivea and Emperor Penguins Aptenodytes forsteri in Antarctica.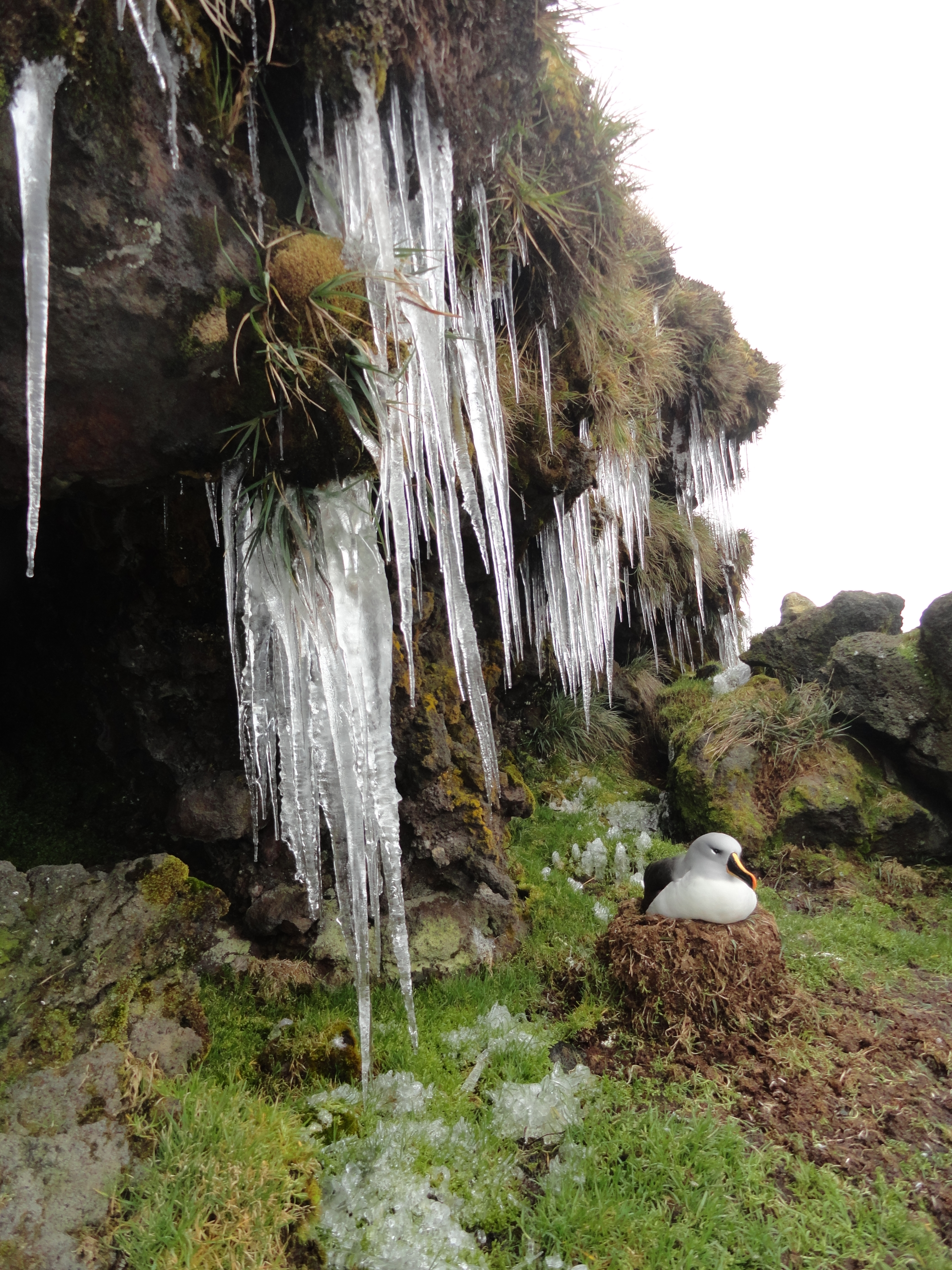 Icicles frame a Grey-headed Albatross on its nest
When the exciting opportunity arose to play a role in the Gough Island Restoration Programme (GIRP) to rid that island of its albatross and petrel-attacking House Mice and protect its many threatened seabird species, I put my PhD on hold. I am currently working – for a two-year stretch - as the Senior Field Assistant for the Royal Society for the Protection of Birds on Gough. And now that the project is in its final phases, we wait with bated breath to see how the seabird populations recover and for the final call on the success of the project which will be at least two years from now. It has been an invaluable experience and the knowledge learned through this project will inevitably help the seabirds of Marion Island, which include the wonderful Grey-headed Albatross.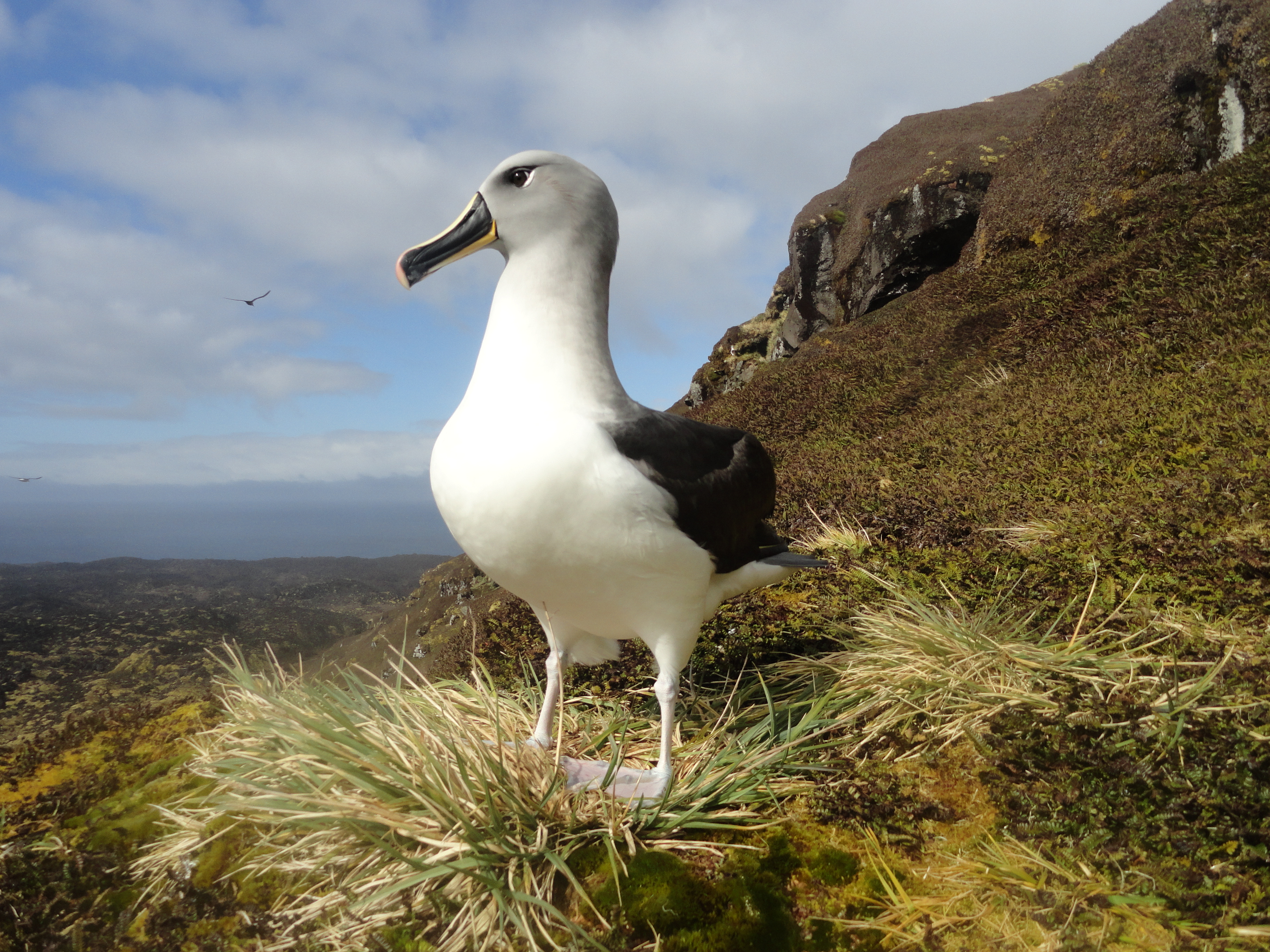 A study animal one can easily love. A Grey-headed Albatross stands proudly on its cliff-side home
Photographs by Kim Stevens
Selected Publications:
Beal, M., Dias, M.P., Phillips, R.A., Oppel, S., Hazin, C., Pearmain, E.J., Adams, J. , Anderson, D.J., Antolos, M., Arata, J.A., Arcos, J.M., Arnould, J.P., Awkerman, J., Bell, E., Bell, M. Carey, M., Carle, R., Clay, T.A., Cleeland, J., Colodro, V., Conners, M. Cruz-Flores, M., Cuthbert, R., Delord, K., Deppe, L., Dilley, B.J., Dinis, H., Elliott, G., De Felipe, F., J. Felis, M.G. Forero, A. Freeman, A. Fukuda, J. González-Solís, J.P. Granadeiro, A. Hedd, P. Hodum, J. M. Igual, A. Jaeger, T.J. Landers, M. Le Corre, A. Makhado, B. Metzger, T. Militão, W.A. Montevecchi, V. Morera-Pujol, L. Navarro-Herrero, D. Nel, D. Nicholls, D. Oro, R. Ouni, K. Ozaki, F. Quintana, R. Ramos, T. Reid, J.M. Reyes-González, C. Robertson, G. Robertson, M.S. Romdhane, P.G. Ryan, P. Sagar, F. Sato, S. Schoombie, R.P. Scofield, S.A. Shaffer, N.J. Shah, K.L. Stevens, C. Surman, R.M. Suryan, A. Takahashi, V. Tatayah, G. Taylor, D.R. Thompson, L. Torres, K. Walker, R. Wanless, S.M. Waugh, H. Weimerskirch, T. Yamamoto, Z. Zajkova, L. Zango & P. Catry 2021. Global political responsibility for the conservation of albatrosses and large petrels. Science Advances 7(10). DOI: 10.1126/sciadv.abd7225. [click here].
Carneiro, A.P.B., Pearmain, E.J., Oppel, S., Clay, T.A., Phillips, R.A., Bonnet-Lebrun, A.-S., Wanless, R.M., Abraham, E., Richard, Y., Rice, J., Handley, J., Davies, T.E., Dilley, B.J., Ryan, P.G., Small, C., Arata, J., Arnould, J.P.Y., Bell, E., Bugoni, L., Campioni, L., Catry, P., Cleeland, J., Deppe, L., Elliott, G., Freeman, A., González-Solís, J., Granadeiro, J.P. Grémillet, D., Landers, T.J., Makhado, A., Nel, D., Nicholls, D.G., Rexer-Huber, K., Robertson, C.J.R., Sagar, P.M., Scofield, P., Stahl, J.-C., Stanworth, A., Stevens, K.L., Trathan, P.N., Thompson, D.R., Torres, L., Walker, K., Waugh, S.M., Weimerskirch, H. & Dias, M.P. 2020. A framework for mapping the distribution of seabirds by integrating tracking, demography and phenology. Journal of Applied Ecology doi.org/10.1111/1365-2664.13568.
Carpenter‐Kling, T., Reisinger, R.R., Orgeret, F., Connan, M., Stevens, K.L., Ryan, P.G., Makhado, A. & Pistorius, P.A. 2020. Foraging in a dynamic environment: response of four sympatric sub‐Antarctic albatross species to interannual environmental variability. Ecology and Evolution doi.org/10.1002/ece3.6766. [click here].
Dilley, B.J., Davies, D., Stevens, K., Schoombie, S., Schoombie, J. & Ryan, P.G. 2019. Burrow wars and sinister behaviour among burrow-nesting petrels at sub-Antarctic Marion Island. Ardea 07: 97-102. [click here].
Dilley, B.J., Schoombie, S., Stevens, K., Davies, D., Perold, V., Osborne, A., Schoombie, J., Brink, C.W., Carpenter-Kling, T. & Ryan, P.G. 2018. Mouse predation affects breeding success of burrow-nesting petrels at sub-Antarctic Marion Island. Antarctic Science 30: 93-104. [click here].
Reisinger, R.R., Raymond, B., M.N., Hindell, M.A., Bester, M.N., Crawford, R.J.M., Davies, D., de Bruyn, P.J.N., Dilley, B.J., Kirkman, S.P., Makhado, A.B., Ryan, P.G., Schoombie, S., Stevens, K., Sumner, M.D., Tosh, C.A., Wege, M., Whitehead, T.O., Wotherspoon, S. & Pistorius, P.A. 2018. Habitat modelling of tracking data from multiple marine predators identifies important areas in the Southern Indian Ocean. Diversity and Distributions 24: 535-550. [click here].
Schoombie, S., Schoombie, J., Brink, C.W., Stevens, K.L., Jones, C.W., Risi, M.M. & Ryan, P.G. 2019. Automated extraction of bank angles from bird-borne video footage using open-source software. Journal of Field Ornithology 90: 361-372. [click here].
Kim Stevens, Gough Island Restoration Programme. Royal Society for the Protection of Birds, UK, 07 October 2021, updated 08 October 2021